Gravity Falls
Season 2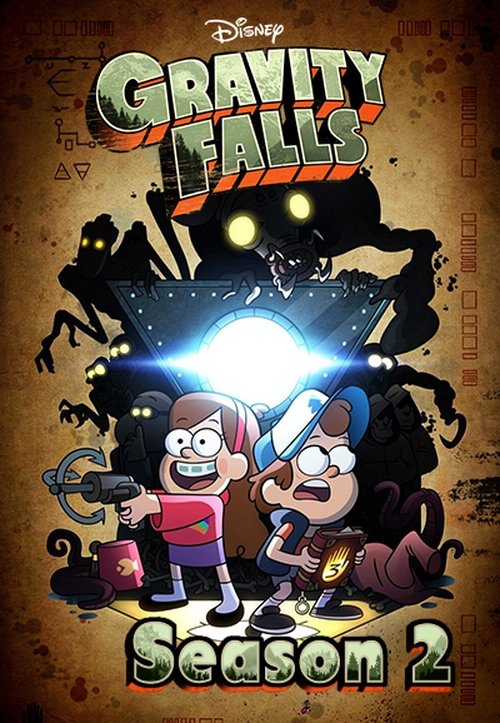 Gravity Falls
Season 2
First Air Date: August 01, 2014

| | | |
| --- | --- | --- |
| First Aired on | : | 2014 |
| Episodes | : | 20 episodes |
Episodes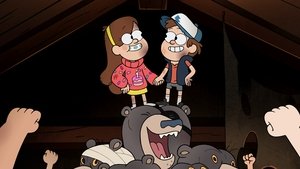 2x20 Weirdmageddon 3: Take Back the Falls (February 15, 2016)
---
Ford discovers Bill's true motives and a final confrontation with Bill leads to the Pines family's ultimate fate and greatest sacrifice.
---
2x19 Weirdmageddon 2: Escape from Reality (November 23, 2015)
---
Dipper, Soos and Wendy must save Mabel from a strange new world, while Bill's forces plan their next move.
---
2x18 Weirdmageddon Part I (October 26, 2015)
---
Bill has returned to take down the Pines family. But this time he has brought some of his friends with him.
---
2x17 Dipper and Mabel vs. the Future (October 12, 2015)
---
Mabel makes plans for her and Dipper's 13th birthday party; Dipper ventures below the town and discovers its most shocking secret.
---
2x16 Roadside Attraction (September 21, 2015)
---
Grunkle Stan takes the kids with him on a road-trip to sabotage all the other tourist traps in Oregon.
---
2x15 The Last Mabelcorn (September 07, 2015)
---
A new threat leads Mabel to venture into the enchanted realm of the unicorns. Meanwhile, Dipper learns an unexpected twist about the enigmatic Bill Cipher.
---
2x14 The Stanchurian Candidate (August 24, 2015)
---
When Grunkle Stan decides to run for mayor, Dipper and Mabel have their work cut out for them trying to turn their gaffe-prone uncle into the perfect candidate.
---
2x13 Dungeons, Dungeons, & More Dungeons (August 03, 2015)
---
Dipper finds an unlikely friend to join him with his newest obsession, a board game called "Dungeons, Dungeons & More Dungeons."
---
2x12 A Tale of Two Stans (July 13, 2015)
---
Cornered underneath the Mystery Shack, Stan must finally reveal the secrets of his past and his mysterious portal to Dipper and Mabel.
---
2x11 Not What He Seems (March 09, 2015)
---
After agents Powers and Trigger take Stan into custody, Dipper and Mabel begin to wonder how much they actually know about their Grunkle Stan.
---
2x10 Northwest Mansion Noir (February 16, 2015)
---
Pacifica enlists Dipper's help to rid the Northwest Mansion of a ghost before he wreaks havoc on her fancy party.
---
2x09 The Love God (November 26, 2014)
---
Mabel takes matchmaking too far when she steals a love potion from a real Love God.
---
2x08 Blendin's Game (November 10, 2014)
---
Blendin returns to face off with Dipper and Mabel in a futuristic battle that could trap them forever in time jail.
---
2x07 Society of the Blind Eye (October 27, 2014)
---
The kids, along with Old Man McGucket's help, discover there is a secret society in Gravity Falls.
---
2x06 Little Gift Shop of Horrors (October 04, 2014)
---
In three separate mysterious tales, Stan is cursed by a Witch, Waddles accidentally eats a bowl of brain-enhancing jelly and builds a machine that allows him to speak, and Mabel faces her fear of claymation.
---
2x05 Soos and the Real Girl (September 22, 2014)
---
Soos needs a date for his cousin Reggie's engagement party and looks to a dating simulator game to help him talk to girls.
---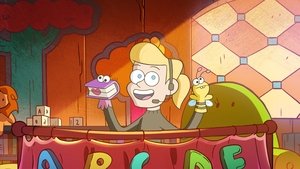 2x04 Sock Opera (September 08, 2014)
---
Mabel decides to put on a sock puppet rock opera to impress a local puppeteer, but her show goes awry when Dipper's drive to uncover more of the journal's secrets leads to a supernatural disaster.
---
2x03 The Golf War (August 11, 2014)
---
After being belittled by Pacifica one too many times, Mabel challenges her to a miniature golf-off which gets a tad out of control when some local residents offer their help.
---
2x02 Into the Bunker (August 04, 2014)
---
Dipper's secret journal pages lead him and the gang to the author's hidden bunker where they find themselves face-to-face with a mysterious figure from Gravity Falls' lore.
---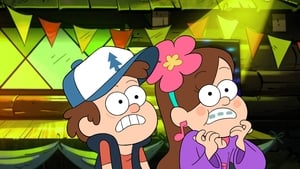 2x01 Scary-oke (August 01, 2014)
---
The Pines family is starting to get everything back to normal after the Lil' Gideon incident. They throw a "Mystery Shack Is Back" party, but some unwelcome guests intend to crash it.
---