Black Dynamite
Season 1
Black Dynamite
Season 1
First Air Date: July 15, 2012

| | | |
| --- | --- | --- |
| First Aired on | : | 2012 |
| Episodes | : | 10 episodes |
Episodes
1x10 That Seed of Kurtis AKA Father is Just Another Word for Motherfucker! (September 23, 2012)
---
Weeks after the events of "Trouble on Puppet Street", the son of That Frog Kurtis, That Bastard Kurtis, enacts his revenge plan on Black Dynamite for killing his daddy on national television. Meanwhile, Black Dynamite finally finds his long-lost father.
---
1x09 The Race War! or Big Black Cannon Balls Run! (September 16, 2012)
---
Dynamite enters a car race but realizes he's being used to transport a mind-controlling substance to tobacco companies.
---
1x08 Honky Kong or White Apes Can't Hump (September 09, 2012)
---
A circus ape falls for Honeybee and kidnaps her. Black Dynamite launches a rescue attempt but encounters his own problems during the mission.
---
1x07 Apocalypse, This! or For the Pity of Fools (AKA Flashbacks Are Forever) (August 26, 2012)
---
Black Dynamite returns to Vietnam with his crew to find his friend Mr.T who was left for dead.
---
1x06 The Sh*t That Killed the King! or Weekend at Presley's (August 19, 2012)
---
President Nixon plans to destroy Black Dynamite by flooding the black community with drugs. However the plan backfires when the blacks begin selling them to whites instead of using them, ridding the community of drugs and using the money to drastically improve things. His original plan a failure, Nixon devises an even more sinister plan, and sends Elvis Presley to stop the flow of drugs from the black community.
---
1x05 Panic on the Player's Ball Express or That's Influenza Sucka! (August 12, 2012)
---
While Black Dynamite is down with the flu, the rest of the crew handles an investigation at the Players Ball, only to end up caught in a hijacking. It's up to Black Dynamite to handle his sinuses and the villains of the day.
---
1x04 A Crisis For Christmas or The Dark Side of The Dark Side of The Moon (August 05, 2012)
---
In an effort to be more likeable to the orphans, Black Dynamite agrees to go with O.J. Simpson to the moon to get moon rocks on Christmas. However, O.J. bails and leaves Dynamite on a doomed space rocket, leaving everyone to believe that Black Dynamite is dead. O.J. takes over the whorephanage and now Black Dynamite must find a way to get the moon rocks and return to Earth to stop O.J. Simpson.
---
1x03 Taxes and Death or Get Him to The Sunset Strip (July 29, 2012)
---
Black Dynamite and his crew face their most challenging mission to date as they try and raise $60K before tax day. This situation has forced them into escorting drug-addled comedy icon Richard Pryor to the most important performance of his career.
---
1x02 Bullhorn Nights or Murder She Throats (July 22, 2012)
---
Bullhorn falls into the world of adult films while working on a case. Soon he adopts the stage name "Sweet Throat" and gives up crime fighting altogether. Now it's up to Black Dynamite to rescue his sidekick from the pleasures of the porn industry!
---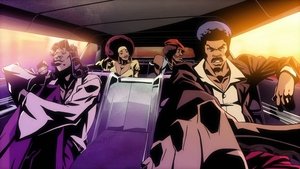 1x01 Just Beat It or Jackson Five Across Yo' Eyes (July 15, 2012)
---
Pint-sized pop star Michael Jackson finds a best friend in Cream Corn after he is saved from an assassination attempt. But Black Dynamite is soon to discover that the teen idol is actually a vicious alien force who has been torturing his own family. Cream Corn and Dynamite team up to take down the evil star together!
---