Dance Moms
Season 6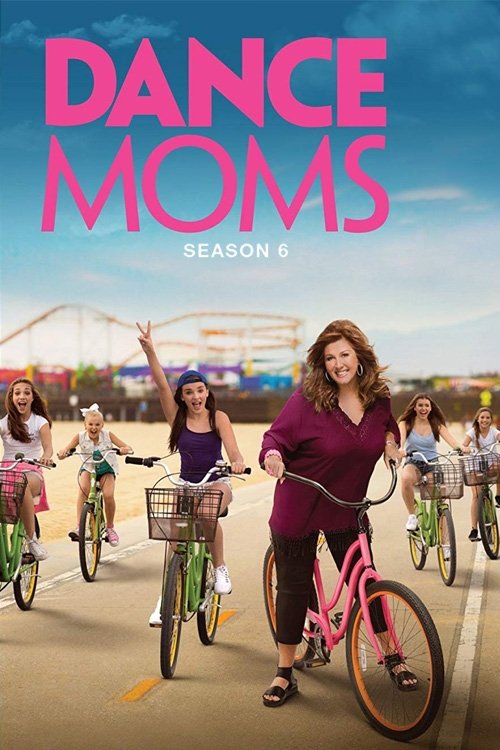 Dance Moms
Season 6
First Air Date: January 06, 2016

| | | |
| --- | --- | --- |
| First Aired on | : | 2016 |
| Episodes | : | 33 episodes |
Episodes
6x33 Two Teams, Two Studios Part 2 (November 22, 2016)
---
---
6x32 Episode 32 (November 15, 2016)
---
---
6x31 Float Like a Butterfly, Sting Like Ab-bee (November 01, 2016)
---
The elite dancers become spread thin when Abby books a demanding commercial shoot for the team; a chain of events could lead to a big rift between Abby, the mothers and the elite girls.
---
6x30 ALDC for Sale? (October 25, 2016)
---
Abby's trial hits the news again; the mothers speculate about the ALDC's future; Brynn is put to the test with her first solo of the season; the elites are tasked with a challenging dance; Abby shows attention to the minis.
---
6x29 JoJo Is a No Show (October 18, 2016)
---
Abby choreographs an emotional dance after the ALDC learns of tragic news from Kira and Kalani's hometown; the minis attempt to make a comeback with their group number; JoJo is tested beyond her limits by a difficult ballet duet.
---
6x28 Abby, You're Fired! (October 11, 2016)
---
---
6x27 Mini Mayhem (October 03, 2016)
---
Abby attempts to unify the two teams by assigning the elites and minis as duet partners; the elites are forced to choreograph their own group dance as Abby continues to favor the minis.
---
6x26 Mommy Meltdown (September 27, 2016)
---
Abby tasks the minis with their first lyrical routine to honor her mother on Mother's Day; the elites are tested when their mothers make a decision that leaves them without a group dance for the competition; the mothers give Abby an ultimatum.
---
6x25 Return of the Minis (September 20, 2016)
---
---
6x24 Nia & Kendall Face Off (September 02, 2016)
---
---
6x23 Abby's New Beginning (August 30, 2016)
---
---
6x22 Girl Talk Part 3 (September 06, 2016)
---
With Maddie gone, a newly motivated Abby promises to no longer overlook her remaining dancers; Abby assigns Brynn and Kendall head-to-head duets with boy partners; Jess calls out Abby's favoritism for Brynn, angering Ashlee.
---
6x21 Maddie and Mackenzie Say Goodbye (May 24, 2016)
---
---
6x20 The Girls Say Goodbye (May 17, 2016)
---
---
6x19 Hello and Goodbye (May 10, 2016)
---
The mothers reunite to discuss the dramatic events from the season; the mini mothers discuss the future of the ALDC; the junior elite team performs.
---
6x18 One Last Dance (May 03, 2016)
---
Maddie and Mackenzie participate in their final competition with the ALDC team; Abby pits Mackenzie against a new mini, Ari; the mothers encourage Melissa to reason with Abby.
---
6x17 Mini Madness (April 26, 2016)
---
Maddie and Brynn have solos this week; the mothers are not happy when Abby assigns Brynn a dance inspired by an old Maddie routine; the mini team returns to compete for Abby's attention.
---
6x16 Mack Z Vs. Abby Lee (April 19, 2016)
---
Abby gives Brynn and JoJo hip hop solos, but gives Mackenzie a safe acrobatic routine; Mackenzie fights for what she wants; Abby flees the studio
---
6x15 Melissa's Announcement (April 12, 2016)
---
---
6x14 JoJo Steals the Show Show (April 05, 2016)
---
---
6x13 ALDC Does Vegas (March 29, 2016)
---
The ALDC heads to Las Vegas; Ashlee and Brynn are now official members of the team; Kendall stands up to Ashlee for the first time; the mothers are concerned that the girls are becoming too involved in the drama.
---
6x12 Brynn's Big Moment (March 22, 2016)
---
Abby enlists Todrick Hall to direct the girls in a commercial inspired by "The Wiz" in hopes of gaining more business. Later, Brynn has a chance to join the ALDC if she can lead a team of her choosing to victory against a group led by Maddie.
---
6x11 The Maddie Rumor (March 15, 2016)
---
Maddie is nominated for a People's Choice Award and the media is abuzz with rumors that she is leaving the ALDC. The moms are furious when Abby invites an unexpected guest as her date to the People's Choice and the biggest moment of Maddie's professional career. The minis are back, along with a new mom whose daughter's attitude causes a dance catastrophe.
---
6x10 Abby Lee Horror Story (March 08, 2016)
---
The ALDC travels to Northern California; Abby's routines grow darker; the mothers' prank attempt backfires horribly; Maddie, Brynn and Kendall compete with solos; Ashlee will do anything to give Brynn an advantage.
---
6x09 Nia Saves the Day (March 01, 2016)
---
It's a week of duets for the ALDC junior elite team with Brynn and Maddie going up against Kalani and Kendall. But when Kalani's back injury starts to act up and Kira is not there to help, Melissa and the other moms have to step in and do what's right for her. Later, with Kira absent and the original moms distracted, Ashlee takes the opportunity to fill in for Abby's newly fired office manager causing more drama with the other moms.
---
6x08 Maddie is Back (February 23, 2016)
---
Maddie has returned from shooting her movie and is back on the team for good, but to everyone's surprise, Abby doesn't seem happy to see her #1 dancer. The moms question if Abby is jealous of Maddie's fame and Ashlee uses this to her advantage in hopes that Abby will spend more time grooming Brynn to be the next big star.
---
6x07 Debbie Allen to the Rescue (February 16, 2016)
---
---
6x06 Episode 6 (February 09, 2016)
---
---
6x05 Abby's Replaceable (February 02, 2016)
---
Abby locks the team out of her Los Angeles studio; Debbie Allen invites the ALDC to work with her; guest choreographer Nakul includes the minis in a difficult Bollywood routine; Kalani and Nia are pushed to their breaking point with a duet.
---
6x04 Now You See Abby, Now You Don't (January 26, 2016)
---
---
6x03 Mini Dancers, Big Drama (January 19, 2016)
---
Abby's new mini team arrives in Los Angeles and tensions are high; Abby is distracted by new mothers, new dancers and her legal troubles; Ashlee and Brynn are caught in Jill's cross hairs as Kendall's position on the team is threatened.
---
6x02 Abby vs. Melissa (January 12, 2016)
---
The mothers are shocked to learn that Abby is forming a new team; news breaks that Abby could be facing jail time; when Mackenzie receives the brunt of Abby's rage, Melissa vows not to play nice anymore.
---
6x01 New Season, New Rules (January 06, 2016)
---
In the Season 6 premiere, Abby has a big announcement for the ALDC; and Maddie shoots her first movie while Jill and Kendall aren't pleased with her substitute. Elsewhere, Jeanette and the BDA team are back to show the ALDC how it's done.
---