Dance Moms
Season 4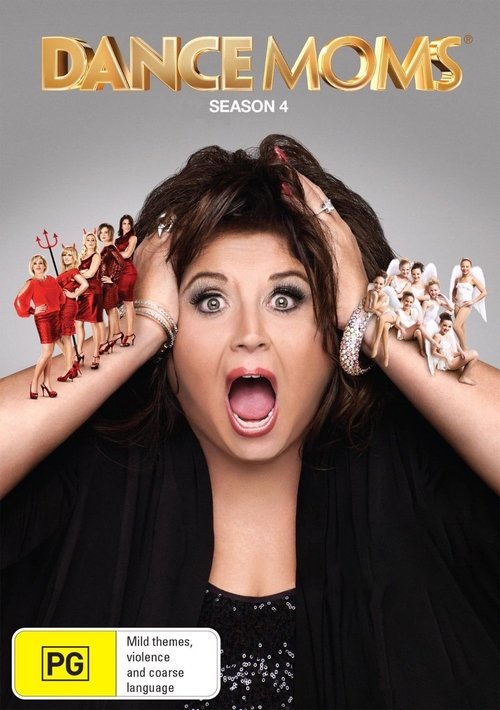 Dance Moms
Season 4
First Air Date: January 01, 2014

| | | |
| --- | --- | --- |
| First Aired on | : | 2014 |
| Episodes | : | 32 episodes |
Episodes
4x32 Playing Favorites (October 14, 2014)
---
The mothers face off against Abby, and accuse her of favoritism; Maddie discusses her success.
---
4x31 Hollywood Here We Come, Part 2 (October 07, 2014)
---
Nationals are a day away, and with all of the distractions of Hollywood, the moms worry Abby has not given enough attention to the routines. With Cathy using the song that made Maddie famous, Abby considers pulling an ALDC solo to let Maddie dance. Stakes have never been higher as Abby threatens to cut the losing team and Christi and Chloe make a heart-wrenching decision
---
4x30 Hollywood Here We Come, Part 1 (September 30, 2014)
---
While the ALDC is in Los Angeles to compete at Nationals, Abby makes a major announcement that will forever change the Elite Competition Team. Ex-ALDC dance mom, Jeanette, stalks the team to LA and vows revenge against Abby. Cathy schemes to ruin Abby's west coast visit by challenging the ALDC to a dance off, and everyone is shocked when Abby's moves steal the show.
---
4x29 45 Second Solos (September 23, 2014)
---
Abby's Annual Dance Concert is always bigger than any old recital and this year is no different, as the theme is an emotional tribute to her mother. With Nationals a few days away, Abby gives the girls 45 seconds to prove they each deserve a solo. When Abby has Kamryn dance in Chloe's place, Christi begins to fear the security of Chloe's position at Nationals.
---
4x28 Another One Bites the Dust (September 16, 2014)
---
The dancers try to impress Abby in the last competition before Nationals; Tracey's dream of getting her daughter to join the Elite team is threatened; Cathy crashes the competition.
---
4x27 The Understudies (September 09, 2014)
---
When Abby assigns Chloe and Kendall to be Maddie's understudies for the week, it prompts an idea from Holly to use a board to keep score of all the times Abby favors Maddie over the other children. As the number of tally marks increases, so does the tension between the moms and Abby. Meanwhile, Cathy and her Candy Apples are looking for their very first win against the ALDC this season and they've brought back Gino to help them get it.
---
4x26 No More Crybabies (September 02, 2014)
---
The ALDC heads to Michigan, where Abby has her three youngest members McKenzie, Tea' and Sarah go head-to-head to see who will be competing in a solo at Nationals. When Abby finds out that Jeanette is bringing Ava to compete against them, she concocts a secret plan to try and secure the win and causes a blowout fight between the ALDC moms.
---
4x25 Chloe Gets Revenge (August 26, 2014)
---
Tensions are high when Abby swaps Chloe and Christi for the Select Team's Jade and Loree in the third head-to-head battle between the Elite and Select teams in Washington, D.C. Both teams are anxious to impress Abby when she announces that Nationals are just five weeks away. Jeanette and Ava are thrilled to compete in a solo against Maddie until it becomes obvious that the odds are stacked against them.
---
4x24 Abby-phobic (August 19, 2014)
---
The ALDC heads to Woodbridge, VA to face their toughest competition yet, Studio Bleu. Abby invites Select Team member Jade and new dance mom Loree to join the Elite Team for the week. Christi is in an uproar when Abby picks Chloe to compete a solo against Jade, two years her senior. Abby shocks everyone when she decides to pull the current group routine and start over from scratch, choreographing a dance about phobias.
---
4x23 3 Soloists, One Star (August 12, 2014)
---
This week the ALDC heads to Shenandoah Valley, VA but with Maddie away filming a guest appearance on Ellen, Abby realizes that her #1 dancer's career is taking off and she'll need someone who can win in Maddie's absence. Abby pits Chloe, Nia and Kendall head to head to see who can step up to the plate with character driven solos. Christy's jealousy puts her daughter Sarah's place on the team in dire jeopardy.
---
4x22 Double the Moms, Double the Trouble (August 19, 2014)
---
The ALDC travels to Woodbridge, Va., for a competition; Abby invites Jade to join the Elite Team for the week; Christi is upset when Abby picks Chloe to compete against Jade; Abby decides to pull the current group routine.
---
4x21 Kiss of Get off the Pot (August 05, 2014)
---
With the Select Team gone for the week, the Elite Team needs to end their losing streak. This will prove difficult because they are competing against the Candy Apples on their home turf and Cathy will do whatever it takes to ensure a win. Inspired from her time as a judge on Dancing with the Stars, Abby recruits former Candy Apple Gino to dance a duet with Maddie where the choreography calls for her very first kiss.
---
4x20 Abby's Top Ten Dances (June 17, 2014)
---
Abby reveals her 10 favorite group dances and offers insight into how they came about.
---
4x19 The Battle of Maddie vs. Chloe (May 13, 2014)
---
The rivalry between Maddie and Chloe has boiled for four seasons and this episode of Dance Moms traces the very beginnings of it. Maddie and Chloe battled for first place in competitions, first position on the pyramid and ultimately, for a place in Abby's heart... But is the rivalry really between them...or between their mothers?
---
4x18 No MOMS Allowed (April 29, 2014)
---
The dancers receive the chance to speak their minds about Abby.
---
4x17 Seeing Red (April 22, 2014)
---
After a season full of fights, losses, and heartbreak, Abby and the moms gather to discuss the most memorable moments of the past year. Abby discusses the pain of losing her mother, while Kelly's expulsion from the team is still fresh in Christi's mind. Soon, old wounds are re-opened and everyone is "seeing red."
---
4x16 Presenting My New Team (April 15, 2014)
---
Abby shocks the dancers and their mothers when she presents her new junior elite competition team; the original dancers are pitted against new dancers.
---
4x15 Lights! Camera! Dance! (April 08, 2014)
---
Melissa takes control during Mackenzie's music video shoot; Abby's team is under pressure to continue their winning streak; this week's dances are a tribute to Abby's ailing mother.
---
4x14 Family Comes First (April 01, 2014)
---
With her mother's health declining, Abby leaves the girls and their mothers to fend for themselves at this week's competition; the pending arrival of a new team looms over Abby's original team.
---
4x13 Decisions Decisions (March 25, 2014)
---
Kira tries to force Abby into making her daughter an official member of the Abby Lee Dance Company; Cathy choreographs her dancers in hopes of beating Abby's girls.
---
4x12 Sister Showdown (March 18, 2014)
---
Payton struggles to perform a challenging number; Maddie and Mackenzie compete against each other; Christi considers home school for Chloe.
---
4x11 Blame It on the New Girl (March 11, 2014)
---
A new girl tries out for Abby's team; Cathy prepares her team to end Abby's winning streak; Abby's girls dance at a nursing home to cheer up Abby's mother.
---
4x10 No Solo for You (March 04, 2014)
---
Abby travels to New York; Kira wants Kalani to compete against Maddie this week; Abby gives a solo to Kendall.
---
4x09 Nothing's Fair in Abbyville (February 25, 2014)
---
Chloe and Kalani go head-to-head on the dance floor; Abby promises a starring role to the winner of an improvised dance off, but revokes this when Kendall wins; Abby pushes MacKenzie's pop career with a solo.
---
4x08 Wingman Down (February 18, 2014)
---
Christi isolates herself from the other mothers; Kalani is tested for a spot on Abby's competition team; Holly worries that Nia will not be prepared for her solo.
---
4x07 Big Trouble in the Big Apple (February 11, 2014)
---
Abby announces that she is putting together a new junior elite team; the Abby Lee Dance Company has two competitions in one week; Abby makes a bold decision that leads to a clash with Kelly.
---
4x06 Clash of the Chloes (February 04, 2014)
---
Abby brings in a new dancer named Chloe for a trial run on the competition team; Christi is concerned that Abby will replace her daughter; Holly and Jill are excited about their daughters' duet; Melissa thinks her girls are being overshadowed.
---
4x05 No One Is Safe (January 28, 2014)
---
Holly worries about Nia's featured role in the group dance; Abby's second open call audition has the mothers on edge; Melissa defends her choice to home school Maddie and MacKenzie.
---
4x04 Chloe vs. Kendall: Round 2 (January 21, 2014)
---
Cathy returns with a team of boys to compete against Abby's dancers; a nervous Abby pushes Chloe and Kendall to prepare for their solos; the team members feel pressured to prove themselves to Abby.
---
4x03 Abby Strikes Back (January 14, 2014)
---
Abby announces her first national open audition in Orlando; Jill accuses Christi of lying to help Chloe win; Brooke, Paige and Chloe are given a tricky trio to challenge Brooke's pop star credentials.
---
4x02 Two Can Play This Game (January 07, 2014)
---
The Abby Lee Dance Company competes against the Candy Apples for the first time since Nationals; Chloe and Kendall battle for the number two spot; Payton's future with the team is called into question.
---
4x01 Welcome Back ... Now Don't Get Too Comfy (January 01, 2014)
---
Abby announces that she will be holding open-call auditions for new dancers, and that no one's position on the team is safe; singer Jana Kramer invites Brooke to sing with her on stage.
---