The District
Season 2
The District
Season 2
First Air Date: September 29, 2001

| | | |
| --- | --- | --- |
| First Aired on | : | 2001 |
| Episodes | : | 22 episodes |
Episodes
2x22 Payback (May 18, 2002)
---
The gangster wars have crossed the limits, leaving a blood trail and innumerous victims. Mannion has Temple working undercovered trying to reach the big boss on the drug dealing schemes. But it's not such an easy road and Temple is forced to try some crack in order to prove he's not a cop. That brings back ghosts from his druggie past, which Temple may no be strong enough to fight again. Meanwhile, Mannion himself interferes with the gangsters, interrogating young 12 year-old Junior about homicides. Later, Parras and Brander are victims of an ambush and are kidnapped by the gangsters. Luckily the police force rescues them before anything happens. Mannion sees no way out but turning to Richard Gray for help. With him, he gets the gang leaders to settle a non-aggression deal. When everything seems to be going back to its places, Temple looks for drug dealers to buy some crack. Ella turns down Clive's proposal to move to Seattle with him, and he decides to stay and marry her. And Mannion
---
2x21 Convictions (May 11, 2002)
---
When one of Debreno's first cases solved under Mannion goes to trial, the defense uses Debreno's troubled professional and personal past to discredit him, implying that he set up the defendant in order to impress Mannion. Now, as Mannion questions Debreno's motives, he must also decide whether or not Debreno has a future as a part of his team.
---
2x20 The Killing Point (May 04, 2002)
---
13 years ago a man was convicted for murdering two people at a convenience store. Now Patrick Debreno, Kevin Debreno's brother who's a priest, has to help save him from the death penalty. Someone confessed to him the location of the murder weapon, and Chief Mannion and his team get the suspect and try to make him confess, since Patrick can't accuse him. Unfortunately, Gilbert Isaacs is wrongfully killed for a crime he did not commit. The true murderer, however, storms out of the interrogation room and shoots himself at home. Meanwhile, Ella receives a letter from Pablito, Ricky's father. He's asking to see his son, and after a lot of thinking, Ella meets with him and decides not to let Ricky see his father. She still has to convince Ricky that his father being in prison is not his fault.
---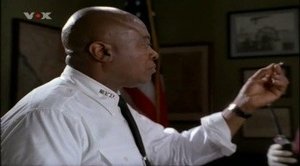 2x19 Shell Game (April 27, 2002)
---
When a man is murdered under suspicious circumstances and Mannion finds out his office is bugged, he starts his own investigation on the case. The latest person to see the victim alive was Lisa Fabrizzi, a CIA agent, which connects the case to the Agency. Mannion faces CIA director Tom Gage for information but doesn't get anything except for a stonewall. Mannion finally gets to the real killer, Braxton, who worked at a software company involved in CIA covert operations. Braxton is killed. Meanwhile, Ella almost buys the house of her dreams and Parras and Brander have to protect condo residents from a monkey.
---
2x18 Shades of Gray (April 20, 2002)
---
The crime level on District 9 is skyrocketing, and Mannion blames it on Commander Richard Gray, whose performance has fallen under expected. Mannion's actions are recriminated and he is pressured to re-think his decision to fire Gray, but he won't give in. Finally, Gray resigns from his duty, and several cops show their loyalty to him by handing their badges as well. Meanwhile, Officer Parras has to face a performance evaluation when her nightstick breaks on a suspect's face. Later, Ella finds out the sticks are cold sensitive and it wasn't Parras's fault.
---
2x17 Still Life (April 06, 2002)
---
Mannion assigns Debreno and new detective Olivia Cahill to work together on a missing Picasso case. They get on each other's nerves, but solve the case after Debreno makes up a theory that at first sounded too conspiracional, but turned out to be true. Meanwhile, Nancy's mom announces she's leaving her father because she found out he was cheating on her. Nancy accidentally let slip that she already knew about it and has to ask her mother to forgive her. Ella is threatened by the possibility of a breast cancer return and both Mannion and Clive offer her their full support. They look back at their best times with her and learn that Ella is cancer-free.
---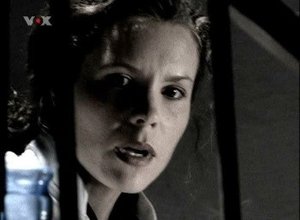 2x16 The Greenhouse Effect (March 23, 2002)
---
Mannion's friend Teddy Reed is the only witness to a Congressman's murder, and Mannion thinks she's lying about the whole situation. Meanwhile, the city erects a statue depicting a heroic act by three police officers, including Cutter, but many are infuriated when Cutter's figure is altered to represent someone of a different race.
---
2x15 Daughter for Daughter (March 09, 2002)
---
Mannion faces off with Putin once again and the stakes are even higher when Putin resurfaces and kidnaps Mannion's daughter! Mannion's initial theory is that Putin wants to trade one daughter for another, but everything changes when the CIA informs Mannion that Putin's daughter, Erin, has disappeared from the Witness Protection Program. Mannion finally finds his dazed and confused daughter, Beth; however, things get more complex when the police find a dead woman, believed to be Erin, in Beth's car trunk. As Beth is arrested for murder, Mannion must prove that his daughter is being set up and the only person who can help him is Putin.
---
2x14 Wasteland (March 02, 2002)
---
A teacher, protesting the Board of Education's inattention to her cries, takes the board hostage at gunpoint and Mannion is called in to diffuse the situation. Frustrated by getting the run-around from the board and environmental agencies, she gives Mannion 12 hours to find answers to the teacher's and students' health problems before she opens fire. Mannion and his team must uncover a complex environmental cover-up while keeping the board and the teacher alive. Meanwhile, Ella asks Clive, the new man she is seeing and a lobbyist for the chemical industry, to look into the case from his end.
---
2x13 This Too Shall Pass (February 02, 2002)
---
Page and Debreno investigate the murder of a reporter, and evidence point them to a wheel-chaired man, who claims the victim was already dead by the time he found her. Mannion goes to NY for his daughter's graduation from police academy and has a hard time saying goodbye to Sherri. Meanwhile, Parras meets a charming man on a cab and thinks he might be ""the one"", and Brander confesses his love for her. Ella goes to Ricky's school to check on why he is having problems with his new teacher, and finds out she looks just like his late mother.
---
2x12 Twist of Hate (January 26, 2002)
---
After a mosque is vandalized, Mannion questions the mosque president, who reveals that the mosque has been receiving threats. Meanwhile, Temple and Debreno investigate two other hate crimes - both with similar scenarios - involving a rabbi and an African-American respectively. Now, before racial and ethnic tensions escalate, Mannion and his team must get to the bottom of these crimes - unaware that the perpetrator is the last person they would suspect. (CBS)
---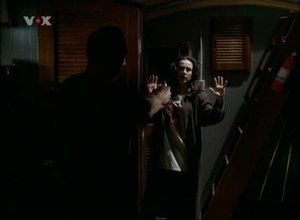 2x11 Russian Winter (a.k.a.The Russian Wars) (January 12, 2002)
---
Mannion confronts his No. 1 enemy, Dimitri Putin, and learns who killed Det. Danny McGregor in this pivotal episode. A Russian woman, Erin Vratalov, comes aboard Mannion's boat claiming she needs protection from Putin. She tells Mannion that Putin ordered her husband, Yuri, to kill the chief. But when Danny died in the assassination attempt instead, Putin had Yuri murdered and is now after her. She also claims Yuri had a tape recording of Putin giving the order to murder Mannion, but she doesn't know where it's hidden. So begins Mannion's race to find the incriminating evidence, a search that leads ultimately to a volatile face-to-face encounter. (CBS)
---
2x10 Thursday (December 15, 2001)
---
When police officer Robert Turner woke up one Thursday morning, he thought it was going to be just a normal day on the force. However, when a car plunged off a bridge into a river, Turner lost his life while rescuing the family inside. Now, Mannion and his team reflect on the life and death of one of their own. (from CBS)
---
2x09 Cop Hunt (December 01, 2001)
---
A woman who was driving home late at night is found beaten and raped after being stopped by a police officer for a traffic violation. After talking to the woman, Mannion discovers that this is the latest in a series of attacks allegedly perpetrated by a police officer. Now, after Mannion conducts an internal investigation of his officers and fingers start pointing at Cutter, Debreno is thrown for a loop when his estranged wife (Farentino) informs him that she was attacked in the same exact way. Meanwhile, Preston Kembridge, a mayoral candidate, tempts Nick with an offer to run his campaign. (from CBS)
---
2x08 Tug of War (November 24, 2001)
---
When Mannion has Temple and Debreno investigate the woman's murder, he discovers that the criminals weren't going for the victim's cash or credit cards, but for the expensive purse itself. In response, Mannion immediately dispatches detectives to patrol subway cars, angering the chief of the Transit Authority, who believes that Mannion is trying to muscle in on his territory. Then, when Debreno and Temple set up a sting operation, Debreno's life is put in danger and Mannion's team must find a way to draw out the perpetrators of these crimes before they strike again. Also, Mannion's outrageous ex-fiancee comes back for a visit after hearing that Mannion and Sherry split up.
---
2x07 Bulldog's Ghost (November 10, 2001)
---
After Nancy discovers a murdered homeless man, Mannion notices that the body has a distinct military tattoo. He identifies the man as a former Marine believed to have been held prisoner in a Vietnamese camp. They soon learn that the victim may have been one of many POW's who were returned to the United States in the 1980s after the government stated that there were no prisoners left in Vietnam. Now, as Mannion delves further into the case, he must battle the demons that continue to haunt him from the time he spent in Vietnam. (from CBS)
---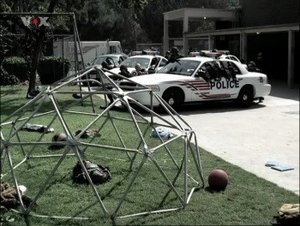 2x06 Melt Down (November 03, 2001)
---
When two children are shot by a 7-year-old boy, Mannion makes it his mission to find exactly how the boy got his hands on a gun. When Mannion questions the 7-year-old, he learns that the youngster took the gun from his 15-year-old brother who reveals that he got the gun from a ""guy on the street"" near his school. With the help of Temple and Debreno, Mannion sets up a sting and discovers that the weapon was actually a gun that the police had confiscated in a ""buy-back"" program. Now, with the Public Safety Commission breathing down Mannion's neck, he must track down the culprits before any more guns hit the street or any more children get hurt.
---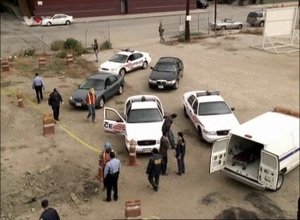 2x05 To Serve and Protect (October 27, 2001)
---
A construction worker finds the skeleton of a dead boy. He was Noland's last case before promoted - a case that was never solved. Now Noland devotes all his efforts into putting an end to this crime. They finally arrest the boy's mother, who also killed another son of hers. Meanwhile, Mannion tries to change the child abuse scenario in the city. Nick negotiates a possible candidature of Mannion's for the upcoming mayor election. Ella has to fire an old employee but manages to keep him. Parras has trouble dealing with an abusive father that reminds her of her own father, until it is proven that such father never touched his problematic 14 year-old son.
---
2x04 The Project (October 20, 2001)
---
After a women is stabbed to death outside her apartment building, and no witnesses are willing to speak to the police, Mannion moves in, hoping to gain the residents' trust. The housing project has been a dangerous place to live for a long time and the residents are weary of the police, who never seem to be there when they need them. Now, Mannion must convince them that this is not a media stunt -- he honestly wants to make their lives safer -- and that they need to speak up before the killer strikes again. (from CBS)
---
2x03 Night Shift (a.k.a. Back Fire) (October 13, 2001)
---
Temple and Debreno are working on a carjacking followed by murder case. Parras is suspicious when the victim's fiancé cries but no tears come from her eyes. The case is only solved with the help of a schizophrenic homeless man with multiple identities, who saw the suspect with another man just before the shooting. Temple and Debreno are not getting along, and Mannion has to interfere before Temple (who's much more religious since his fiancee's death, which annoys Debreno) tries to quit. Ella has to handle a strike/budget crisis. Parras is back on the streets and her partner takes it hard when another black man insults him. A snake is left loose around the office.
---
2x02 Foreign Affair (October 06, 2001)
---
Mannion has to handle an international crisis after the son of the Colombian ambassador is discovered to be the main dealer of the heaviest type of heroine yet. Threatened not to do anything about it, Mannion studies the international code for diplomatic immunity and plays around until he gets Eduardo kicked out of school and arrested. Meanwhile, Temple helps a heroin addicted woman; Ella has problems with Ricky after he returns from summer camp; Jack Jr. goes to court for his drug problem and Nancy finds Jack a new assistant.
---
2x01 Lost and Found (September 29, 2001)
---
Mannion decides to take every missing case as a homicide case after a rich woman is reported missing, which causes some problems among the African-American community. Debreno is introduced as Temple's new partner, who is still recovering from his fiancée and his ex-partner's death. Ella is back at work, still recovering from breast cancer. Nancy considers going back to the streets as she recovers from Danny's death. Mannion investigates the main suspect on Danny's murder, and finds the suspect's apartment full of pictures of him, Sherry and his children. Sherry leaves and an anonymous call leads Jack to discover the suspect's body tied on his boat's anchor.
---