Geordie Shore
Season 5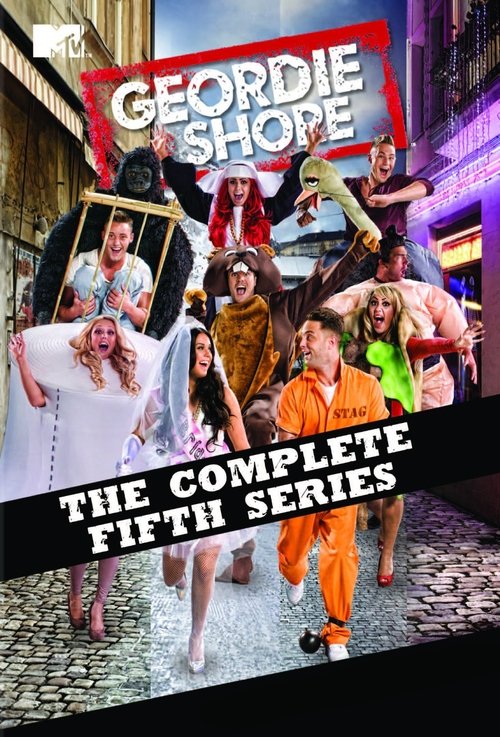 Geordie Shore
Season 5
First Air Date: February 19, 2013

| | | |
| --- | --- | --- |
| First Aired on | : | 2013 |
| Episodes | : | 9 episodes |
The fifth series of Geordie Shore, a British television programme based in Newcastle upon Tyne, began airing on 19 February 2013 on MTV. The series concluded on 16 April 2013 after 8 episodes and a special episode counting down the best bits from the series. This series was filmed in Newcastle upon Tyne with the cast visiting various locations around Europe, including Amsterdam, Barcelona, Prague and Tignes.
Episodes
5x09 Best of Geordie Tours (April 16, 2013)
---
A look back at the latest series of Geordie Shore with your favorite dysfunctional family. The gang also reveal what it was like to go through all the boozing and banter from their turbulant European tour.
---
5x08 Episode 8 (April 09, 2013)
---
Will the gang cool off after the biggest fight in Geordie Shore history, Charlotte finds herself in hot water with boss Anna, and there's a distinctly icy atmosphere between the boys and the girls as they all head off to the French Alps for their final Geordie Tour of the series.
---
5x07 Episode 7 (April 02, 2013)
---
The gang return from Barcelona with Charlotte's declaration of love for Gary still hanging in the air and Vicky set for a final showdown with Ricci. While James organises a day at a military boot camp, the girls decide to throw an American-themed house party, but it's anything but united as Charlotte gets into a state over Gary resulting in the biggest fight in Geordie Shore history...
---
5x06 Episode 6 (March 26, 2013)
---
Charlotte returns to the Geordie Shore house just in time to join the rest of the gang on a Geordie Tour of Barcelona. There's booze and banter aplenty as Dan leads the lads on a night out, and with Ricci out of the picture, single Vicky leads a stag do on a sightseeing tour. And as our favourite Geordies bathe in the Spanish sun, sea, sex and sangria - Charlotte has a bombshell to drop on Gary...
---
5x05 Episode 5 (March 19, 2013)
---
The chaos continues as the gang return from Prague to a turbulent Toon. Holly and Kate come face to face on a night out, while Dan comes face to face with a ham sandwich and gets in a pickle with Scott. And the house is in total meltdown as Charlotte and Gary finally come to blows over their on/off relationship, and it looks like it could be the end for Vicky and Ricci.
---
5x04 Episode 4 (March 12, 2013)
---
The gang are back on their Geordie Tour of Europe, and this time they're off to Prague for banter, birds, and booze galore. Chaos reigns as Gaz gets mortal and kicks off at Charlotte while booze also gets the better of Dan, who upsets Vicky and Ricci in the process. And as the boys get stuck into the local strip clubs, it's the girls getting their guns out for a change at the shooting range.
---
5x03 Episode 3 (March 05, 2013)
---
There's tension in the Toon, as James brings girlfriend Kate on a night out with the gang, leaving Holly unimpressed. The Geordie Shore house explodes as Vicky and Ricci have a row to remember, Scott flips out, and Holly has to find a novel way to calm him down. And with all the chaos going on around them, Gary and Charlotte seem to think they're back in Amsterdam...
---
5x02 Episode 2 (February 26, 2013)
---
The gang return from Amsterdam and it's time to tear Newcastle a new one. Vicky and Ricci celebrate breaking the Geordie Shore relationship curse at their one year anniversary dinner, but it's not all smiles as Holly and James still can't stand the sight of one another.
---
5x01 Episode 1 (February 19, 2013)
---
The Geordie Shore gang are back in a pimped-up pad and ready to cause chaos once again. Its boys against girls as Charlotte and Holly form an alliance to take on the Buck Squad, while Boss Anna has a surprise in store for the family as she sends them on a European adventure that some of them may want to forget.
---