Mickey Mouse Clubhouse
Season 4
Mickey Mouse Clubhouse
Season 4
First Air Date: November 05, 2012

| | | |
| --- | --- | --- |
| First Aired on | : | 2012 |
| Episodes | : | 26 episodes |
Episodes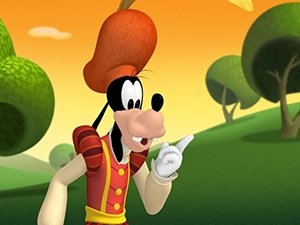 4x26 A Goofy Fairy Tale (November 06, 2016)
---
It's bedtime at the Clubhouse and everyone's ready for their favorite bedtime stories! Unfortunately, Goofy's magic trick makes all the stories disappear from the Clubhouse books!
---
4x25 Martian Minnie's Tea Party (October 14, 2016)
---
Minnie's on her way to Mars on an urgent mission! Her assignment? Help her outer space twin, Martian Minnie, host a tea party for our Clubhouse friends throughout the galaxy!
---
4x24 Mickey's Sport-Y-Thon (August 25, 2016)
---
Put on your sneakers, sports fans! Today is the first ever Mickey Mouse Sport-a-thon! It's an action-filled sports tournament that draws athletes from around the Clubhouse.
---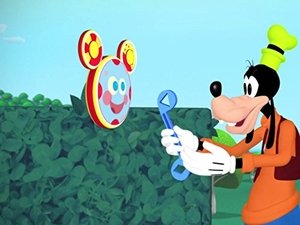 4x23 Oh, Toodles! (May 06, 2016)
---
Professor Von Drake is working on a surprise invention when he discovers that he is missing four of his tools. Toodles helps Mickey find them with Mouseketools and a checklist.
---
4x22 Chef Goofy on the Go (February 19, 2016)
---
Mickey helps Goofy serve up deliveries from his "Chef Goofy On the Go" lunch truck.
---
4x21 Pop Star Minnie! (November 11, 2015)
---
When Minnie is invited to sing at Mistletoe Mountain, Mickey discovers that all the instruments are missing.
---
4x20 Mickey's Monster Musical (October 30, 2015)
---
Mickey, Minnie and Pluto stumble upon Count Mikula's castle and help solve the mystery of its creaky noises.
---
4x19 Mickey's Mousekedoer Adventure (June 26, 2015)
---
Mousekedoer malfunctions and needs to be fixed.
---
4x18 Donald's Brand New Clubhouse (June 12, 2015)
---
Mickey has birthday and his friends help him at the ceremony.
---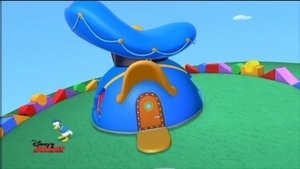 4x17 Mickey's Mousekeball (April 03, 2015)
---
Professor Von Drake shows the Clubhouse pals a high-tech new game, Floatin' Fun-Time Mousekeball! But when the ball escapes, the game takes to the skies!
---
4x16 Around the Clubhouse World (January 19, 2015)
---
Mickey, Minnie, and Pluto travel around the world to collect stamps for their special Clubhouse Passport.
---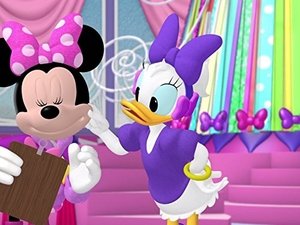 4x15 Minnie's Winter Bow Show (December 05, 2014)
---
While putting together the Winter Bow Show, Minnie and her nieces, Millie and Melody get swept away to the Clubhouse North Pole.
---
4x14 Mickey's Happy Mousekeday (November 18, 2014)
---
It's Mickey's birthday, and for his birthday present, the Clubhouse gang has organized fun activities for the big Mousekeday.
---
4x13 Mickey's Pirate Adventure (October 10, 2014)
---
Mickey and pals are enjoying a day at the beach when Peg Leg Pete delivers a note from Goofy's long lost Grandpappy, Captain Goof-Beard, asking for the gang's help in ensuring that Harmony-Chord Island, the musical isle where Goof-Beard lives, doesn't go completely out of tune and sink.
---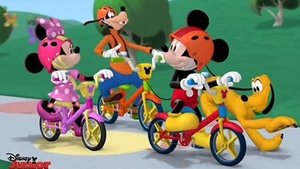 4x12 Sea Captain Mickey (July 18, 2014)
---
Mickey and the gang search for something at the bottom of Mickey Lake. Mickey and the gang use a submarine to explore Mickey Lake, when Professor Von Drake's sonar-detecting machine discovers that there's something big at the bottom.
---
4x11 Donald Jr. (June 06, 2014)
---
Donald teaches a duckling a dance for a school talent day.
---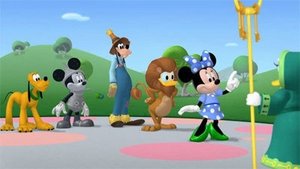 4x10 Mickey's Clubhouse Rocks (April 01, 2014)
---
Mickey and the gang are prepared to rock with a battle-of-the-bands showdown filled with epic guitar solos.
---
4x09 Minnie-rella (February 14, 2014)
---
Minnie has a dream that she is Minnierella.
---
4x08 Minnie's Pet Salon (November 22, 2013)
---
It's time for Pluto's All-Star Pet Show at Minnie's Pet Salon.
---
4x07 Mickey's Mystery (November 04, 2013)
---
Kansas City Mickey returns to help the clubhouse team solve a mystery in the Hidden Jungle.
---
4x06 Super Adventure (October 18, 2013)
---
Super Mickey and the Clubhouse Heroes must work as a team.
---
4x05 The Wizard of Dizz (September 20, 2013)
---
Minnie and Pluto are swept up in a big wind and end up in the wonderful world of Dizz. And they need to get back to the clubhouse for the "Clubhouse Day" party.
---
4x04 Mickey's Farm Fun-Fair (August 16, 2013)
---
MIckey and pals hold a farm fun fair.
---
4x03 Daisy's Pony Tale (April 05, 2013)
---
A new invention makes Daisy's ponytail grow long.
---
4x02 Quest for the Crystal Mickey (March 08, 2013)
---
Pete snatches the Crystal Mickey statue from the clubhouse.
---
4x01 Mickey and Donald Have a Farm (November 05, 2012)
---
Mickey and his pals plan to rescue the missing animals from the Clubhouse Farm.
---