Mickey Mouse Clubhouse
Season 2
Mickey Mouse Clubhouse
Season 2
First Air Date: January 26, 2008

| | | |
| --- | --- | --- |
| First Aired on | : | 2008 |
| Episodes | : | 40 episodes |
Episodes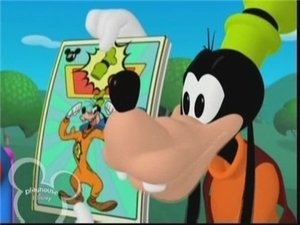 2x40 Mickey's Big Surprise (January 09, 2010)
---
Help Mickey and his friends solve the five Fun Puzzles to get a Big Surprise.
---
2x39 Goofy's Super Wish (December 12, 2009)
---
Goofy trains to be a superhero and uses his skills after Clarabelle's moo-muffin maker breaks.
---
2x38 Mickey's Adventures in Wonderland (November 07, 2009)
---
A mechanical cuckoo bird that's a birthday gift for Daisy flies away, and the gang embarks on an imaginative Alice in Wonderland-like adventure to retrieve it.
---
2x37 Goofy Goes Goofy (September 12, 2009)
---
Goofy gets cloned after Professor von Drake's new experimental Gooey-Goo splashes onto him. Mickey and his friends must take care of the clones until the effect wears off.
---
2x36 Mickey and the Enchanted Egg (May 02, 2009)
---
A story Mickey plans to read aloud about an enchanted egg, suddenly becomes real. The big purple dragon egg Wizard Pete is taking care of, rolls out of the castle and into Donald and Goofy while they are walking to the Clubhouse. A purple baby dragon pops out of the egg. Mickey and friends name it Zoe and take it to Wizard Pete, while trying to get out of his traps.
---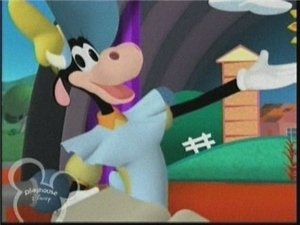 2x35 Pluto's Playmate (February 21, 2009)
---
Mickey and his friends help Salty the Seal do tricks for the circus.
---
2x34 Minnie's Bee Story (December 13, 2008)
---
Mickey and his friends help Minnie's friend, Buzz-Buzz the Bee, find his way back home after a strong wind blows him off a sunflower.
---
2x33 Choo-Choo Express (October 25, 2009)
---
Mickey and the gang build a train, so they can carry the professor's non-melting snow to the Clubhouse.
---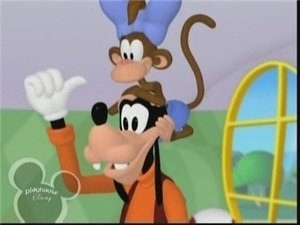 2x32 Goofy's Coconutty Monkey (October 05, 2009)
---
When Goofy's friend Coco the Monkey can't find any coconuts for her "coconutty party," Goofy, Mickey and the clubhouse gang take a trip into the jungle in search of coconuts.
---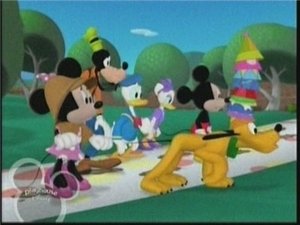 2x31 Donald's Ducks (April 04, 2009)
---
Donald helps a group of ducks get to a warm beach for their winter retreat.
---
2x30 Pete's Beach Blanket Luau (November 08, 2008)
---
Mickey and his friends throw a beach party to cool off on the hottest day of the year and Pete invites everyone including the viewer.
---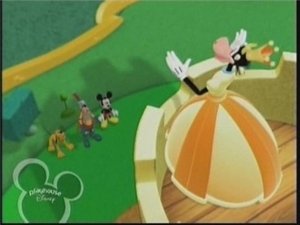 2x29 Mickey's Message from Mars (January 10, 2009)
---
Mickey, Daisy, Goofy and Pluto fly up to Mars and help a Martian Mickey find a secret treasure.
---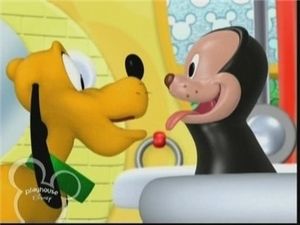 2x28 The Friendship Team (November 14, 2009)
---
Help Detective Minnie and Secret Spy Daisy search for missing party hats for the clubhouse's Friendship Day celebration.
---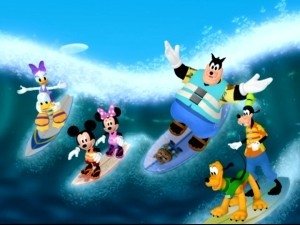 2x27 Space Captain Donald (June 20, 2009)
---
Donald leads the gang on a mission to the moon to retrieve Pluto's bouncy ball.
---
2x26 Minnie's Rainbow (March 07, 2009)
---
Minnie searches for a pot of gold and meets a leprechaun after a rainbow appears over the clubhouse.
---
2x25 Clarabelle's Clubhouse Mooo-sical (October 11, 2008)
---
Clarabelle stages a musical about nursery rhymes starring chickens from the petting zoo, but they practice so much, they lose their voices.
---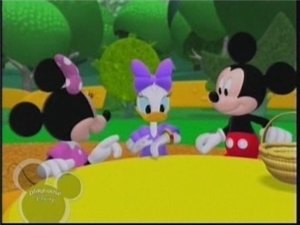 2x24 Mickey's Comet (November 17, 2008)
---
Everyone wants to view Mickey's Comet, but first they have to find Professor Von Drake and his telescope.
---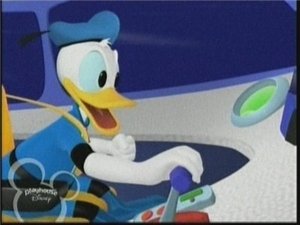 2x23 Minnie's Mystery (March 14, 2009)
---
Minnie attempts to find out who took her fresh baked muffins from the clubhouse.
---
2x22 Sir Goofs-a-Lot (November 20, 2009)
---
Goofy wants to be knighted by Queen Clarabelle, so he proves his bravery by going on a quest to retrieve three items.
---
2x21 Pluto to the Rescue (September 06, 2008)
---
Pluto comes to the rescue when Donald and Goofy build a snowman so big, they can't climb around it or over it.
---
2x20 Secret Spy Daisy (November 20, 2009)
---
Daisy protects Clarabelle's secret recipe for oatmeal raisin cookies from Pete.
---
2x19 Mickey's Thanks A Bunch Day (October 03, 2008)
---
Minnie uses a growth spray in her garden to help her fruits and vegetables grow in time to be picked for Thanks A Bunch Day, but it turns them all into gigantic creations.
---
2x18 Mickey's Silly Problem (July 12, 2008)
---
The clubhouse's "silly switch" gets stuck and makes everyone act in comical ways, such as Mickey only speaking in rhyme and Pluto making every animal sound except barking (such as meowing like a cat and mooing like a cow).
---
2x17 Mickey's Art Show (February 07, 2009)
---
Goofy learns to sculpt, paint and draw so he can compete in an arts-and-crafts show sponsored by Mickey.
---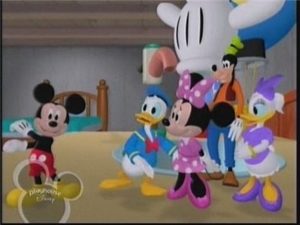 2x16 Pluto's Bubble Bath (August 23, 2008)
---
Clarabelle and Bella are coming over for tea and biscuits and dog biscuits and Pluto is all dirty and needs a bubble bath. But when Pluto's bubble bath gets out of hand, Mickey and Pluto each get stuck inside a giant bubble and float away from the clubhouse.
---
2x15 Mickey's Round Up (June 21, 2008)
---
Ludwig Von Drake's package of wild numbers has arrived at the Clubhouse. However, they are accidentally let out and it is up to Mickey and his Clubhouse friends to don cowboy/cowgirl clothes and gear and round them all up to the "MickeyCorral" on the grounds before the Professor returns from an errand. Note: This is the only time something is alive.
---
2x14 Mickey's Big Job (May 10, 2008)
---
Mickey and the gang take care of Willie the Giant's farm while he's away.
---
2x13 Daisy's Pet Project (March 15, 2008)
---
Daisy has trouble finding a pet for the Pet Parade. She must find a pet before the Pet Parade starts. She gets three pets, an elephant named Bubbles, a giraffe named Longfellow and a bunny named Captain Jumps-a-Lot.
---
2x12 Mickey's Camp Out (April 12, 2008)
---
Mickey and the rest of the Clubhouse friends have a "Big Clubhouse Camp Out." They are trying to earn a Clubhouse Camp Out badge for each one of them by doing two tasks at a campsite.
---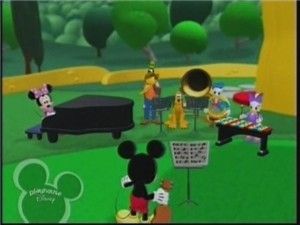 2x11 Mickey and Minnie's Jungle Safari (March 01, 2008)
---
Minnie wants to have a picture of a hula hibiscus to complete her flower picture collection, but she has only one day to get it, when it is in full bloom. She will need help from all of her Clubhouse friends to get to where the flower is located. PS: Toodles has another task, besides holding onto the Mouseketools. It has the task of becoming a "Mousekemap" as well.
---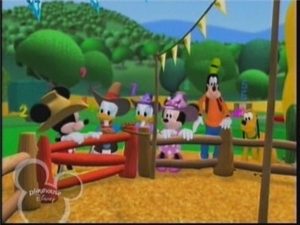 2x10 Clarabelle's Clubhouse Carnival (August 09, 2008)
---
With Mickey and friends' help, Clarabelle sets up a carnival at the Clubhouse grounds. The reason for it is her need to feed the chickens with lots of corn.
---
2x09 Donald's Special Delivery (June 20, 2008)
---
The Clubhouse mail has arrived for all of the Clubhouse friends except Donald. It's up to the Clubhouse friends all make Donald feel better.
---
2x08 Goofy's Hat (April 26, 2008)
---
Today is the Clubhouse's "Picture Day," where all of the Mickey Mouse Clubhouse friends get their picture taken. But it seems that Goofy is too disappointed to take his picture because he lost his hat. Note: This is the first episode where Goofy is seen without his hat since he looked like that in Goof Troop, A Goofy Movie and its sequel An Extremely Goofy Movie.
---
2x07 Mickey's Big Band Concert (January 24, 2009)
---
Mickey and friends practice their band's music for the Mickey Park Polka-Palooza Dance Festival where the elephants will dance the Pachyderm Polka. (The Sensational Six: Mickey on ukulele, Donald on tuba, Minnie on piano, Daisy on xylophone, Goofy on trombone and Pluto as metronome), but their instruments need to be repaired (Minnie's Piano has the incorrect pitch, Goofy's trombone slide is stuck, Daisy's xylophone is falling apart, Mickey's ukulele strings are out of tune and Donald's papers keep blowing away).
---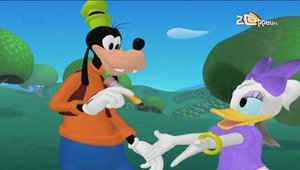 2x06 Goofy in Training (February 20, 2010)
---
Goofy tries to run an obstacle course and gets help from his friends. Goofy is practicing for the Mickey Mouse Obstacle Course in hopes of winning a medal
---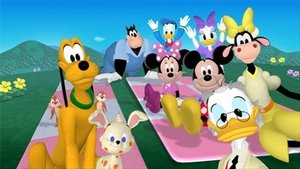 2x05 Minnie's Picnic (February 09, 2008)
---
Minnie decides to memorialize the new picnic area of the clubhouse by organizing the first picnic with the help of her friends.
---
2x04 Goofy Baby (January 27, 2008)
---
When Professor Ludwig Von Drake's Time Machine turns Goofy into a baby, Mickey and the gang must babysit Goofy Baby until the machine is fixed.
---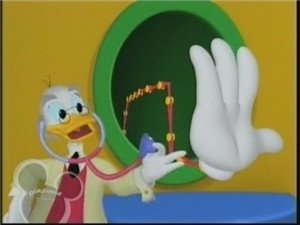 2x03 Mickey's Handy Helpers (January 27, 2008)
---
When the handy Helpers break down, Mickey and the gang work to fix them.
---
2x02 Goofy the Home Maker (January 26, 2008)
---
Goofy and the gang construct a birdhouse for Baby Red Bird and his family.
---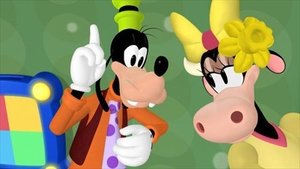 2x01 Fancy Dancin' Goofy (January 26, 2008)
---
When Clarabelle invites Goofy to go with her to the Fancy Dance, the gang helps him learn gentlemanly ways.
---