Last Man Standing
Season 9
Last Man Standing
Season 9
First Air Date: January 03, 2021

| | | |
| --- | --- | --- |
| First Aired on | : | 2021 |
| Episodes | : | 21 episodes |
Episodes
9x21 Keep On Truckin' (May 20, 2021)
---
After Mike's beloved truck is stolen, just as he completes his 10-year renovation on it, the Baxter family and friends gather together for an emotional good-bye.
---
9x20 Baxter Boot Camp (May 20, 2021)
---
Mike teaches Kristin about work/life balance, as Vanessa and Mandy school Jen on camping. Meanwhile, Ed asks Kyle how to get into heaven.
---
9x19 Murder, She Wanted (May 13, 2021)
---
Mandy gets jealous after Mike spends time with Ryan at a marketing retreat. Meanwhile, Ed attempts to get Chuck and Joe to see a musical.
---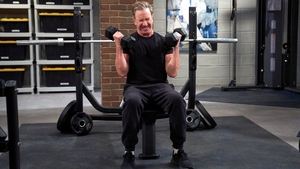 9x18 Yoga and Boo-Boo (May 06, 2021)
---
After Mike's doctor recommends that he start stretching, Mike uses Chuck's injury as an excuse to get out of yoga with Vanessa. Meanwhile, Kristin and Ryan and Mandy and Kyle each believe the other couple is jealous of their relationship.
---
9x17 Love & Negotiation (April 29, 2021)
---
Kristin and Ryan go head-to-head in a business negotiation for Outdoor Man that puts their marriage in a sticky situation. Meanwhile, Vanessa and Mandy compete to see who can log the most steps in a day.
---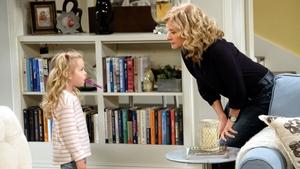 9x16 Parent-normal Activity (April 22, 2021)
---
After her granddaughter starts misbehaving, Vanessa gives Mandy a valuable parenting lesson. Meanwhile, Mike is challenged to find a meaningful gift for his business anniversary with Ed.
---
9x15 Butterfly Effect (April 15, 2021)
---
Mike and Vanessa help Mandy and Kyle with their estate planning, but are disappointed with whom they plan to appoint as Sarah's legal guardian. Meanwhile, Jen begins working at OutdoorMan and takes advice from Chuck a tad too seriously.
---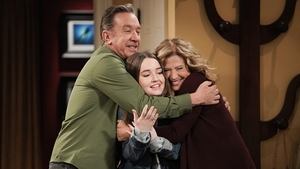 9x14 The Two Nieces of Eve (April 08, 2021)
---
Eve comes home for a visit and struggles to connect with her nieces. Meanwhile, Kyle turns to Ed when he worries he isn't dynamic enough in his preaching.
---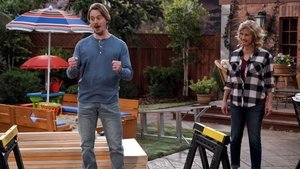 9x13 Your Move (March 25, 2021)
---
While Mike is away, Kristin learns what it takes to be in charge at Outdoor Man. Meanwhile, Vanessa and Kyle debate how to upgrade the backyard play area and Ryan teaches Mandy how to play chess, but he may be the one getting schooled.
---
9x12 Midwife Crisis (March 18, 2021)
---
In a flashback set during the pandemic, Mandy and Kyle decide to have a home birth - at Mike and Vanessa's. Meanwhile, Ryan and Chuck team up to construct a state-of-the-art crib.
---
9x11 Granny Nanny (March 11, 2021)
---
On the eve of her birthday, Vanessa refuses to believe that she needs to slow down, going above and beyond on her grandma responsibilities. Meanwhile, Joe puts Mike's friendship to the test.
---
9x10 Meatless Mike (March 04, 2021)
---
Mike's willpower is put to the test when Vanessa challenges him to go vegetarian for a week. Meanwhile, Ed trolls ventriloquist Jeff Dunham on social media and Mandy and Kyle move into Kristin and Ryan's guest house.
---
9x09 Grill in the Mist (February 25, 2021)
---
In the wake of the pandemic, Mike and Kristin are forced to make some tough business decisions involving Outdoor Man. Meanwhile, Jen helps Mandy get organized.
---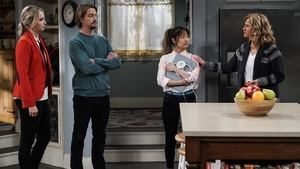 9x08 Lost and Found (February 18, 2021)
---
When Ed pits Mike and Joe against each other to find the next classic car for renovation, Chuck teaches them a valuable lesson. Meanwhile, Mandy, Kyle and Vanessa meddle in Jen's love life.
---
9x07 Preschool Confidential (February 11, 2021)
---
Vanessa's attempt to have both her granddaughters admitted to an elite preschool puts her in a sticky situation to return a political favor. Meanwhile, Mike worries Rev. Paul is taking advantage of Kyle.
---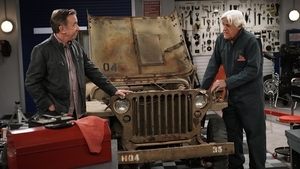 9x06 A Fool and His Money (February 04, 2021)
---
Mike regrets convincing Joe to use his inheritance money to buy a classic jeep when he realizes how he intends to restore it. Meanwhile, Kristin and Ryan worry that Mandy and Kyle are teaching Sarah bad language.
---
9x05 Outdoor Toddler (January 28, 2021)
---
When Vanessa asks Ed to revive the Outdoorman Toddler campaign, she is forced to choose between her two new granddaughters for the ad. Meanwhile, Ryan's plan to buy a house on Mike's street hits a snag - Mike -.
---
9x04 Jen Again (January 21, 2021)
---
Mike surprises Vanessa with a visit from Jen that might last longer than she expected. Meanwhile, Ryan's asks Chuck for advice to impress his new corporate boss on the golf course.
---
9x03 High on the Corporate Ladder (January 14, 2021)
---
Mike reluctantly finds himself acting as Ryan's mentor when he is offered a big corporate job. Meanwhile, Mandy and Kyle attempt to make Ed's bucket list dreams come true after finding a secret file on his computer.
---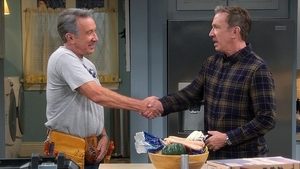 9x02 Dual Time (January 07, 2021)
---
The Baxters see double when Vanessa hires a home improvement repairman who bears an uncanny resemblance to Mike. Meanwhile, Kyle and Ryan defend their favorite comic book writer to Mandy and Kristen, and Mike struggles with an idea for his Outdoor Man 10th Anniversary vlog.
---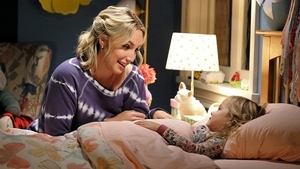 9x01 Time Flies (January 03, 2021)
---
A series of time jumps finds Mike & Vanessa with two new grandchildren, as well as Mandy and Kyle living with them. Mike accidentally-on-purpose gets involved when Vanessa and Mandy clash over Vanessa's "helpfulness". Meanwhile at Outdoor Man, Chuck desperately hopes its last call on Ed's mixology happy hour.
---