NTSF:SD:SUV::
Season 1
NTSF:SD:SUV::
Season 1
First Air Date: July 21, 2011

| | | |
| --- | --- | --- |
| First Aired on | : | 2011 |
| Episodes | : | 12 episodes |
Episodes
1x12 I Left My Heart in Someone's Cooler (October 06, 2011)
---
Terrorists plan to bomb the San Diego Day parade in a plot that involves the President of the Navy. Elsewhere, Alphonse is tasked with finding the perfect gift for Trent's kids.
---
1x11 Twistin' the Night Away (September 29, 2011)
---
Trent tracks the source of strange occurrences, including a hostage situation with SUVs and Sam's partnership with a creepy new team member.
---
1x10 Piper Doesn't Live Here Anymore (September 22, 2011)
---
Piper is brainwashed to become an assassin, and her mission is to hunt down her NTSF teammates. Elsewhere, Jessie catches the eye of a model photographer.
---
1x09 Cause for ConCERN (September 15, 2011)
---
Trent visits a peaceful parallel dimension where terrorism doesn't exist and decides to help his doppelgänger restore balance to the world.
---
1x08 Up Periscope, Down With San Diego (September 08, 2011)
---
The team must prevent an attack on San Diego by Japanese soldiers who've been lost at sea for decades.
---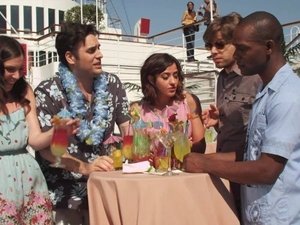 1x07 Full Hauser (September 01, 2011)
---
Trent plans a cruise for the NTSF team, but he's got ulterior motives to capture a terrorist rumored to be hiding out on the ship. Meanwhile, Piper brings her new fiancé along for the trip.
---
1x06 Tijuana, We've Got a Problem (August 25, 2011)
---
Space-shuttle plans are stolen and sold to Mexico, so the team must retrieve them before the U.S. loses the space race.
---
1x05 Dolphinnegan's Wake (August 18, 2011)
---
Trent tracks a dolphin serial killer and turns to a similar murderer in captivity for advice on catching his target.
---
1x04 The Risky Business of Being Alone in Your Home (August 11, 2011)
---
Trent is suspended and forced to spend time at home, where terrorists plot to attack him. His replacement, an old nemesis, is a hit at the NTSF.
---
1x03 Exes and Oh-No's! (August 04, 2011)
---
Trent's ex surfaces after a sex change and plots to steal a San Diego treasure. Elsewhere, Piper's pick for book club goes unread.
---
1x02 The Birthday Party That Was Neither (July 28, 2011)
---
Each member of NTSF gets a mysterious call from a person who claims they have secret information about them. Unbeknownst to the other members, they each must bring a million dollars to a warehouse, leaving Kove alone at NTSF HQ. When the caller is finally revealed, the team gets a blast from the past.
---
1x01 One Cabeza, Two Cabeza, Three Cabeza...DEAD! (July 21, 2011)
---
A new alcoholic energy drink is killing University of San Diego Students. NTSF must team up with the Food and Drug Administration, despite their mutual mistrust, to follow a lead.
---