Strange
Season 1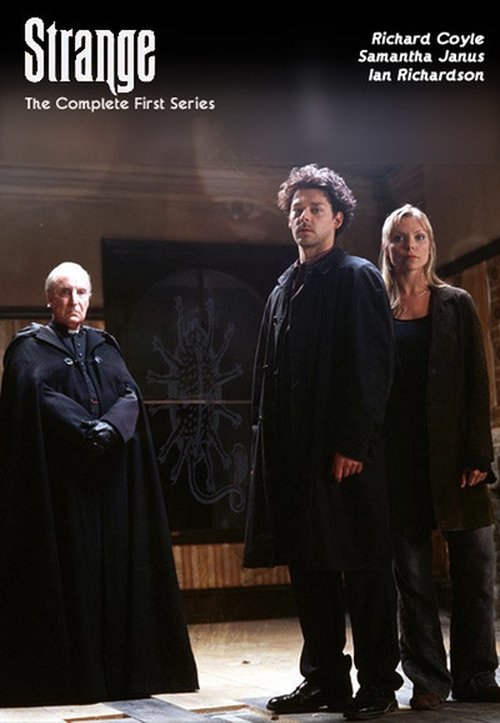 Strange
Season 1
First Air Date: May 31, 2003

| | | |
| --- | --- | --- |
| First Aired on | : | 2003 |
| Episodes | : | 6 episodes |
Episodes
1x06 Asmoth (2) (July 05, 2003)
---
When a set of gnawed bones is found in a swimming pool changing room, Strange enlists the help of his friend and mentor Father Bernard to investigate the possibility of a demonic murder. Meanwhile, Jude's ex-boyfriend returns to settle some unfinished business with Strange.
---
1x05 Dubuykk (1) (June 28, 2003)
---
Romanian refugees come to the city, hoping to ward off an ancient evil.
---
1x04 Incubus (June 21, 2003)
---
It's Saturday night in the city, but those expecting a wild night may be biting off more than they can chew... Sunday morning and a young girl, who had been clubbing the night before, is found dead in her flat, with massive lacerations to her ribcage. Jude, Joey and a reluctant Strange find their grand day out to the zoo barred by animal rights protesters, who believe four keepers have been mauled to death. And the Reverend Mary Hapgood is convinced there is something with big teeth loose in her kitchen. Could all these events be connected? Does the local zoo provide the answer? Or is something more sinister at work?
---
1x03 Costa Burra (June 14, 2003)
---
Strange is suffering what appears to be a monumental hangover. Jude visits the Cathedral Library to conduct her own demonology research, but finds the texts locked away. The librarian refuses her request for access, saying she needs permission from the archivist, Canon Black. The likelihood of Jude being granted access seem small, especially as she overhears Black refusing Mr Mason access to the plans to Bishop Otterman's tomb. It transpires that the Bishop died in 1908, one of the last victims of Bone's Fever. Could Black fear a further outbreak of the disease if the tomb is re-opened? Or does he have a secret agenda? Past and present collide as Strange and Jude become embroiled in a spot of tomb raiding, while a mini-cab driver hears voices from his radio, and a little old lady proves less than harmless.
---
1x02 Kaa-Jinn (June 07, 2003)
---
The discovery of a headless corpse in a tattooist's parlour leads John and Jude onto the case of a demon named Kaa-Jinn, who is building a Frankenstein-esque monster from the dismembered body parts of its victims
---
1x01 Zoxim (May 31, 2003)
---
A year has passed since last we saw John Strange... Following the gruesome deaths of Joey's paediatrician Dr. Siva and a psychic lady named Emily Hawthorne - in which they rapidly aged before dying - nurse Jude partners with John Strange to track down a demon he believes is the responsible link to both of their repugnant deaths. But is the murderer much closer to home?
---