Dinosaurs
Season 4
Dinosaurs
Season 4
First Air Date: June 01, 1994

| | | |
| --- | --- | --- |
| First Aired on | : | 1994 |
| Episodes | : | 14 episodes |
Episodes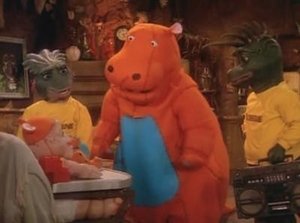 4x14 Georgie Must Die (October 19, 1994)
---
After weeks and weeks of Georgie, Georgie, GEORGIE! Earl snaps and destroys one of Baby's tapes. To make up for it, Earl promises to get the Baby a Georgie hug. When Earl inadvertently realizes he sounds like Georgie, he makes a costume and pretends to be Georgie for the Baby... and ends up in jail?!
---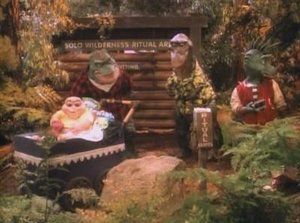 4x13 Into the Woods (October 12, 1994)
---
Earl's game day is interrupted when he has to take Baby into the woods for a traditional ritual to show the Baby that the world doesn't revolve around him and that he needs his family. But when Earl, Roy and Robbie unknowingly step into a tar pit, they need the Baby to save them.
---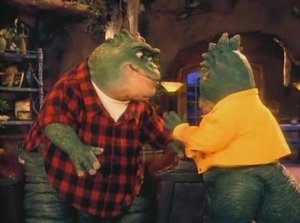 4x12 Working Girl (October 05, 1994)
---
Charlene looks for a job when Earl refuses to give her the money she needs for a summer trip. Charlene just happens to be in the right place, and finally lands a job... as Earl's boss!
---
4x11 Variations on a Theme Park (September 28, 1994)
---
When too many overworked employees drop dead from exhaustion, businesses give dinosaurs two weeks off for a vacation; B.P. Richfield advises Earl to bring his family to WeSaySo Land, which is supposed to be a fun amusement park for the family. What the Sinclairs find is an overpriced, cow themed park that is newly under construction, and they have to stay for 14 days.
---
4x10 Life in the Faust Lane (September 21, 1994)
---
Earl makes a deal with the devil (which is a wierd inconsistency in the show) after watching a late night show, "Lifestyles of Those We Envy".
---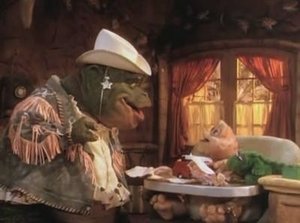 4x09 Earl and Pearl (September 14, 1994)
---
Robbie and Charlene go against Earl's orders and sneak out to see his estranged sister, Pearl, a country star, perform. Roy falls in love with Pearl and plans to settle down with her, despite Earl's protests.
---
4x08 Scent of a Reptile (September 07, 1994)
---
Charlene's scent gland comes in and Fran explains the one boy who is attracted to her scent is the one she's destined to marry. But Charlene puts out fumes of burning rubber and attracts the school janitor who aspires to be a tree pusher.
---
4x07 Changing Nature (July 20, 1994)
---
In this last final episode of the series, the Sinclair family discover thereselves into a doomsday with no where else to go. As it turns out that the family are staying together to make sure nothing happens.
---
4x06 Terrible Twos (July 13, 1994)
---
It's Baby's second birthday celebration but is ruinned when the Baby turns into an evil unforgiven monster that can't be stopped. Earl and Fran turn to Ethyl to find a way to stop the madness.
---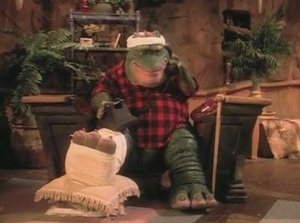 4x05 Earl's Big Jackpot (July 06, 1994)
---
Earl officially becomes injured after a night being stucked on a tree that injured his foot. So in order to get paid for the damage Robbie helps Earl get justice from Richfield by taking WESAYSO to court but with a shocking rewarded suprise for Earl.
---
4x04 Driving Miss Ethyl (June 29, 1994)
---
Earl must drive Ethyl to her high school reunion, and the kids drive Fran crazy when she tries to get them to pose for a family portrait.
---
4x03 The Greatest Story Ever Sold (June 22, 1994)
---
Fundamental questions about the meaning of existence plague the population, so the Elders dictate a belief system called "Potatoism," which Robbie thinks is just plain nuts.
---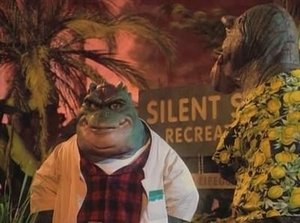 4x02 Earl, Don't Be a Hero (June 08, 1994)
---
Earl assumes the powers of a superhero and intends to put them to good use, but he's powerless before the Wesayso Corp., to which he's contractually bound to use his might.
---
4x01 Monster Under the Bed (June 01, 1994)
---
Earl lets the Baby stay up to watch a monster movie and then he can't sleep and won't let Fran or Earl sleep because of a monster under the bed. Fran and Earl retreat to a motel to sleep and let the kids babysit, and Charlene and Robbie find out he wasn't imagining things.
---