Dinosaurs
Season 3
Dinosaurs
Season 3
First Air Date: September 18, 1992

| | | |
| --- | --- | --- |
| First Aired on | : | 1992 |
| Episodes | : | 22 episodes |
Episodes
3x22 The Clip Show II (July 02, 1993)
---
Another one of the infomercial for a home course in how to become a paleontologist is supplemented by clips from previous episodes. Featuring the past clips from Season 2 to Season 3.
---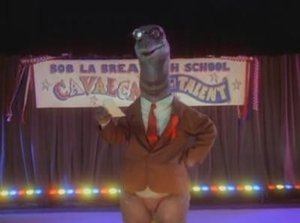 3x21 Charlene and Her Amazing Humans (May 07, 1993)
---
Charlene grabs the attention of her family and other audiences with her amazing performing humans. But it's not that easy when she finds out the mother wants her children back from Charlene and Robbie thinks that she's pushing them to far to make her very famous and become a superstar. When she later appears on the State Fair she confesses about what was very wrong for her and everyone else to be doing.
---
3x20 We Are Not Alone (April 30, 1993)
---
Robbie poses as a space alien and orders Earl to get involved in cleaning up Earth, never imagining that he would quit his job to launch an environmental crusade.
---
3x19 If I Were a Tree (April 16, 1993)
---
In this fairy tale episode, Ethyl tells Baby a story about a tree pusher Earl who was about to push down a spirit tree which switched his soul for him become a tree and the spirit tree to become Earl. When Roy brings Spirit home to the Sinclair family, he can't help to understand what has happened to him, when Earl realizes that he's stuck in the tree. Fran later believes the Spirit when he tells her that she is not Earl and that Earl is in the tree. After words, Fran goes to find Earl and Spirit after last night being taken away from the house by the WeSay So Policemens. Spirit switched Earl's soul back to were it belongs. And everything was over with but the tree with the Spirit in it was destoryed.
---
3x18 Dirty Dancin' (March 12, 1993)
---
When overwhelming urges to do the mating dance arise in Robbie, Earl prefers not to discuss it, but Fran waltzes into Robbie's classroom to educate the kids about it.
---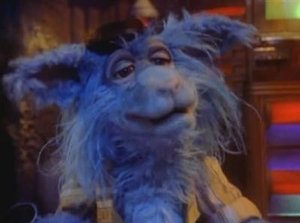 3x17 Swamp Music (February 26, 1993)
---
Robbie crosses over to the swamps and gets sold on the mammals' ""swamp music,"" but they're liable to be sold out in a dinosaur record deal, which Robbie orchestrated.
---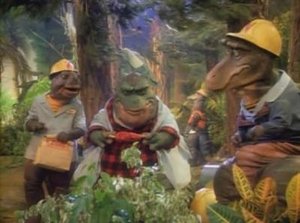 3x16 Honey, I Miss the Kids (February 19, 1993)
---
Feeling a need to have a job outside the home, Fran goes to work at a halfway house for amphibians, leaving Earl to take over the household day shift and look after the kids.
---
3x15 Steroids to Heaven (February 12, 1993)
---
Robbie doesn't feel that much comfortable with being the weakest dinosaur in the family, so in order for him to become very strong and muscular, he uses one of Dolf's favorite foods to make him become very strong and that's when he starts giving Caroline the hots and tries to woo her love.
---
3x14 Out of the Frying Pan (February 05, 1993)
---
After knocking the daylights out of Earl with a frying pan makes the baby a star on commercials, puts Fran into show-biz orbit, and leaves Earl marooned as a big lump of nothing. But thats when for the first time Earl and Monica have a good aggrement that the whole spotlight thing for the Baby is too much and decide to let Fran think for herself on what she has done and what she made the Baby become after all the superstar junk.
---
3x13 Green Card (January 29, 1993)
---
It's a big problem when the government blames its poor economy on four-legged dinosaurs and enacts anti-four-legged laws. So in order for Monica to stay in the land of Pangia, Roy marries the outlawed Monica so that she can stay in the country for good, but this also causes big effections and errors on Roy's friendship with Earl and his job the WeSaySo Corporation.
---
3x12 Getting to Know You (January 15, 1993)
---
Charlene feels to be in a world of unknown when her birthday party becomes a failed wish come true, when Earl brings his friends from the WeSaySo job to celebrate her birthday party. After a shocking miserable party, Charlene decides to leave the Sinclair family and join another family as part of a student-exchange program. It's real hard for Earl to know and understand who Charlene really is. Until another student from the student-exchange named France-our comes and becomes a main pain in the neck for the Sinclair family. But then Baby eats him and then Earl and Fran try to come clean when his parent Henri and Semela ask where there son is. To make it up to them, Fran forces Earl to give them the TV, but thats when Charlene returns home and Earl and Charlene get to talk about the misunderstood birthday party. Charlene forgave him with a passionate kiss.
---
3x11 The Son Also Rises (January 08, 1993)
---
A hugh argument comes between Earl and Robbie when they both fight over for there rights and respect. Then later with the fault of Ethyl to tell Robbie the story about his grandpa battling his enemy. Robbie challenges Earl to the 'Pit Of Death' match to see who will have the role of the household. Robbie wins but isn't comfortable with his new role.
---
3x10 Wilderness Weekend (December 18, 1992)
---
The males, including Earl, Robbie, and the Baby, go into the wilderness to rediscover their ""reptiles within,"" while back home the girls warm their cold blood with the boys' beer.
---
3x09 Charlene's Flat World (December 04, 1992)
---
When Charlene's class is assigned to think of an original idea, her world-is-round theory falls flat, and she's tried for heresy. She get's arrested stating that the world is round and everybody believes that the world is flat. So she decides to prove them wrong by traveling with Robbie to the end of the earth to there sudden death. But they return and everyone realized now the world was round.
---
3x08 License to Parent (November 20, 1992)
---
It's a nightmare for earl and Fran as parents when there parent license is being taken away from the Parent Patrol Officer Battleheim. fran and Earl feel very ashamed that they have disobeyed the rules and code of parenting; Also after the two's license was taken away, Robbie and Charlene with Baby are causing problems with Battleheim when he puts the gun onall of them, but Fran and Earl immediately rush to stop Battleheim from hurting and scaring the kids. Making sure he doesn't get caught about the situation, he gives back Earl and Fran there parent license and leaves.
---
3x07 Hungry for Love (November 13, 1992)
---
Robbie dates Richfield's daughter, whose gluttonous reputation gives Robbie food for thought: he may be her next meal.
---
3x06 Germ Warfare (November 06, 1992)
---
A crash of problems is made, when Earl gives Baby a dirty suck-toy that was on the roof of the chimney after a mouse stoled it from him. After giving it to him, Earl comes home from work and finds out from Fran that Baby is awfully sick. It's a terrible situation for the two to find the cure. There first doctor was Dr. Frankis but his plan was to make the Sinclair family sell there properties and there money to make him more richer. But Ethyl didn't believe that he could do the right thing, so she offered Fran and Earl to go out into the woods and find the guy that cures everything. Zabar, the guy in the woods cured Baby and was back to normal.
---
3x05 Little Boy Boo (October 30, 1992)
---
Robbie weaves a frightening tale for the Baby about Robbie turning into a caveman monster, which proves a little too hairy for the little guy.
---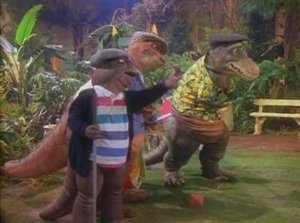 3x04 The Discovery (October 23, 1992)
---
Earl hits a bad golf shot that sails off the edge of the known world and into a new one -- new, that is, to the dinosaurs.
---
3x03 Network Genius (October 16, 1992)
---
In this TV episode tale, not only does Earl prove that any dinosaur can be a network programming honcho, he also proves he's a genius by scheduling shows like ""The Test Pattern"" and ""The Happy Colors Show."" Unfortunately, his shows make viewers stupid. So Fran immediately asks Earl to stop the madness and turn it back into a normal way when he later finds out that the owners are trying to make the dinosaurs feel stupid and decides to quit.
---
3x02 Baby Talk (October 02, 1992)
---
Earl does the dirty work of organizing a civic protest against the TV powers-that-be when the baby repeats (constantly) a dirty word that he hears on the tube.
---
3x01 Nature Calls (September 18, 1992)
---
Fran has decided that now is the time for Earl to teach Baby how to potty train and changing the Baby's diapers. Eral still feels that he doesn't want to continue with the step, but has no choice. So Earl helps the Baby with his potty training, but the Baby doesn't feel ready yet. Earl then later tries his best to make him potty to see how fun it is. Then Baby escapes from his seat and leaves making Earl believe that he was flushed to the toilet, leaving with Ethyls wheelchairs Earl and Robbie immediately go out to find Babyn the wilderness.
---