The Amazing World of Gumball
Season 5
The Amazing World of Gumball
Season 5
First Air Date: September 01, 2016

| | | |
| --- | --- | --- |
| First Aired on | : | 2016 |
| Episodes | : | 40 episodes |
Episodes
5x40 The News (November 10, 2017)
---
From police chases to the inside scoop on Daisy the Donkey, Channel 6 Elmore News has all the top local stories. Experienced newscaster Kip Schlezinger brings the latest news, sports and weather, even when there is absolutely nothing to report.
---
5x39 The List (November 03, 2017)
---
When the kids find out that Mom's life hasn't panned out as she'd hoped, they start taking on her chores, but they accidentally grab her bucket list instead of her to-do list.
---
5x38 The Line (October 20, 2017)
---
The Wattersons will do whatever it takes to get into the first screening of the latest Stellar Odyssey sequel.
---
5x37 The Nuisance (October 13, 2017)
---
The Wattersons fear the worst when they are summoned to a Town Hall meeting, but are surprised when they're offered a new house - until they discover it's in a different state.
---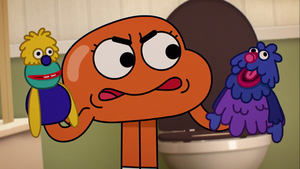 5x36 The Puppets (October 06, 2017)
---
Darwin is delighted when they discover their old childhood toys, but soon realizes that some things are best left in the past.
---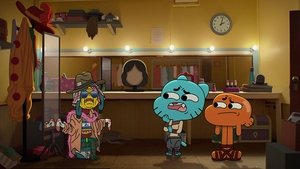 5x35 The Petals (September 29, 2017)
---
When Leslie's petals begin falling off, he feels like his good looks are fading, so Gumball and Darwin use everything they know about style and beauty to try and help him.
---
5x34 The Deal (September 22, 2017)
---
Richard goes on strike to prove that his work around the house is under appreciated by Nicole.
---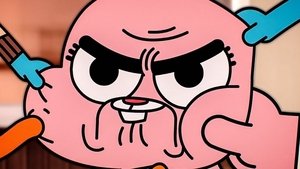 5x33 The Worst (September 15, 2017)
---
The Wattersons compete over who has the worst life.
---
5x32 The Best (September 08, 2017)
---
No matter what Gumball does, Carmen thinks she knows better; when Gumball attempts to gain the moral high ground, but fails, his only option left is to bring Carmen down to his level.
---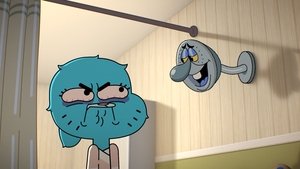 5x31 The Singing (September 01, 2017)
---
Join the citizens of Elmore for a song and dance spectacular that will have people covering their ears with joy.
---
5x30 The Heist (March 09, 2017)
---
Richard discovers that going into a bank whilst wearing a motorcycle helmet can lead to trouble.
---
5x29 The Weirdo (March 08, 2017)
---
When they see the school bullies making fun of Sussie, Gumball and Darwin decide to try and help her act less weird. They carefully observe her behavior and decide that the only thing they have to change is absolutely everything.
---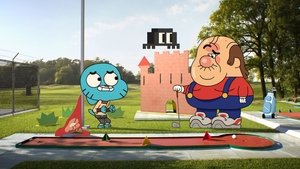 5x28 The Uncle (March 07, 2017)
---
When Gumball finds out that Ocho has an uncle named Mario, he becomes desperate to meet him.
---
5x27 The Menu (March 06, 2017)
---
The prize jewel on the Secret Joyful Burger menu is a mysterious burger, but to order it you need to know its name. When Larry refuses to tell Richard, Gumball, and Darwin what it is called, they go to super-sized lengths to discover it.
---
5x26 The Sorcerer (March 02, 2017)
---
Gumball refuses to accept he is the only kid at school that does not have special powers. He convinces Mrs. Jötunheim, Hector's mom, to take him on as her apprentice but she soon learns leaving Gumball unsupervised around magic is a big mistake.
---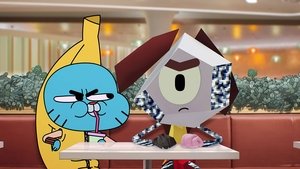 5x25 The Ex (March 01, 2017)
---
When Gumball learns that his nemesis, Rob, has found a new nemesis, he tries to sabotage Rob's new "enemy-ship", much to the frustration of Penny.
---
5x24 The Diet (February 28, 2017)
---
Gumball and Darwin find out why Richard's diet wasn't working, and after they help him lose weight, he becomes more obnoxious.
---
5x23 The Grades (February 27, 2017)
---
When a failed test grade brings down Gumball's grade point average, he is forced to return to kindergarten.
---
5x22 The Stars (February 23, 2017)
---
When Richard gives Larry's hairdresser a bad review for saying he's bald, he gets offered a free haircut. This inspires Gumball and Darwin to go on a reviewing spree across town, forcing Larry to give them stuff with the threat of a bad review. But, just because the customer is always right doesn't mean that what they're doing isn't wrong.
---
5x21 The Cycle (February 22, 2017)
---
Gumball, Darwin and Anais discover that Mr. Wilson has been picking on Richard for most of his life; ever since he humiliated Richard with a high school prank. The kids try to work their dad through it, but when their efforts fail they realize that getting back at Mr. Wilson is the only way to break the cycle.
---
5x20 The Catfish (February 21, 2017)
---
When Gumball and Darwin realize Grandpa Louie has no friends, they create one called Muriel, when Granny Jojo finds out Louie has been spending time online with another woman, Muriel not existing is not going to stop her from being destroyed.
---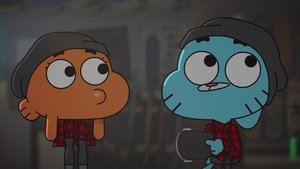 5x19 The Ollie (February 20, 2017)
---
Gumball teaches Darwin everything he knows about the world of skateboarding.
---
5x18 The Console (February 16, 2017)
---
When Gumball is given a cursed video game console, Elmore becomes trapped inside a fantasy RPG world. Gumball, Darwin and Anais have to battle their way through town, unraveling the secrets of their new virtual reality.
---
5x17 The Box (February 15, 2017)
---
The Wattersons receive an unmarked package in the mail. To distract themselves from the urge to open it they all take turns to imagine what it might contain.
---
5x16 The Matchmaker (February 14, 2017)
---
Gumball enlists Carrie to help bring Darwin and Teri together, but when they can't make Darwin and Teri's love blossom naturally, they decide to make it happen supernaturally.
---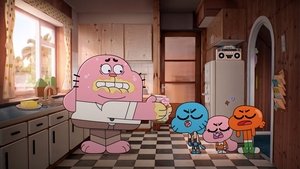 5x15 The Vase (February 13, 2017)
---
Sick of Granny Jojo's ugly gifts, Nicole encourages the kids to take matters into their own hands and "accidentally" break her latest hideous vase. But when Gumball, Darwin, and Anais try to destroy it, they discover it is more robust than it seems.
---
5x14 The Outside (February 09, 2017)
---
The family goes to visit Richard's dad. Based on his basic living standards and extended absence from Richard's life, they assume Frankie must have done a stretch in the slammer.
---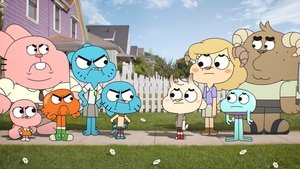 5x13 The Copycats (February 08, 2017)
---
Gumball and Darwin are confused when they meet Chi Chi and Ribbit, a pair of siblings that copy everything they do and say. Then they find out this copycat family is making money online from imitating the Watterson family.
---
5x12 The Fuss (February 07, 2017)
---
Nicole tries, and fails, to hide her disappointment when Richard and the kids fail to remember her special day. Richard has to figure out what special day he has actually forgotten and then make it a day to remember or else.
---
5x11 The Potato (February 06, 2017)
---
When Darwin has lunch with Idaho, he decides to stop eating potatoes in solidarity with his brotato, but he finds his obsession with his favorite food harder to kick than he ever imagined, so Gumball decides to help his friend curb his carb cravings.
---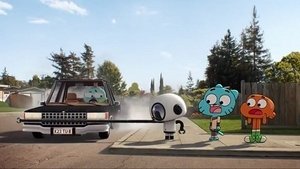 5x10 The Loophole (November 17, 2016)
---
Gumball and Darwin give Bobert instructions so he will behave in a safe and responsible manner, but he applies his logic to their rules.
---
5x09 The Slide (November 10, 2016)
---
Rocky decides to stop living life online, and find love on a dating app, and Gumball and Darwin try to help him.
---
5x08 The Test (November 03, 2016)
---
When he is labeled a "loser" in an online test, Gumball believes he must do the opposite of everything he would normally do. Meanwhile, Darwin and Sarah notice Tobias is stealing Gumball's life and role in the series in the form of a cheesy sitcom.
---
5x07 The Code (October 20, 2016)
---
The family goes without wi-fi after Mr. Robinson changes the passcode, so Gumball tries to recover it.
---
5x06 The Choices (October 13, 2016)
---
Nicole reminisces about how she met Richard during a disastrous family dinner, and how things could have turned out for her if she had not.
---
5x05 The Vision (October 06, 2016)
---
After finding a secret manifesto on Alan's memory stick, Gumball and Darwin decide to foil his plan for world domination.
---
5x04 The Boredom (September 15, 2016)
---
Gumball and Darwin search for adventure during a walk around Elmore.
---
5x03 The Guy (September 08, 2016)
---
Gumball and Darwin are wary of Anais' new friend, Josh, making her question his motives as well.
---
5x02 The Re-Run (September 05, 2016)
---
In this sequel to last season's "The Disaster", Gumball travels back to the events of the previous episode to prevent Rob from ruining his life, but everything he does makes things worse.
---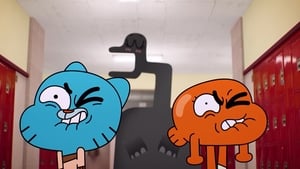 5x01 The Stories (September 01, 2016)
---
Fed up with having to listen to Molly's long, tedious anecdotes, Gumball and Darwin try to teach her how to make them sound more exciting. When this doesn't work, they decide their only option is to give Molly a story worth telling.
---