Forever Knight
Season 3
Forever Knight
Season 3
First Air Date: September 16, 1995

| | | |
| --- | --- | --- |
| First Aired on | : | 1995 |
| Episodes | : | 22 episodes |
Episodes
3x22 Last Knight (May 18, 1996)
---
A suicide of a friend and colleague causes Natalie to reexamine her life and her feelings for Nick. Nick, too, is dealing with the loss of a friend, and his own feelings and reactions. When Natalie confronts him, Nick makes some decisions that will have far-reaching implications in all of their lives.
---
3x21 Ashes to Ashes (May 11, 1996)
---
When an anonymous tip leads NIck to a "headless corpse" in the Raven, it is only the beginning of a deadly game, with vampires as the target. Nick soon discovers the ultimate target in these murders is LaCroix. Anyone and everyone who is close to LaCroix are being killed. When LaCroix reveals that the perpetrator is Divia, his daughter and master who he betrayed long ago, it becomes a race against time for Nick to find her before she comes for him or LaCroix.
---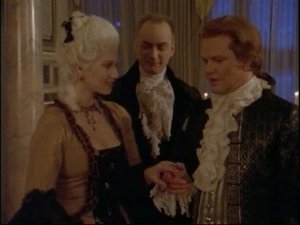 3x20 Francesca (May 04, 1996)
---
Nick and Tracy are both deeply disturbed by the brutal "kiss" murders, where victims are being drained of blood. Nick recognizes them as the style of Francesca, a vampire he knew long ago. But Francesca is dead--or is she? Tracy also finds herself struggling with feelings of Deja Vu, which she is unable to come to terms with. When a psychotherapist comes to them with information about a patient she has been counseling, it looks like they have found the murderer. However will they be confronting a deranged killer or the reincarnated soul of a vampire bent on revenge. If it is Francesca, Nick may not survive the encounter.
---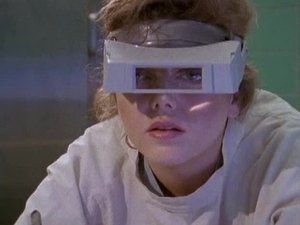 3x19 Jane Doe (April 27, 1996)
---
A particularly brutal murder leads Nick and Reese to suspect a release killer with a best-selling book on "The Killing Mind". The murder fits those Reese investigated years ago prior to the man's conviction on a simple man-slaughter charge. Reese and the murderer play a game of cat and mouse and Nick, Natalie and Tracy try to find evidence that can prove he is the murderer.
---
3x18 Fallen Idol (February 24, 1996)
---
A mentally handicapped teenager witnesses the murder of a popular wrestler and his account implicates his uncle, another wrestler, as the murderer. With his uncle in custody, Nick and Natalie volunteer for joint custody of the Joey to try and help him out. While Nick tries to determine what really happened and who really committed the murder, Natalie in her desire to help the boy makes a decision with far-reaching consequences. Her actions may end up causing devastation and emotional trauma instead of helping.
---
3x17 Avenging Angel (February 17, 1996)
---
A woman is brutally murdered in her daughter's room at a shelter for battered woman. Her daughter, Julie, is a traumatized eyewitness to the slaying and identifies her father as the killer. Despite her account, Nick and Tracy are unable to find enough evidence to hold or indict him. As they search for the truth, an "avenging angel" decided to take justice into her own hands.
---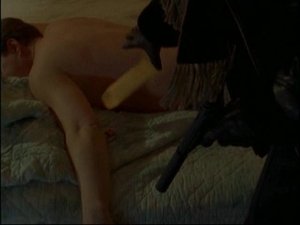 3x16 The Human Factor (February 10, 1996)
---
Nick is amazed when a police sketch composite for a murder suspect looks remarkably like Janette. Then Janette suddenly shows up again in his life admitting to the murder and asking for his help. As Nick struggles to discover the truth behind Janettes behavior, he puts his career on the line for her. When he discovers her secret Nick is faced with an impossible choice.
---
3x15 The Games Vampires Play (February 03, 1996)
---
While investigating the murder of a virtual reality software designer, Nick finds the vampire game he created fascinating. Inside the game, Nick finds the killer waiting, daring him to try and find him. Playing the game he searches for clues, but finds himself intoxicated by the vampire feeding instead, feeling his lust for blood and killing reawaken. The closer he gets to solving the crime, the closer he gets to wanting to losing control and killing again.
---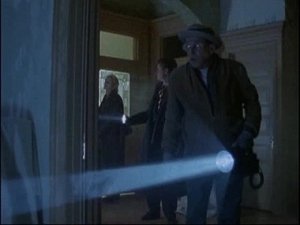 3x14 Dead of Night (January 27, 1996)
---
When a murder occurs in a haunted house, it looks like the murderer might just be ... a ghost. On top of the investigation, Nick, Natalie, and Tracy all encounter ghosts from their own past after being in the house. When another man is apparently killed by the hand of the ghostly murderer, Nick and Tracy suspect their ghost may not be so dead. While they hunt for the murderer, all of them are haunted and must find a way to come to terms with their own ghosts.
---
3x13 Fever (January 20, 1996)
---
A scientist is murdered and a lab rat escapes when industrial espionage goes awry. But far worse things begin to happen when the lab rat, infected with a newly engineered virus becomes Screed's next meal. Designed to combat HIV, the virus becomes lethal to vampires as it multiplies and intensifies each time they "feed". As the virus spreads rapidly through the vampire community, it infects Vachon, Nick, and LaCroix. Nick races agains time to find the killer - while Natalie struggles to find a cure.
---
3x12 Strings (January 13, 1996)
---
An unusual murder leads Nick and Tracy to popular singer Christie Black, who is undergoing intense psychotherapy with the controversial Dr. Ben McGee. As more people close to Christie are killed, the suspects are dropping like flies. Nick needs to find the killer before there is no one left to kill. And apparently he'll have to do it without a partner as Tracy considers a transfer her father, Commissioner Vetter, has arranged.
---
3x11 Sons of Belial (November 25, 1995)
---
A routine investigation into a suicide leads Nick and Tracy to an exorcist. As they witness an exorcism, Nick is overpowered by a terrible evil. Unable to control himself, Nick turns to LaCroix for help. But even LaCroix is powerless in the face of this evil, and at Nicks request, takes him to the exorcist to help free him from the Son of Belial.
---
3x10 Night in Question (November 18, 1995)
---
A bullet wound to the head lands Nick in the emergency room, where with no pulse, no heart rate, and no brain activity, he is declared dead. Fast action by Natalie and LaCroix, brings Nick back to life. While his physical wounds are healing, his mind is another matter--he has amnesia, and therefore no memories of who he is or what he is. Both Natalie and LaCroix see this as a chance to acheive their goals for Nick. Who will win this little contest, and what will be the price? Meanwhile, Nick must find the killer before he strikes again, as well as find out who he really is.
---
3x09 Let No Man Tear Asunder (November 11, 1995)
---
An autopsy reveals a murdered woman's heart has been surgically removed, prompting Nick and Tracy to investigate the black market for human organs. Working undercover, Tracy visits a suspected dealer at the local hospital, unaware that Natalie Lambert is scheduled for a routine knee operation at the same facility. Upon learning Natalie has been chosen as the next "donor," Tracy is overcome by the dealer and prepped for the operation instead.
---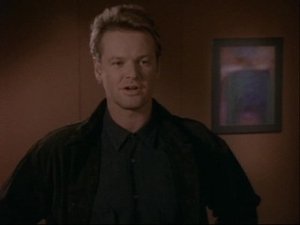 3x08 Trophy Girl (November 04, 1995)
---
When Tracy is given a three-day leave after shooting a perpetrator, Nick works alone on a grisly murder investigation. However, Tracy ignores her orders and goes undercover at an escort service, putting her right in the sights of the killer. While Nick enlists the help of an infamous serial killer to try and find the killer, Tracy just might be the next victim.
---
3x07 Hearts of Darkness (October 28, 1995)
---
A patron of the Raven is found dead, apparently killed by a vampire in unusual circumstances. The woman at the scene has no memory, and there are no clues. Nick must find the vampire-killer before he strikes again, while keeping Tracy out of trouble. For Tracy is aware it is a vampire, and is searching for the killer, too.
---
3x06 My Boyfriend is a Vampire (October 21, 1995)
---
Both Natalie and Tracy start thinking about relationships, when a woman reveals on a talk show that her boyfriend is a vampire. When the woman is found murdered, Nick must find out if the murderer truly is a vampire and stop him before he strikes again. At the same time both Natalie and Tracy struggle with what to do about the relationships (or lack therof) with the men -- or rather vampires in their lives.
---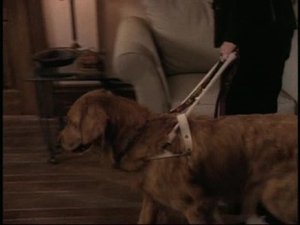 3x05 Blind Faith (October 14, 1995)
---
When a serial rapist is ripped to shreds by a dog, Natalie suspects that something isn't quite right. Nick's investigations leads him to suspect a carouche, a lower form of vampire who typically feeds on vermin, may be behind the dog's behavior. When Nick finds the dog, he discovers that it is the devoted companion of a blind dispatcher. Now he must figure out how to protect the dispatcher (and everybody else) from her not-so-mortal dog.
---
3x04 Blackwing (October 07, 1995)
---
A man's death seems directly related to a court battle over Native American land. But when during the invesitigation Nick comes into contact with a spiritual healer who sees the darkness inside him, the case seems suddenly unimportant. As Nick focuses on the possibilities of this spirtual realm, strange things begin to happen. Things seem to go from bad to worse when the murders escalate, and Nick is afraid he may somehow be responsible.
---
3x03 Outside the Lines (September 30, 1995)
---
When a grisly murder occurs, it complicates an undercover cop's investigation. Detective Bruce Spencer believes he knows who the murderer is, but since he has no proof, Nick is suspicious. It also doesn't help that Bruce and Tracy go way back and in Tracy's eyes he can do no wrong. When Nick witnesses Bruce's brutal behavior, he knows that nothing is as it seems, and he'd better find the murderer before he strikes again.
---
3x02 Black Buddha (2) (September 23, 1995)
---
Nick's discovery that Tracy's mystery man, Vachon is a vampire, complicates an already complicated situation. Luckily Vachon and Tracy's mutal attraction saves Tracy's life. However, Tracy's awareness of vampires, and Vachon's penchant for running from his responsibilities place them all in danger as the bomber plots to use Tracy in his next bombing.
---
3x01 Black Buddha (1) (September 16, 1995)
---
When an airplane transporting a bombing suspect and Schanke explodes, Nick becomes racked with guilt. He feels it should have been him on the plane and not Schanke. Nick turns in his badge, ready to move on to a new life. He decides to return when other police stations in the city start exploding.
---