Dragnet
Season 5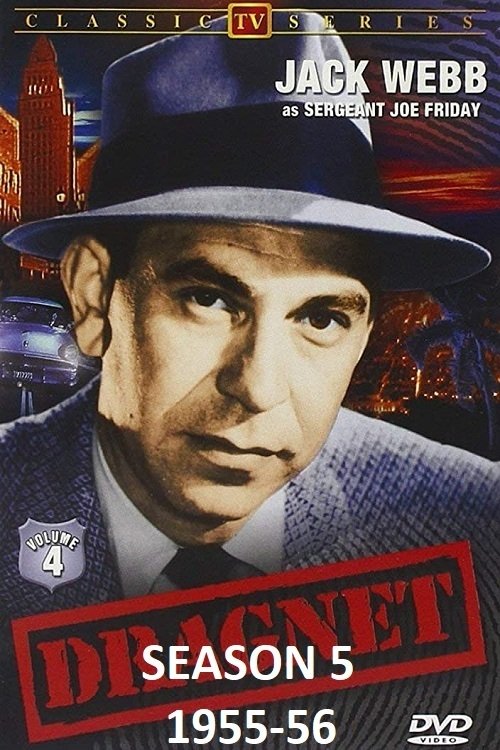 Dragnet
Season 5
First Air Date: September 19, 1955

| | | |
| --- | --- | --- |
| First Aired on | : | 1955 |
| Episodes | : | 39 episodes |
Episodes
5x39 The Big Salvage (June 01, 1956)
---
---
5x38 The Big Gift (May 25, 1956)
---
---
5x37 The Big Housemaid (May 18, 1956)
---
---
5x36 The Big Hat (May 11, 1956)
---
A young man is found hiding in an empty train car with the strangled body of an older woman next to him.
---
5x35 The Big Wish (May 04, 1956)
---
A teenage boy turns himself in and confesses to being an addict, but he refuses to give up the names of his friends who supplied him.
---
5x34 The Big Deal (April 27, 1956)
---
Friday and Smith are investigating a rash of car thefts. The stolen cars are being sold with forged pink slips.
---
5x33 The Big Setup (April 20, 1956)
---
An informant tips off police to a shipment of heroin coming into the country. Friday goes under cover to bust open the ring.
---
5x32 The Big Rush (April 13, 1956)
---
Two bandits turn cop killer when they gun down an off-duty policeman during a tavern hold-up.
---
5x31 The Big Bobo (April 06, 1956)
---
A police officer is suspended from duty when he is accused of taking a bribe in exchange for a prisoner's release.
---
5x30 The Big Ex-Blonde (March 30, 1956)
---
Friday goes undercover to catch brothers who steal people's money by posing as real-estate agents.
---
5x29 The Big Revision (March 23, 1956)
---
Friday and Smith hit a blank wall when a burglary suspect refuses to admit where he hid his stash.
---
5x28 The Big Mama (March 16, 1956)
---
---
5x27 The Big Siege (March 09, 1956)
---
Police find themselves in a stand-off when an armed bank robber takes a woman hostage in her home.
---
5x26 The Big No Suicide (March 02, 1956)
---
Friday gets a call from a former mental patient who is threatening to kill himself and his family.
---
5x25 The Big Daughter (February 24, 1956)
---
Friday and Smith investigate a missing persons report.
---
5x24 The Big Slug (February 17, 1956)
---
A liquor store owner is shot and killed during a botched robbery, but police can find no trace of the fatal bullet.
---
5x23 The Big Child (February 10, 1956)
---
A two-year-old child after drinking bleach from under the sink. Friday and Smith are unable to locate the mother for questioning.
---
5x22 The Big Set (February 03, 1956)
---
A city councilman is beaten and robbed by two men outside a bar. When he dies from his injuries, Friday and Smith feel pressure to find the killers.
---
5x21 The Big Fall Guy (January 27, 1956)
---
Friday and Smith are on the trail of a robbery suspect that has robbed two stores.
---
5x20 The Big Ruling (January 20, 1956)
---
---
5x19 The Big Sisters (January 13, 1956)
---
An elderly woman fakes a burglary report so she can get attention from the police and the media.
---
5x18 The Big Tour (January 06, 1956)
---
---
5x17 The Big Reminisce (December 30, 1955)
---
During a quiet New Year's shift, Friday and Smith remember some of their past cases and why it is they became cops.
---
5x16 The Big Genius (December 16, 1955)
---
Friday and Smith investigate what seems to be the perfect crime.
---
5x15 The Big Note (December 09, 1955)
---
An anonymous note leads Friday and Smith to a group of teenage drug users and their neglectful parents.
---
5x14 The Big Locker (December 02, 1955)
---
Friday and Smith happen to catch a man trying to sell a stolen ring at a pawn shop.
---
5x13 The Big Shot (November 25, 1955)
---
A night club owner is shot down and there are no witnesses to the crime.
---
5x12 The Big Bounce (November 18, 1955)
---
Joe Friday searches for a check forger who has been using the name of the old-time movie villain Parker Allington... who died three years ago.
---
5x11 The Big Smoke (November 11, 1955)
---
An elderly couple is brutally beaten and the trail leads police to a former handy man.
---
5x10 The Big Laugh (November 04, 1955)
---
A con man makes lonely women fall for his charms, then steals their money and disappears.
---
5x09 The Big Bird (October 28, 1955)
---
Sgt. Friday investigates a robber who only targets pet stores and homes that have pet birds.
---
5x08 The Big Glasses (October 21, 1955)
---
A housewife, Ella Ryburn, reports to Friday and Smith that she cannot contact her mother, who is married to Alfred Rudolph Shroder. When he is questioned, Shroder claims his wife left him and that, out of shame, he sold their house and put her items in storage.
---
5x07 The Big Look (October 14, 1955)
---
A woman is dragged from her home and badly beaten by an unknown attacker.
---
5x06 The Big Gap (October 07, 1955)
---
A pawn shop owner alerts Friday and Smith when a man claimed to have purchased an expensive ring that turns out to be junk and then asked the pawn shop owner to sell him a gun.
---
5x05 The Big Confession (September 30, 1955)
---
A man walks into the station and tells Friday that he wants to confess to a murder, but the cops have a hard time varifying his story.
---
5x04 The Big Lift (September 23, 1955)
---
An organized gang of shoplifters is looting large department stores in the city.
---
5x03 The Big No Rain (September 16, 1955)
---
---
5x02 The Big Chet (September 09, 1955)
---
---
5x01 The Big Pipe (September 02, 1955)
---
A young woman is beaten to death with a led pipe and left in an empty office.
---