The Real Hustle
Season 3
The Real Hustle
Season 3
First Air Date: March 15, 2007

| | | |
| --- | --- | --- |
| First Aired on | : | 2007 |
| Episodes | : | 8 episodes |
Episodes
3x08 Episode 8 (May 03, 2007)
---
Paul and Alex sell dodgy camcorders from a white van to unsuspecting members of the public. The gang con a pub into letting them take away a fruit machine in plain sight. Jess wins a proposition bet involving three stacks of 10p coins. Alex, posing as a respectable restaurant owner, sells one bottle of cheap wine for £240. Alex and Paul steal chips from other players in a casino.
---
3x07 Episode 7 (April 26, 2007)
---
Paul and Alex pose as gas installers and rip off unsuspecting householders. Jess hacks into a cash machine to double her money. Paul wins a proposition bet involving a saucer of liquid and some matches. All three hustlers get a free lunch with an elaborate series of coordinated scams against a restaurant. Paul and Alex use memory, observational, and mathematical techniques to win at Blackjack.
---
3x06 Episode 6 (April 19, 2007)
---
Alex and Jess fake an argument in a jeweller's shop allowing Paul to use sleight of hand to steal an expensive watch. Alex cons restaurants by pretending his tie was stained with wine, then increases the amount written on the cheques. Alex wins a proposition bet with a pedantic definition of the phrase "in thirty seconds". Paul and Alex demonstrate social compliance by posing as police officers. Alex and Paul use past posting to rip-off a roulette wheel.
---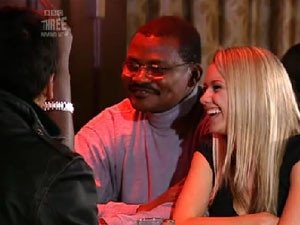 3x05 Episode 5 (April 12, 2007)
---
The hustlers demonstrate pickpocketing techniques while crossing the road. Paul sells an envelope of worthless newspaper to some students, fooling them that it is full of cash. Jess wins a proposition bet involving hands and elbows. Paul and Alex demonstrate extreme social compliance by posing as policeman investigating suspected stolen goods, only to steal the goods themselves. They also use mis-spotted and loaded dice to scam other gamblers in a casino.
---
3x04 Episode 4 (April 05, 2007)
---
Paul accidentally overpays for a purchase in an antique shop with his last cheque. He asks for the change in cash, but of course, the cheque is going to bounce. Alex reconfigures mobiles phones causing them to ring premium phone lines belonging to the hustlers. Paul wins a proposition bet involving a chain and a ring. Paul and Alex try their luck at backgammon with controlled dice shots and hustling techniques. Jess walks into a high street computing store to steal expensive software off of the display Apple Macintosh computers.
---
3x03 Episode 3 (March 29, 2007)
---
Jess cons people into giving her money in a pub by posing as a barmaid. Paul gets a neighbouring table to pay for his bill in a restaurant. Alex wins a proposition bet involving a £20 note and a beer bottle. Jess signs up unsuspecting passers-by to an expensive text message service by asking to borrow their mobile phones by pretending she needs to send an important, but ordinary text; she actually subscribes them. Paul and Alex win big by stacking the deck in a game of drunken poker.
---
3x02 Episode 2 (March 22, 2007)
---
Alex drops a wallet full of Euros in the Drop Swindle. Jess fills a bag with leaflets in the tourist information centre and sells them to marks as discount packs. Paul gets free drinks by putting a 10p through a hole in a £10 note which only seems large enough for a 5p. Alex pretends to be a concierge and makes off with luggage outside a hotel. Alex and Paul get a dog from the dog's home and sell it for £200 by tricking the buyer into thinking that it is of a valuable pedigree breed.
---
3x01 Episode 1 (March 15, 2007)
---
Alex and Paul sell games consoles at cheap prices to get some lads to give them their cash. Also Jess and Alex use a hotel to steal someone's credit card details just by overhearing their name and room number.
---