Lil' Bush
Season 2
Lil' Bush
Season 2
First Air Date: March 13, 2008

| | | |
| --- | --- | --- |
| First Aired on | : | 2008 |
| Episodes | : | 9 episodes |
Episodes
2x09 Pooty-Poot (May 08, 2008)
---
When Lil' Vladimir Putin and Lil' George start a schoolyard rivalry, it escalates to Lil' Putin poisoning Lil' George, whose head swells to five times its normal size. After some training from former wrestling champ Barbara Bush, Lil' George faces off against Lil' Putin in a classic playground battle. Meanwhile, Lil' Cheney has been partnered with Lil' Nancy Pelosi, and given a watermelon to care for as their child. When it becomes apparent that their watermelon is a lesbian, Lil' Cheney has some hard choices to make.
---
2x08 Wedding (May 01, 2008)
---
When Lil' Bill Clinton invites Lil' George to his "Rainbow Party," Barbara and George realize he's growing up too fast. They decide the best way to preserve George's innocence is in a "purity wedding" in which he marries Barbara. When Lil' George decides his own father's a better match, they are forced to have a gay wedding, sending Barbara into the arms of super-smooth man-about-town Colin Powell.
---
2x07 Afghanistan (April 24, 2008)
---
When Osama bin Laden is diagnosed with a weak heart, he finds the only perfect match for a donor is Lil' Cheney. Al Qaeda kidnaps Lil' Cheney, forcing Lil' George and the gang to smoke him out of his hole in Afghanistan. Meanwhile, Barbara gets her groove back in Jamaica.
---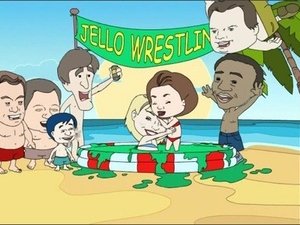 2x06 Weekend at Saddamy's (April 17, 2008)
---
It's spring break, and Lil' George and the gang join George Sr. on a camping trip to Baghdad. Lil' George tries to impress his father and fix Iraq at the same time by digging up Saddam Hussein's body and turning him into a real puppet dictator, a la "Weekend At Bernies." Meanwhile, Lil' Bill Clinton convinces all the Lil' Democrats to spring break on South Padre island. When some of their antics end up on video, "Lil' Dems Gone Wild" becomes a top-selling DVD.
---
2x05 Three Dates (April 10, 2008)
---
With the school dance coming up, Lil' George doesn't know who to take. His brain advises him to be cautious, but George plows ahead and ends up inviting three dates. Once they get to the dance (featuring Good Charlotte as Good Charlotte cover band "Good Charlotter") George has to silence his brain once and for all. George Sr. is dealing with an annoying houseguest, King Fahd of Saudi Arabia, who parties like a frat guy and lords his oil over the president.
---
2x04 Katrina (April 03, 2008)
---
George Sr. and Barbara punish the Lil' Gang for destroying the White House by sending them to New Orleans to help with the rebuilding effort after Hurricane Katrina. They end up creating a suprise Mardi Gras float (out of a tank that was supposed to be a FEMA trailer and money that was being kept from the residents) trying to cheer up the residents. They instead crash into one of the levees and flood the city. Meanwhile George Sr. and Barbara cannot pay of the mortgages for the White House and look to sell it, with many of the Lil' Politicians looking to buy it. They eventually pay it off with all the money on the Mardi Gras float.
---
2x03 Crony Break-up (March 27, 2008)
---
After a big fight, the Lil' Gang break up. Each of them finds comfort in new friends: Lil' Mitt Romney, Lil' Rudy Giuliani, Lil' Fred Thompson and Tiny Dennis Kucinich. When the new friendships turn disastrous, the Lil' Cronies put their differences aside in a heartwarming, vomit-filled reunion. Meanwhile, Jeb Bush inadvertently invents a new diet craze called "The Pudding Hole" which involves leaving a hole in your stomach so food can pour out.
---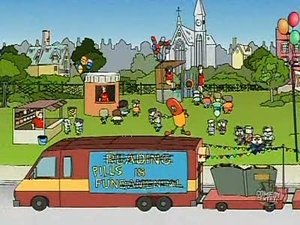 2x02 Big Pharm (March 20, 2008)
---
When Beltway Elementary's book fair is taken over by a drug company, it becomes a drug fair, and all the Lil' Cronies get hooked on meds. In order to kick their addiction, they face off against the big pharmaceutical company's charismatic CEO (played by The Grateful Dead's Phil Lesh). Meanwhile, George Sr. attempts to appear more manly for the state of the union by taking beard-growth pills. Unfortunately, the side effects involve a prolonged and prominent boner.
---
2x01 St. Patrick's Day (March 13, 2008)
---
The Lil' Gang doesn't want the Lil' Dems to ruin St. Patrick's Day with their liberal and tolerant St. Patrick's Day float. They enlist the help of Lil' Karl Rove (voiced by Kevin Federline), who gives them advice and does some bad rapping as his alter-ego, MC Rove. Meanwhile, first lady Barbara gets a tanning bed and inadvertently cooks her liver.
---