My Hero
Season 3
My Hero
Season 3
First Air Date: June 07, 2002

| | | |
| --- | --- | --- |
| First Aired on | : | 2002 |
| Episodes | : | 10 episodes |
The third series of British television comedy My Hero ran from June 7, 2002 to August 23, 2002. The series featured ten episodes, and the entire main cast reprised their characters from series two. The series was broadcast on BBC1, and was again overseen by series creator Paul Mendelson. The series was released on DVD on October 7, 2002, becoming the first series of the show to ever be released on DVD.
Episodes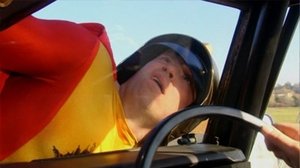 3x10 A Day to Remember (August 23, 2002)
---
George doesn't want to change Olly's nappies. He keeps flying off to an emergency. When George has to erase the memory of a man He tells Janet about it when he returns home & demonstrates on himself. George has erased his memory & doesn't know he's Thermoman. Arnie tries to retrain him. George is shocked that his infant son can talk.! Janet is happy because George is now changing Olly's nappies. George thinks he is an ordinary man with a Wife,a child & a small business. When a bushfire flares out of control in Queensland Australia, it's Olly to the rescue. Janet & Arnie tell George he's Thermoman. They need to convince him because a Meteor is heading for Earth & Thermoman has to stop it. George remembers he is Thermoman & flies off to stop the Meteor, Janet,Arnie & Tyler think he didn't make it until he comes back to the flat. Janet asks George to change Olly & George pretends he has amnesia again.
---
3x09 A Little Learning (August 16, 2002)
---
It's Mr & Mrs Dawkins 40th wedding anniversary. They're planning a party and don't want George to come.! George wants to be more thoughtful & smarter, so he flies to Ultron & asks for a cure for stupidity. They give him a pork flavoured snack. Now George is smarter & more helpful. Mr and Mrs Dawkins want him to come to their party and to give a speech as well. Mrs Raven asks Arnie to marry her & she's planning the wedding but Arnie's not that keen. George becomes addicted to ""pork scratchings"" It's up to Arnie to help him get off them & go 'cold porky' ! Four days later George is cured of his addiction but is back to his old self & still has to give the speech.(Which he does in typical George fashion) Mrs Raven decides after listening to George's speech,not to marry Arnie & Janet welcomes back 'her' George.
---
3x08 Mine's a Double (August 09, 2002)
---
A double of George named Hilary arrives to take George's place while he's away at an advanced super heroic refresher course. Hilary is still in training & is replacing George for 72 hours as part of his field training. Hilary goes into the clinic & starts chatting up Mrs Dawkins. Arnie wants to put George's shop on the internet. He sets up "" Sunday trading. com "" Peirs & Hilary have been out all night & Janet tells Hillary to go home. George drops by the clinic & Hillary is just leaving. Mrs Dawkins sees both George & Hillary in two different places & thinks she's seeing things. Arnie & Tyler have had 5,000 hits on the website. (3,000 were from Tyler checking to see if the site is still there.!) Arnie wants Thermoman to endorse the site to make it more popular. George says it's against regulations,but Arnie does it anyway. Janet thinks she's showering with George but it's actually Hillary. Janet's annoyed to think Hillary saw her naked. George discovers Arnie's usin
---
3x07 Little Green Man (August 02, 2002)
---
Janet feels George is taking her for granted. Pete was fixing the window glass when he cut himself & Janet was looking at the cut when George walks in. Pete leaves & Janet tries to make George jealous but George is calm about it. Piers is engaged to Carole to try to further his image Later George tries to be jealous for Janet's sake but isn't to convincing. When Arnie offers Janet some cake, she takes a piece, George sees this & really gets Jealous. (Ultronian style)He turns green.! Tyler suggests a marriage counselor who shrinks George to teach him a lesson. A typhoon in Kyoto needs Thermoman's attention. George apologises to Janet & he regains his normal size. Carole Tells Piers the wedding is off because she was using him to further her career. George buys Janet a cake to share with whomever she chooses. Mrs Raven has a slice just as Arnie walks in. He sees this & turns green.
---
3x06 Shock, Horror! (July 12, 2002)
---
George has had very little time to rest.(too many rescues.) Janet urges him to rest. Olly is sick & George keeps flying home to check on him before flying away again. As George tires, he flies slower & a reporter tracks him to the flat where he takes a picture & splashes it all over the next mornings paper. With several T.V. crews camped on the footpath outside the flat George tries to tell the reporter that there is nothing going on between Janet & Thermoman. Kevin Trench (the reporter) sensationalises George's explanation infering Thermoman & George are a couple.! Janet solves the problem by discrediting the reporter,saying that he is actually an Ultronian & an arch enemy of Thermoman. Olly gets better & things go back to normal.
---
3x05 Puttin' on the Writs (July 05, 2002)
---
George & Janet are loading their groceries into their car when they hear Mrs Raven yelling at the triplets as she's loading her groceries. The trolley man loses control of his trolleys on the ramp of the car park & they head straight for Mrs Raven.! As she goes over the edge of a Multi-Storey car park It's Thermoman to the rescue.! Next day George has bad news in the form of a writ from Mrs Raven's solicitor. It seems while saving her life he squeezed her arm & sprained it causing her trauma, distress & potential loss of earnings should she ever want to take up skiing professionaly. George wants Arnie to talk to Mrs Raven & ask her to drop the charges, Meanwhile Janet's parents have had a row & Mr Dawkins has moved in with Tyler next door. Thermoman visits Mrs Raven & apologises for hurting her. He almost has the case dismissed when Mrs Raven asks for a kiss & Thermoman knocks her cold with his helmet.! Mrs Raven is now asking for more money for the extra pain & suffering. Mrs Dawkins
---
3x04 The Older Man (June 28, 2002)
---
It's George's 327th birthday, Arnie asks George if he told Janet about what happens to Ultronians after their 327th birthday. Janet soon finds out, George starts to age ! It seems his body is worn out & he needs a new one. George selects 3 replacements (handsome, young,masculine) but Janet doesn't want these, She wants the body she fell in love with & married. George continues to age & Janet's parents visit. She tells them he's George's Grandfather & when they leave George & Janet kiss but Janet's Mum returns & catches them kissing.! Janet tells them she's left George & taken up with his Grandfather. When George is so old he can hardly walk he decides to try the time tunnel of youth that Ultronian woman sometimes use. However he goes to far & ends up as a baby.! Janet takes him to the bathroom & he goes to find the body in the reject room & surprises Janet with an old model body of his usual self.
---
3x03 Pet Rescue (June 21, 2002)
---
George is puzzled by the British love of pets - until his mother-in-law's dog explains it all. However, talking to animals is not normal behaviour, and the conversation lands George in hot water
---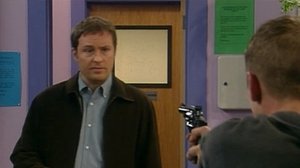 3x02 Zero Tolerance (June 14, 2002)
---
George takes the law into his own hands when he joins a neighbourhood watch scheme
---
3x01 Baby Talk (June 07, 2002)
---
The arrival of a little bundle of joy with superhuman powers has made life even more stressful for George and Janet. Meanwhile, Dr Piers's TV career appears to be on the up after he appoints a new agent
---