Property Brothers
Season 8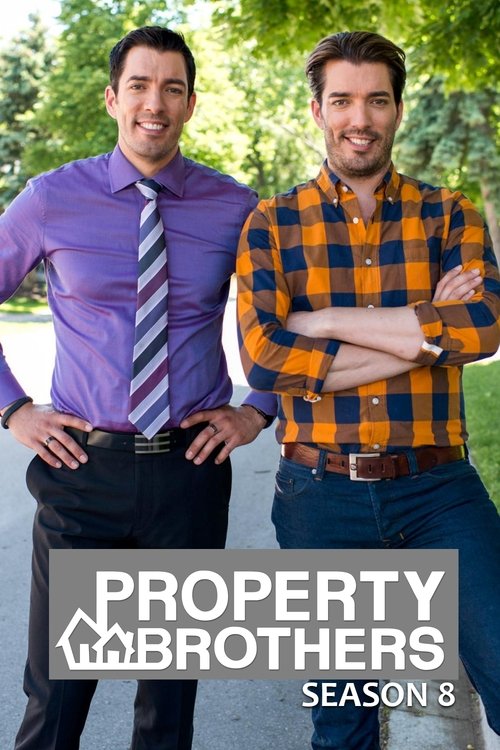 Property Brothers
Season 8
First Air Date: October 07, 2015

| | | |
| --- | --- | --- |
| First Aired on | : | 2015 |
| Episodes | : | 14 episodes |
Episodes
8x14 Family Time [Tom & Bridget] (February 09, 2016)
---
---
8x13 Particularly Particular [Craig & Laurel] (February 03, 2016)
---
High school sweethearts Craig and Laurel quickly sold their previous property and are now living with his Mom until they find their ultimate dream home. But that may take a while since the couple has sky-high expectations and isn't prepared to compromise. Drew and Jonathan stage a real estate intervention and convince the renovation-phobic couple to take a calculated risk. Drew finds a rare gem in a sought-after neighbourhood and leverages a troubling home inspection at the negotiating table. Later, while Jonathan tackles an ambitious reno and uncovers a whack of problems in the process, his biggest challenge is satisfying his hard-to-please clients.
---
8x12 Competition Crazed [Gabby & Jim] (January 26, 2016)
---
Gabby and Jim are ready to trade their cramped big city apartment for a family-friendly home in the suburbs. And the couple desperately needs the Property Brothers to find them the perfect place to call home. At first, Gabby and Jim find themselves in pole position for an unlisted fixer-upper with dream home potential, but then it's up to Drew to navigate their wild ride through a surprise bidding war. Later, preserving a home's historic charm takes extra-special care and turns up some big issues along the way. Prankster Jonathan gets a surprise of his own from the competitive new homeowners and then puts his Midas touch on a blinged-out powder room.
---
8x11 100th Episode Special (January 19, 2016)
---
Woo 100 episodes!
---
8x10 Basement Blues [Julie & Adam] (January 12, 2016)
---
After 10 months of camping out in her parents' basement, Julie, Adam, and their two little ones are ready to find a home of their own. They'd like to stay close to family, but finding a move-in ready property in the expensive neighbourhood is proving tougher than they'd imagined. After navigating two renovations on their own, the couple is reluctant to take on a fixer-upper. And that's when the Property Brothers step in with a plan. First, it's up to Drew to negotiate a deal on a family property with great bones and then it's up to Jonathan to put the reno-phobic couple at ease. Demolition therapy proves to be a great stress reliever for everyone, but once the walls come down a torrential downpour reveals a laundry list of costly repairs.
---
8x09 Ready for a Home of Their Own [Kristen & Ben] (January 05, 2016)
---
After tying the knot, newlyweds Kristen and Ben moved in with her parents. And though they're eager to find a home of their own, their house hunt has been more frustrating than expected. They've made half a dozen offers so far, but every time they try to close a deal they lose out to the highest bidder. Jonathan and Drew step in with some much-needed real estate guidance and it starts with an unexpected course correction. With a turnkey property out of reach, the search is on for a fixer-upper with great bones, but a bidding war soon threatens to derail the couple's plans—again. Later, Jonathan uncovers a series of nasty surprises and then vows to turn Ben into the ultimate handyman.
---
8x08 Independent and Ambitious [Gina & AnnMarie] (December 22, 2015)
---
Tired of living in a cramped rental apartment, hardworking attorney Gina is ready for a swanky home where she can entertain in style. But finding a turnkey property in her ideal neighborhood is beyond her budget and that means something's got to give. Enter the Property Brothers. Drew vows to find Gina a fixer-upper with lots of potential and Jonathan promises that his jaw-dropping renovation will reflect her sparkly personality. The house hunt hits an unexpected roadblock at the bank. And later, bad news about structural issues, water damage, and mounting costs threaten to derail the budget and the bling-factor.
---
8x07 Hoping to Get Lucky [Tory & Darren] (November 18, 2015)
---
Darren and Tory love the city, but with a dog and two kids, they're tired of squeezing into a tiny urban apartment. The couple is desperate to find a spacious family property in the suburbs. And with their lease quickly coming to an end, they need to find it before they get the boot. Drew and Jonathan step in with a real estate rescue operation and step number one is right-sizing the couple's expectations. With the renovation-shy couple on board, the search is on for a fixer upper with tons of potential. Though Drew warns against it, a low-ball offer lands the couple in hot water. Later, it's up to Jonathan to pick up the pace as structural issues, rising costs, and a surprise sprinkler system install leave him scrambling to complete the massive project before their deadline.
---
8x06 Big Changes, Bigger Decision [Angela & Ro] (November 11, 2015)
---
Fed up with compact condo living and eager to start a family, Angela and Ro are looking for a spacious property in a great neighbourhood. And though their wish list is well beyond their budget, they're not yet ready to compromise. A dose of sticker shock proves an effective wake-up call and the search is on for a fixer-upper with great bones. When Angela and Ro set their sites on a foreclosed property, it's up to Drew to lead them through a tricky online auction. Later, Jonathan has his hands full with a mega-renovation of a once abandoned home. With extensive damage and the potential for costly surprises, he proceeds with caution. But while Jonathan looks for ways to save money, the couple insists on a major change that has the budget spiraling out of control.
---
8x05 New Beginnings [Anna & Peter] (November 04, 2015)
---
Devoted single mom Anna has had a tough year, but she always looks on the bright side. And though she's grateful to be living with family for now, she's ready to invest everything she's got in a forever dream home of her own. Jonathan and Drew are determined to help, and though Anna is at first reluctant to take on a renovation project, the Property Brothers promise to deliver a custom property tailored to her family's needs. Anna falls for a fixer-upper with great potential, but the home's checkered past raises major concerns. Later, in order to save his design plan, Jonathan steps in to toilet train the family puppy and, with cost overruns and a laundry list of issues, Anna feels like the project is coming off the rails.
---
8x04 Desperate to Settle [Mark & Ashleigh] (October 27, 2015)
---
---
8x03 Go Big or Go Home [Katie & Justin] (October 21, 2015)
---
With a busy schedule and crazy commute, new parents Katie and Justin spend weekends in their downtown home and crash at his parents' place during the week. But their nomadic lifestyle is driving them crazy and they're looking for a blinged-out suburban pad where they can put down roots. The Property Brothers step in with a plan, but it's Justin himself who comes up with a rare opportunity. One of his landscaping clients is listing their house and is offering to sell it privately before it hits the market. The personal relationship could make things tricky and Drew steps in to negotiate. Later, Jonathan uncovers a host of dangerous and costly issues during demolition, but there's a silver lining when the revised design plan reveals a dazzling new feature.
---
8x02 Eager for Room to Roam [Carlie & Drum] (October 14, 2015)
---
Carlie and Drum are ready to expand their family, but their tiny urban condo is holding them back. They're hoping to find a spacious suburban home with lots of room to roam, but their sky-high expectations are completely out of step with their budget. Jonathan and Drew convince the couple that renovating a fixer-upper is the only way to go, but once they seal the deal on a property with loads of dream home potential, they suddenly find themselves in a vortex of nasty surprises and escalating costs. With structural issues and a leaky roof, the news is as bad as it gets. And with the budget spiraling out of control, Jonathan is under tremendous pressure to come up with creative solutions to reveal the silver lining.
---
8x01 Downtown Dreaming, Suburban Reality [Diana & John] (October 07, 2015)
---
When they found out they were expecting, new parents Diana and John sold their downtown condo to buy a spacious suburban home instead. But that was a year ago, and since their house hunt went nowhere, they're now living with the in-laws and desperate for a home of their own.
---