Property Brothers
Season 7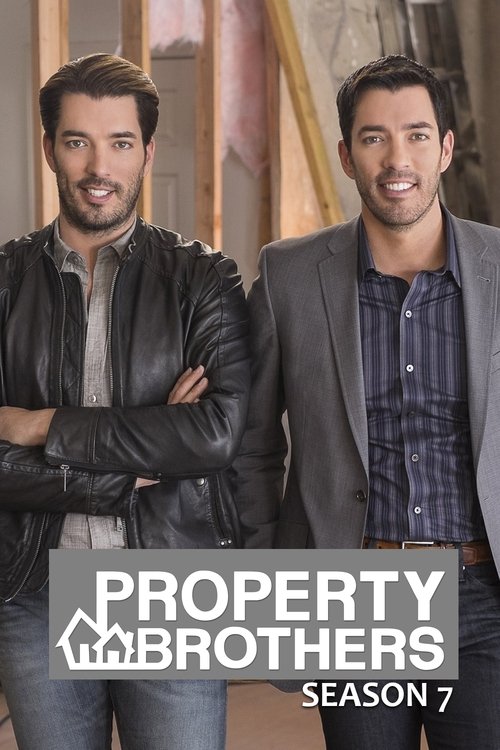 Property Brothers
Season 7
First Air Date: January 07, 2015

| | | |
| --- | --- | --- |
| First Aired on | : | 2015 |
| Episodes | : | 13 episodes |
Episodes
7x13 Taking a Gamble on a Fixer-Upper [Jessica & Chase] (May 27, 2015)
---
New parents Chase and Jessica are all about family, but after crashing at Grandma's place for the past four months, they're eager to find a city dream home where they can put down roots and entertain in style The Property Brothers step in with a solution that will match the couple's budget with their luxurious wish list, but it will mean tackling the major renovation project they were hoping to avoid. Drew goes to bat to land an underpriced home at fair market value. Later, Jonathan's budget takes a hit from the start. And as the walls come down, the hidden costs just keep adding up.
---
7x12 Promise of a Downtown Dream Home [Thomas & Christine] (May 20, 2015)
---
With a baby on the way, Christine and Thomas are ready to settle down. Thomas has promised to find Christine her downtown dream home before their baby arrives. But until he does, they're crashing at a friend's place and time is running out. Jonathan and Drew step in to ensure that Thomas lives up to his lofty promise. But the search for a move-in ready property starts with a wake-up call. With the couple's wish list way out of step with their budget, the brothers convince them that a fixer-upper is the only way to go. Getting Christine to recognize a diamond in the rough proves tricky for Drew. Later, with mounting costs for a major makeover, Jonathan looks for ways to save money while still delivering French-inspired interiors with a modern flair.
---
7x11 An Urban Dream Home for Their Happily Ever After [Samantha & Yaron] (March 18, 2015)
---
Samantha and Yaron recently orchestrated their dream wedding, and now they're on the hunt for an urban dream home to match. For the moment, the couple's compact downtown condo is cramping their style, and these newlyweds are eager to find a quiet and sophisticated property where they can put down roots and start a family. With the couple's long list of luxurious must-haves, Jonathan and Drew kick things off with a reality check. And while at first reluctant to undertake any renovations at all, Samantha and Yaron soon find themselves with a major rebuild on their hands. During demolition, the walls reveal a major hazard, but a discovery in the ceiling actually ends up saving them money. Meanwhile, it's up to Jonathan to capture the couple's modern sensibility and finish the ambitious project on time and on budget.
---
7x10 She Wants a Fully-Loaded Suburban Home [Nancy & Dave] (March 11, 2015)
---
Tired of crashing on her best friend's couch, biker chick bombshell Nancy is hoping to score a suburban pad of her own, complete with a feminine-industrial flair that reflects her personality, and a two-car chick-cave for her beloved motorbike. Drew and Jonathan are determined to find her exactly what she's looking for. But with a long list of must-haves, Nancy's house hunt begins with a reality check. In order to find a budget-friendly home with all the bells and whistles, she's soon convinced that a fixer-upper is the only way to go. With Drew leading the way, Nancy plays hardball from the start. Later, Jonathan uncovers several costly repairs and with his design plan in jeopardy, goes back to the drawing board.
---
7x09 Wish List and Budget are Out of Sync [Shannon & Darl] (March 04, 2015)
---
After years of hard-core studying and dorm-size apartments, nurse Shannon and doctor Darl are ready for their real estate graduation. And since they're now expecting their first child, they've got mere months to get out of their cramped basement digs and into a move-in ready space where they can put down roots, raise a family, and entertain in style. With the couple's wish list completely out of sync with their budget, it's up to the Property Brothers to convince them that an urban fixer-upper is the only way to go. Since they're seriously worried about adding a massive renovation to their already hectic lifestyle, Jonathan assures Shannon and Darl he'll take care of all the details and the stress. But with an ever-growing list of delays, nasty surprises, and major cost overruns, that's easier said than done.
---
7x08 Room to Grow in Time for a Surprise Delivery [Jennifer & Derek] (February 25, 2015)
---
Expecting their first child within months and fed up with squeezing into their urban condo, Derek and Jennifer are facing a serious time crunch in their search for a sprawling home in a family-friendly lakeside community. Drew and Jonathan promise to set them up with a great property where they can put down roots. Sold on the brothers' fixer-upper strategy from the start, the couple immediately dives into an ambitious house hunt. But getting them to see the potential of ramshackle real estate proves tricky. Faced with the potential for multiple offers, Drew comes up with a heartfelt plea to win over the seller. Later, Jonathan is hit with a long list of setbacks that threaten to derail the budget and the design plan, and then a surprise delivery changes everything.
---
7x07 Meeting in the Middle for the Perfect Property [Sarah & Andrew] (February 18, 2015)
---
Desperate to be closer to friends and family, new parents Andrew and Sarah just moved back to the city. But their basement digs at Grandma's are seriously cramping their style. And while they're eager to find a perfect home of their own, they're miles apart when it comes to style. With the renovation-phobic couple's dream home well beyond reach, the Property Brothers step in with a plan. And it all starts with tracking down a dog-friendly fixer-upper with forever-home potential. After an exhaustive search, everyone agrees the couple has found a steal. That is, until Sarah and Andrew begin facing a jaw-dropping laundry list of hidden expenses. And with their renovation budget dwindling, Jonathan is more determined than ever to transform the property into an eclectic home they'll both love.
---
7x06 Chic and Modern Home to Entertain in Style [Glenda & Dave] (February 11, 2015)
---
After raising their kids, Glenda and Dave moved to the country, but soon realized they'd made a big mistake. They've since sold the house and moved back to the city. And while they're currently in a less-than-desirable rental property, they're looking to buy a chic and modern downtown home where they can entertain in style. With a history of renovation nightmares behind them, Glenda is particularly resistant to the idea of transforming a fixer-upper. But Jonathan guarantees he'll take care of everything. And along with Drew's shrewd real estate advice, promises to deliver a dazzling and glamorous property on time and under budget.While Glenda and Dave head off on vacation, Jonathan uncovers a series of costly repairs.And just when everything seems to be back on track, one of the home's major features literally falls off the wall.
---
7x05 Escaping the In-Laws for a Family Functional Home [Isabella & David] (February 04, 2015)
---
For three years now, David, Isabella, and their two small children have been living with grandma and grandpa. The couple desperately wants to move before they overstay their welcome. But so far, their house-hunt has been lackluster and both agree they're difficult to please. Drew and Jonathan vow to get the family into a space of their own. But it soon becomes clear that the only way to satisfy their exhaustive wish list is to transform a fixer-upper into the home of their dreams. The risk-averse couple reluctantly agrees to the gamble, but getting them to appreciate ramshackle diamonds in the rough proves tricky. Later, the home they eventually buy puts the squeeze on Jonathan in more ways than one, and the pressure is on to create picture-perfect interiors, including fantasy-themed bedrooms for the kids.
---
7x04 Squashing Sibling Rivalry by Going From Cramped to Spacious [Krista & Jennifer] (January 28, 2015)
---
After being apart for a decade, competitive twins Krista and Jennifer are sharing a cramped condo, and it's slowly driving them crazy. Desperate for more space and eager to put down roots in a new neighbourhood, they're pooling their resources and hoping to find a stylish downtown pad where they can entertain in style. When they realize their wish list is way out of step with their budget, Property Brothers Jonathan and Drew convince the renovation-phobic sisters to take a calculated risk on a fixer-upper. Drew lines up a slew of tired homes with great bones, but getting Krista and Jennifer to see their potential proves challenging. Later, apart from uncovering a series of costly surprises, Jonathan's major challenge during the reno is getting the sisters to agree on anything.
---
7x03 Single in the City and Looking for A Deluxe Pad [Catherine & Viviane] (January 21, 2015)
---
Tired of couch surfing and ready for a home of her own, urban singleton Catherine is desperate to find a deluxe bachelorette pad. And while she's got sky-high expectations and is notoriously indecisive, her best friend Viviane has promised to keep her on track and make sure she gets the most bling for her budget. First, the Property Brothers convince the budget-conscious yet renovation-phobic Catherine that a fixer-upper is the way to go. And for Drew, the challenge is narrowing down her must-haves so they can hone in on a condo with great bones. Later, a discovery inside the kitchen wall leads to a costly fix and a major delay. And it's up to Jonathan to inspire Catherine to be decisive and claim her space.
---
7x02 Keeping it in the Family is Tough Competition [Amy & Graham] (January 14, 2015)
---
Newlywed power-couple Amy and Graham are eager to ditch their basement digs at her mother's place for a luxurious home of their own. But their busy schedules mean they have no time for a house hunt. That's where power bros Drew and Jonathan take over. The good news for Jonathan is that Amy and Graham see eye-to-eye on interior design, but then he literally hits a brick wall during the kitchen demo. As for Drew, the bad news is that Graham only wants a home in the neighbourhood he grew up in—a sought-after enclave where competition is tough and every house sells for more than asking price.
---
7x01 A Suburban Home All On Their Own [Belinda & Tiago] (January 07, 2015)
---
Soon-to-be-weds Belinda and Tiago are determined to move out of their respective parents' homes. And the sooner they find a suburban dream property of their own, the sooner they'll be able to start their lives together—in private. When they finally accept that move-in ready luxury is out of their reach, the Property Brothers convince them that a fixer-upper is the way to go. The couple agrees, but only if their families can actively participate in the reno. Drew eventually leads Belinda and Tiago to a tough decision, and then has serious misgivings about their lowball strategy. Later, Jonathan uncovers a costly issue with the sub-floor. And while a family effort gives a big boost to the budget, Jonathan gets more input than he bargained for.
---