Property Brothers
Season 6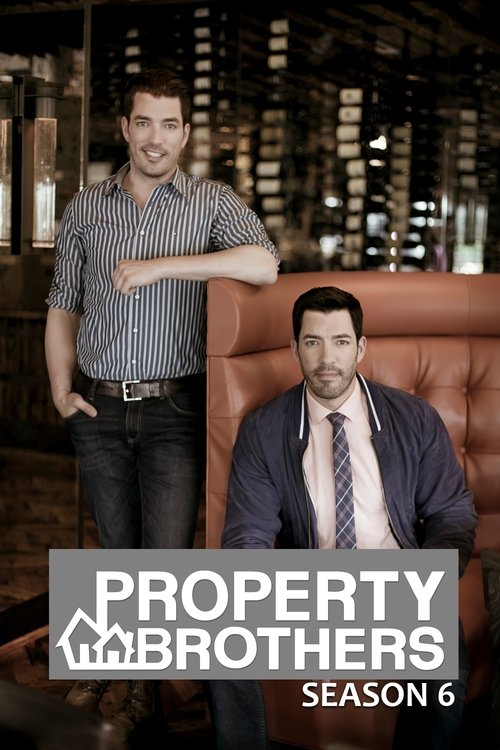 Property Brothers
Season 6
First Air Date: March 12, 2014

| | | |
| --- | --- | --- |
| First Aired on | : | 2014 |
| Episodes | : | 13 episodes |
Episodes
6x13 Aven & Phillip (August 27, 2014)
---
Engaged and taking on a host of major challenges, Aven and Phillip are ready to put down roots after recently relocating to his hometown. And in addition to planning their wedding and starting a new business, they're hoping to find a dog-friendly dream home so they can finally move out of their temporary hotel digs. Jonathan and Drew step in to make the couple's real estate dreams come true. And it starts with a reality check. Aven admits she's scared to death of renovations. But since the couple's budget doesn't measure up to their wish list, the brothers convince them to take the plunge with a fixer-upper with lots of potential.
---
6x12 Dionna & Natasha (August 20, 2014)
---
A full-time teacher, student, and single mom, Dionna dreams of providing the best home possible for her young son. They've definitely outgrown her tiny apartment. And now with her stylish best friend along for the ride, Dionna is determined to track down a budget-friendly dream home that's fit for a queen and her prince. Drew and Jonathan's first order of business is to reconcile Dionna's blinged-out wish list with her modest budget, but she's not quite ready to give up on her big dreams. A looted luxury home catches her eye, but the property comes with a roller coaster ride of surprises. And once Jonathan gets started on a major makeover, he's got to hustle to keep the project on time and on budget.
---
6x11 Stephanie & David (August 13, 2014)
---
Newlyweds have a long wish list and a limited budget as they search for their forever home.
---
6x10 Luca, Anne & Barbara (August 06, 2014)
---
A couple who are ready to take their relationship to the next level spar on style while searching for their budget dream home in the city.
---
6x09 Nicole & Colby (July 30, 2014)
---
A couple who are looking to put down roots—and move out of their friend's house—want a home that's perfect for dogs and for the family they are planning to start.
---
6x08 Aven & Phillip (July 23, 2014)
---
An engaged couple are followed as they search for a dog-friendly home. Later, they need some convincing from the brothers to take the plunge with a fixer-upper that has lots of potential.
---
6x07 Beatriz & Brandon (July 09, 2014)
---
Jonathan and Drew help a busy couple who want to move out of their cramped condo, but are close to giving up on their house hunt after a series of unsuccessful offers.
---
6x06 Chris & Mike (July 02, 2014)
---
Brothers who share a tiny pool house in their parents' backyard are ready to move into a sprawling bachelor pad of their own.
---
6x05 Sandy & Susy (July 02, 2014)
---
A recent empty nester with a new lease on life looks for a downtown pad, with some help from her twin sister.
---
6x04 Melissa & Joe (June 25, 2014)
---
Drew finds a fixer-upper home for a couple with two small children, and then Jonathan gets to work on a guest suite and home theater, but an unexpected repair takes a toll on the remodeling budget.
---
6x03 Edith & Fred (March 26, 2014)
---
A couple who have been living with their son decide to make their next home a resort-style oasis that's perfect for entertaining family and friends.
---
6x02 Franklin & Heather (March 19, 2014)
---
A couple who dream of entertaining in style have a wish list that exceeds their budget, and so they take on a fixer-upper home with help and encouragement from Drew and Jonathan.
---
6x01 Maria & Dave (March 12, 2014)
---
A couple who have spent six months living in a hotel with their dog and two sons are more than ready to find a sprawling suburban home in a solid school district, and so they turn to Jonathan and Drew to help them buy and renovate the fixer-upper of their dreams.
---