The L Word
Season 2
The L Word
Season 2
First Air Date: February 20, 2005

| | | |
| --- | --- | --- |
| First Aired on | : | 2005 |
| Episodes | : | 13 episodes |
Episodes
2x13 Lacuna (May 15, 2005)
---
A surprise guest shows up at a sad event as Bette gets stunning news about her job. Tina goes into a surprisingly difficult labor, Jenny finally reaches breaking point over her painful childhood memory, Alice struggles with her jealousy, and Peggy Peabody lays down the laws with her daughter, Helena.
---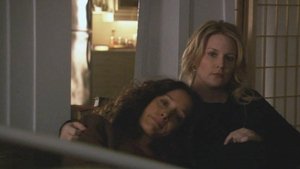 2x12 L'Chaim (May 08, 2005)
---
Bette reaches out to Tina as she decides to take her father home for his final days. Jenny struggles after recalling a difficult memory from her childhood, and Alice becomes jealous when Dana agrees to have dinner with her ex-girlfriend, Lara.
---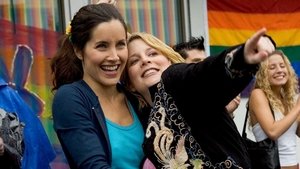 2x11 Loud & Proud (May 01, 2005)
---
Dana is stunned when she learns a big secret about her brother, Howie, at Gay Pride 2005. Mark tries to make amends with Jenny and Shane, Kit and Bette learn that their father, Melvin, is refusing treatment for his illness, and a shocking memory about Jenny's childhood is revealed.
---
2x10 Land Ahoy (April 24, 2005)
---
A lesbian cruise in the Caribbean proves eventful for Dana, Alice, Shane, Jenny and Carmen. Bette and Kit struggle to reconcile with their estranged father, Melvin, during his visit.
---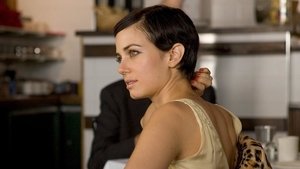 2x09 Late, Later, Latent (April 17, 2005)
---
Dana is stunned when Alice requests a bold sexual favor from her. Burr Connor (guest star Tony Goldwyn) reveals a secret to Jenny. Jenny learns about Carmen's real feelings for Shane, Kit plans a romantic night for Benjamin, and Bette and Tina have an intimate encounter as they bond over their unborn baby.
---
2x08 Loyal (April 10, 2005)
---
When Alice runs into her ex, she is surprised to find out that she is now dating Dana's ex-girlfriend. Bette and Tina reach an agreement over their relationship, Jenny is worried that she may have lost a writing job, and Shane finds some comfort in a church.
---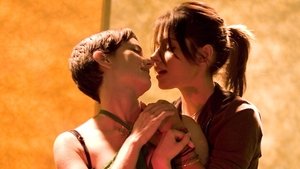 2x07 Luminous (April 03, 2005)
---
Shane tries to dull her pain in the hopes that she can forget about Carmen and Jenny's blossoming relationship. Tina comes between Helena and her ex over the custody of their kids and offers a glimmer of hope to Bette. Dana and Alice call everyone to The Planet to announce their new relationship.
---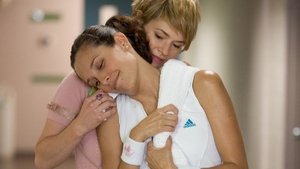 2x06 Lagrimas de Oro (March 27, 2005)
---
Alice pushes Dana to break up with Tonya, but Dana isn't prepared for when Tonya reveals her own secret. Tina considers her new attraction to Helena, Kit finally hooks up with Benjamin, and Jenny and Carmen continue to enjoy each other's company.
---
2x05 Labyrinth (March 20, 2005)
---
Bette tries to fix her relationship with Tina, but she gets a rude awakening with some bad news both at home and work. Alice and Dana try taking their relationship to a different level, Shane starts her new job as a PA to Veronica Bloom (guest star Camryn Manheim), and Jenny gets some confidence from her new hairstyle.
---
2x04 Lynch Pin (March 13, 2005)
---
Bette travels to New York on a business trip. Tina is shocked and angry about her lawyer's true intentions. Jenny and Shane search for a new roommate, and Kit bonds with an inspirational speaker.
---
2x03 Loneliest Number (March 06, 2005)
---
When she is rejected from the writing class, Jenny sets out to win over her intimidating professor. Tina is devastated when she finds an email from Candace on Bette's computer, Dana and Alice continue to hide their attraction for each other, and Kit tries to find an opening act for her new club.
---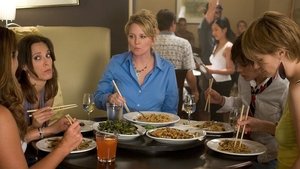 2x02 Lap Dance (February 27, 2005)
---
Acting on Alice's advice, Tina decides to hire a famous lawyer. Dana and Alice struggle to stay away from each other, Ivan gives Kit the cold shoulder, and Jenny decides to have a serious discussion with Robin regarding their relationship.
---
2x01 Life, Loss, Leaving (February 20, 2005)
---
As Bette desperately begs for Tina's forgiveness, Tina herself is hiding a shocking secret from Bette and all her friends. Alice and Dana continue to hide their romantic trysts from the others, and Jenny finds herself saying goodbye to Tim as he prepares to leave.
---