Portlandia
Season 2
Portlandia
Season 2
First Air Date: January 06, 2012

| | | |
| --- | --- | --- |
| First Aired on | : | 2012 |
| Episodes | : | 10 episodes |
Episodes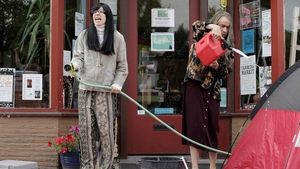 2x10 Brunch Village (March 09, 2012)
---
New brunch hotspot Fisherman's Porch gets a write-up in the local paper, prompting Peter and Nance to give it a try – only to find hundreds of others had the same idea. Portland's Mayor (Kyle MacLachlan) offers to take Fred and Carrie to brunch, but when the bridge is blocked he is forced to find alternate routes. Feminist bookstore owners Toni and Candace take physical measures to remove unwanted pedestrians in line for brunch in front of their store. Nance has Peter hold her spot while she gets her jacket, only to return to accusations that she is cutting the line. Two bouncers escort her to a crazed man (Tim Robbins) who metes out punishment for line cutters – and it is up to Peter to save her.
---
2x09 No Olympics (March 02, 2012)
---
A crying infant's father escalates his attempts to soothe his thrill-seeking baby; Fred and Carrie get the Mayor of Portland's (Kyle MacLachlan) blessing to create a grassroots campaign to prevent the Olympics from ever coming to Portland; A creative canoe dancer turns what seems to be a mistake in his routine into a triumphal finish; A pair of bike valets have trouble finding a disgruntled customer's (Johnny Marr) bike.
---
2x08 Feminist Book Store 10th Anniversary (February 24, 2012)
---
"Sanitation Twins" Marcus and Madeline Harris take separating trash to a whole new level; Portland's feminist bookstore "Women & Women First" commemorates its 10th anniversary, but the celebrations are cut short (with Penny Marshall and LaMarcus Aldridge); Uptight couple, Kath and Dave decide to go for a hike but get sidetracked as they prepare for every possible scenario; Peter and Nance go to their first Portland Timbers game and design a sign to root for the team; A risk-averse dance instructor ensures there is no chance of him being sued.
---
2x07 Motorcycle (February 17, 2012)
---
An idyllic music gathering becomes tense when they face the logistics of loading a harp into a sedan (with Joanna Newsom); A middle-aged couple attempts to reclaim the ideals of being young, rebellious and sexy by getting motorcycles; Second-hand clothing store workers scrutinize a woman's fashion sense when she attempts to sell her used clothes; Nina attempts to convince her boyfriend Lance to join Facebook; Claire goes out for an evening and gets a sitter for her husband, Doug.
---
2x06 Cat Nap (February 10, 2012)
---
In a boutique clothing store "Two Girls Two Shirts," the owners (with Miranda July) are momentarily tempted by the idea of having customers; A struggling band finds itself with an all too enthusiastic fan (Kristin Wiig); Jayde from "jayde speaks Sevyn" and director Gahvin Quin make a video plea to help raise money in the name of art. When an innovative intern (Amber Tamblyn) suggests improvements at the feminist bookstore, shopkeepers Toni and Candace defend their way of doing business; Carrie's sister begins making jewelry, prompting Fred to consider a new way to make a living; A houseowner's move takes longer than she expects when she accidentally hires an eco-friendly moving crew.
---
2x05 Cops Redesign (February 03, 2012)
---
Nostalgia-loving Jason returns to LA from Portland and informs Melanie of another Portland throwback trend; the Mayor of Portland tasks Fred and Carrie with redesigning the Portland Police Department's uniforms and image; an excited donor donates his old music LPs to an elite preschool, but protective parents Brendan and Michelle question his sonic sensibilities; a team of salespeople at Bad Art Good Walls specialize in supplying new coffee shops with horrible art.
---
2x04 Grover (January 27, 2012)
---
Michelle and Brendan pull out all the stops to see that their son gains admittance to a prestigious preschool.
---
2x03 Cool Wedding (January 20, 2012)
---
Militant bike messenger Spyke and his fiancée Iris strive for non-conformity in their upcoming nuptials; Carrie drops her beloved iPhone, and her life flashes before her eyes; Two overly-polite drivers come to a standstill at an intersection when neither wants to be the first to go; A grocery shopper (Jack McBrayer) finds scorn when he forgets his reusable shopping bag; A bestselling author (Shoreh Agadashloo) visits the feminist bookstore to do a book-reading.
---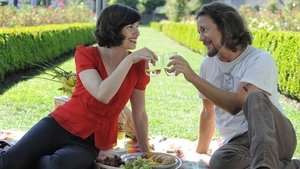 2x02 One Moore Episode (January 13, 2012)
---
Doug and Claire become a bit obsessed with "Battlestar Galactica" and it begins to take over their lives.
---
2x01 Mixology (January 06, 2012)
---
Local artisan curators Lisa and Bryce realize that they can pickle everything; Fred helps Carrie chase a romantic mixologist (Andy Samberg) who forgets his roots when he moves from Portland to LA; Fred and Carrie stop to eat at a theme restaurant with a difficult waiter (Kumail Nanjiani); Kath and Dave's emergency signals are tested when they go river rafting; Feminist shopkeepers Toni and Candice teach an A/C repairman about the "phallus" and "opposite of a phallus" inside all of us.
---