Petticoat Junction
Season 3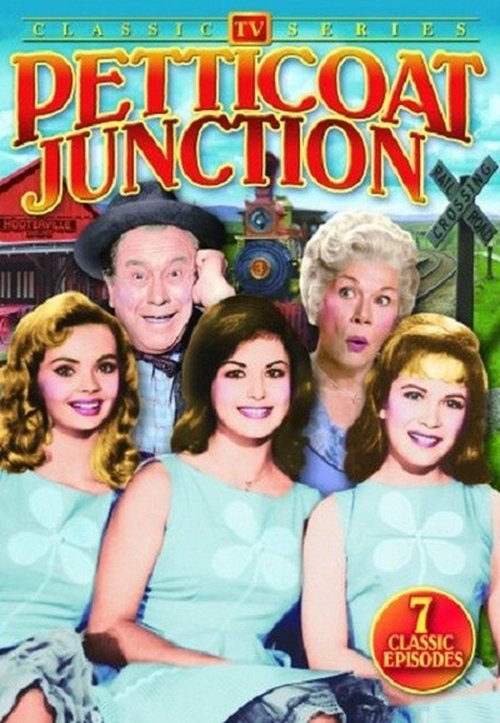 Petticoat Junction
Season 3
First Air Date: September 14, 1965

| | | |
| --- | --- | --- |
| First Aired on | : | 1965 |
| Episodes | : | 34 episodes |
Episodes
3x34 Betty Jo's Bike (May 10, 1966)
---
The Shady Rest hotel becomes a giant nursery when Betty's Jo's baby-sitting business falls into the lap of her mother, Kate.
---
3x33 Hooterville Valley Project (May 03, 1966)
---
---
3x32 The Young Matchmakers (April 26, 1966)
---
Widow Kate's three daughters organize a lonely hearts club to find eligible bachelors for her.
---
3x31 Every Bachelor Should Have a Family (April 19, 1966)
---
---
3x30 Whatever Happened to Betty Jo? (April 12, 1966)
---
Beety Jo fails to return home fro school on time, and her alarmed mother concludes she has run away to get married.
---
3x29 Kate Bradley, Peacemaker (April 05, 1966)
---
Kate acts as peacemaker when a feud between Floyd and Charley threatens to end the operation of the Hooterville Cannonball.
---
3x28 Kate Sells the Hotel (March 29, 1966)
---
Convinced that her daughters would like to move to New York, Kate clinches a deal to sell the Shady Rest hotel.
---
3x27 Second Honeymoon (March 22, 1966)
---
Uncle's Joe solicitude threatens the 10-year marriage of a couple who have returned to the Shady Rest for a second honeymoon.
---
3x26 The Windfall (March 15, 1966)
---
On an excursion to Pixley[ostensibly to look for a job], Uncle Joe stumbles on a fortune in buried money.
---
3x25 War of the Hotels (March 08, 1966)
---
Kate fights a no0holds-barred ""hotel war"" with Murdock Sneep, unscrupulous operator plane of the rival Pixley Hotel.
---
3x24 It's Not the Principle, It's the Money (March 01, 1966)
---
Kate tries to refurbish the Shady Rest hotel to attract conventions, while Uncle Joe plans to make it a shambles to reduce taxes.
---
3x23 The Invisible Mr. Dobble (February 22, 1966)
---
Kate believes she has lost her mind when she finds that one of her guests at the Shady Rest hotel is invisable.
---
3x22 Jury at the Shady Rest (February 15, 1966)
---
Gluttonous jurors,lodged at the Shady Rest hotel, refuse to reach a verdict because they like Kate's food so much.
---
3x21 The County Fair (February 08, 1966)
---
All the Bradley's expect to be a big winner in the contests they enter at the county-fair until Uncle Joe gives them a hand.
---
3x20 Only Boy in the Class (February 01, 1966)
---
Bobbie Jo takes pity on the only boy in her home economics class and induces her mother to help him win a passing grade.
---
3x19 Yogurt, Anyone? (January 25, 1966)
---
High- schooler Betty Jo poses as a college coed to gain the interest of a handsome college boy.
---
3x18 Billie Jo's Independence Day (January 18, 1966)
---
Billie Jo moves out from under her mother's roof and discovers that independence has it's drawbacks.
---
3x17 Betty Jo Catches the Bouquet (January 11, 1966)
---
Tomboy Betty Jo goes looking for a husband on the premise that fate has singles her out to become thhe next bride in the community.
---
3x16 Better Never Than Late (January 04, 1966)
---
Kate battles rural postmasters to recover an ill-advised letter from the mails.
---
3x15 The Butler Did It (December 28, 1965)
---
Bobbie Joe enters a contest sponmsored by Gibney's Old English Tomato Sauce and wins first priza-an English bulter.
---
3x14 What's a Trajectory? (December 21, 1965)
---
The Shady Rest hotel is visited by a mysterious and affluent guest, whom Uncle Joe deduces is a bank robber.
---
3x13 Uncle Joe Plays Post Office (December 14, 1965)
---
Uncle Joe becomes the new postmaster of Hooterville and moves the post office to the Shady Rest hotel.
---
3x12 The Crowded Wedding Ring (December 07, 1965)
---
One of Kate's olf flames pays a visit,but his efforts to rekindle their romance are thwarted by his dominating sister.
---
3x11 Bedloe's Successor (November 30, 1965)
---
Homer Bedloe's,arch-enemy of the Hooterville Cannonball,returns to Hooterville Valley in adject disgrace and poverty.
---
3x10 Betty Jo Goes to New York (November 23, 1965)
---
A week in New York City transforms Betty Jo from a country girl into a svelte sophisticate.
---
3x09 Hooterville Hurricane (November 16, 1965)
---
Uncle Joe becomes a fight promoter when he meets up with a young local plumber with the size and strength of a gorilla.
---
3x08 Hooterville A-Go-Go (November 09, 1965)
---
Kate's daughters clamor for her to invite rock'n roll star King Ring-a-Ding to perform at a benefit show.
---
3x07 A Doctor in the House (November 02, 1965)
---
Ths Shady Rest Hotel acquires a house physician, much to the distress of proprietor Kate.
---
3x06 Bobbie Jo's Sorority (October 26, 1965)
---
Bobbie Joe must accomplish a seemingly impossible feat in order to quality for memership in Hooterville High's School's only sorrity.
---
3x05 Joe Carson, General Contractor (October 12, 1965)
---
Uncle Joe pretends he is a general contractor so he can make a few dollars handling the renovation of the Green Acres farmhouse.
---
3x04 The Good Luck Ring (October 05, 1965)
---
Bobbie Jo conts on a ""good luck"" ring to help her win a spelling contest.
---
3x03 The Dog Turns Playboy (September 28, 1965)
---
---
3x02 The Baffling Raffle (September 21, 1965)
---
The Shady Resy pooch becomes wealthy when a lawyer appears at the hotel and announces that the dog has inherited $200.
---
3x01 Dear Minerva (September 14, 1965)
---
Kate become an annonymous celebrity when she writes a lovelorn column for the local paper.
---