Clouds Over the Hill
Season 2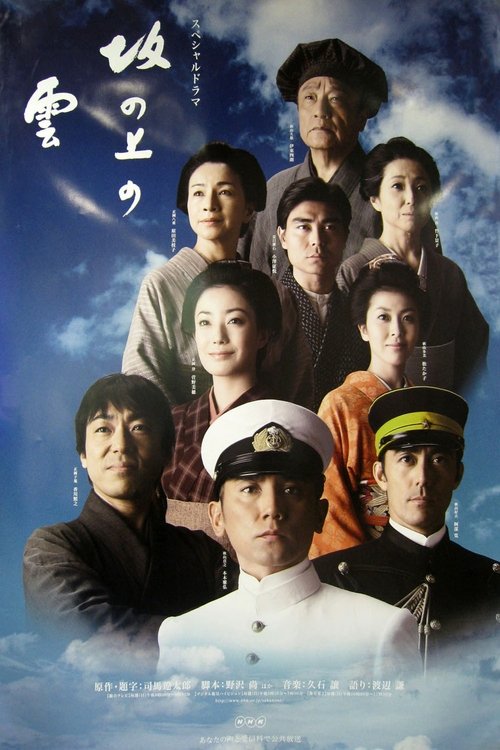 Clouds Over the Hill
Season 2
First Air Date: December 05, 2010

| | | |
| --- | --- | --- |
| First Aired on | : | 2010 |
| Episodes | : | 4 episodes |
Episodes
2x04 "Hirose, Shisu" (広瀬、死す) (December 26, 2010)
---
On February 6, 1904, a combined fleet under the command of Admiral Heihachiro Togo attempted an attack from Saseho Port to wipe out Russian Port Arthur. But the Russian fleet remained secluded in Port Arthur which was protected so the combined fleet could not enter. The combined fleet was at its wits' end with plans and they decided to blockade Port Arthur by sinking vessels at the entrance of the port. Saneyuki was asked to give a letter to Ariazuna by Takeo Hirose, his best friend since naval academy. Hirose noticed that Sugino was not there right before escaping from flying bullets. Hirose desperately looked for him inside the ship but unavoidably gave up and got in the ship but... Since Port Arthur Blockade Operation ended in failure, the combined fleet had a dark atmosphere. Saneyuki was forced to form a new plan soon after Hirose died.
---
2x03 "Nichiro Kaisen" (日露開戦) (December 19, 2010)
---
In July 1903, Saneyuki married Sueko Inou. Ritsu brings Shiki's keepsake to the household of a newly-wed couple. Ritsu talks quite freely with Sueko and tells her about Shiki's childhood. Since conflict between Japan and Russia has become unavoidable, the Navy organized a combined fleet. The Minister of the Navy, Gonbei Yamamoto unexpectedly appoints Heihachiro Tougou as a Commander-in-Chief. On the other hand, Saneyuki was ordered to be responsible for war strategies and would bear the future of the Japanese Navy. Before getting on the flagship battleship Mikasa, Saneyuki and Sueko visit the place of Yoshifuru and Tami where his mother, Sada stays, and spends time with entire Akiyama family. Meanwhile, in Russia, Akashi Motojiro was employed in espionage provoking revolutionaries by order of Gentaro Kodama. Even though Jyutaro Komura, the Minister of Foreign Affairs had continued negotiations to avoid war with Russia, the government finally decided to begin the war in February 1904.
---
2x02 "Shiki, Yuku" (子規、逝く) (December 12, 2010)
---
Shiki, who strived for innovation of literature, despite being ill in bed, reconsidered Japanese classical literature and tried to create a new world of Haiku. Saneyuki who teaches tactics at Naval War College visits Shiki in Negishi, Tokyo, and is impressed by seeing Shiki fighting illness. In the middle of the night, Yae and Ritsu realize that Shiki is dead. While tension between Japan and Russia has increased, Saneyuki learns of Shiki's death, a great man in the new Haikai, on newspaper. Shiki died at the age of 35 on September 19, 1902.
---
2x01 "Nichiei Dōmei" (日英同盟) (December 05, 2010)
---
May 1900 - at Portsmouth Harbor. Saneyuki and Takeo Hirose were excited to see the battleship Asahi on standby for returning to Japan and visited London Royal Navy College. Meanwhile, in Qing Dynasty, Yoshikazu and his men rose in arms and Yoshifuru left for the front as Allied Power with his men. They looked upon how Russian soldiers run riot. Saneyuki returned to Japan and visited Shiki who had been nursed by Ritsu and he was amazed by Shiki¹s tremendous innovative spirit. At that time, Japan thought that a conflict with Russia was unavoidable and sought for alliance with England. Because England had been unwilling Russia¹s expansion to Asia, they formed the Anglo-Japanese Alliance in 1902. A huge wave of the era was going to swallow young people on a small island.
---