Happy Endings
Season 3
Happy Endings
Season 3
First Air Date: October 23, 2012

| | | |
| --- | --- | --- |
| First Aired on | : | 2012 |
| Episodes | : | 23 episodes |
The third and final season of Happy Endings, an American television series. ABC officially renewed Happy Endings for a third and final season on May 11, 2012. It was also announced it would move to a new time-slot on Tuesdays at 9:00pm, as a lead-in to Don't Trust the B---- in Apartment 23. The season premiered on October 23, 2012. On February 13, 2013, ABC announced that, starting March 29, 2013, the series would move to Fridays at 8:00-9:00 p.m ET/PT with back-to-back original episodes. The series finale aired on May 3, 2013. ABC's scheduling of Happy Endings's third and final season was labeled the "Worst TV Strategy" of the 2012-13 television season.
Episodes
3x23 Brothas & Sisters (May 03, 2013)
---
The third Kerkovich sister, Brooke, is the alpha sister of the group, and Jane has the daunting task of planning a wedding for her more perfect and exquisite older sibling. Meanwhile, Brad is having a tough time himself dealing with Brooke's equally more perfect African American fiance, Elliot, and Alex and Dave have a big secret they're hiding.
---
3x22 Deuce Babylove 2: Electric Babydeuce (May 03, 2013)
---
Penny's mom, Dana, and Dave's dad, Big Dave, are in town visiting, and these two lovebirds are not only going strong, they've decided to adopt a baby together, prompting Penny and Dave to react the only way they know how - irrationally. Meanwhile, Brad and Jane decide to try to join an exclusive tennis club, but unfortunately Max is on the scent and they can't shake him...or Alex.
---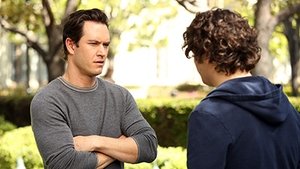 3x21 Un-sabotagable (April 26, 2013)
---
Chase, the ex-roommate whose life Max ruined, says he'd like to take revenge and do the same thing to Max, but Max's life is so pathetic it's "un-sabotagable." Max vows to prove him wrong and asks Jane to help him get his act together. Meanwhile, Alex asks the rest of the gang for help when Dave challenges her to finally use her stockpile of Groupons.
---
3x20 The Ballad of Lon Sarofsky (April 19, 2013)
---
The gang is shocked when Penny rebounds from her breakup with Pete by having a torrid affair with the last man on earth they'd pick for her -- the Car Czar. To make matters worse, she's temporarily living with Brad and Jane, who end up acting like disapproving parents. Meanwhile the friends pressure Max to get a job so he'll stop sponging off them.
---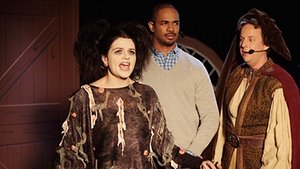 3x19 The Storm Before the Calm (April 12, 2013)
---
Penny insists that she's fine after her breakup with Pete, but the gang begin to wonder when she writes a play entitled "Black Plague: A Love Story" and asks Derrick and his theater group to stage it. Meanwhile a marketing group asks Alex and Max to be taste makers.
---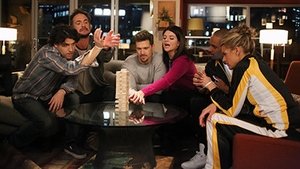 3x18 She Got Game Night (April 12, 2013)
---
Brad and Jane host a couples game night with Penny, Pete, Max and Scotty and the competitiveness gets a little out of hand. Meanwhile Dave has a big decision to make on the career front, and Alex tries to help but they end up at a psychic instead.
---
3x17 Bros Before Bros (April 05, 2013)
---
With the wedding coming up, Penny decides to reach out to her estranged dad Roy. The reunion is sufficiently awkward but Alex encourages Penny to be optimistic, while Jane is more skeptical. Meanwhile, Dave enlists Brad and Max's help in sabotaging "The Brazilian" food truck, a.k.a. Dave's #1 nemesis, but Max accidentally falls for the enemy's son and has to choose between his best friend or boyfriend.
---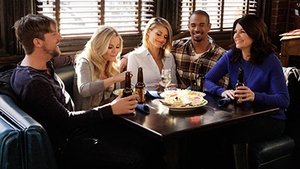 3x16 The Incident (April 05, 2013)
---
When Max tries out Jane and Alex's long-time hairdresser, Krisjahn, he gets some good salon gossip on the girls, but his loose lips may cause World War III between the Kerkovitch sisters. Meanwhile, the Steak Me Home truck is stolen and Dave and Penny try to figure out whodunit.
---
3x15 The Straight Dope (March 29, 2013)
---
Max meets a cute girl who is a season tickets holder for the Bulls, leaving him no choice but to pretend to be straight. Meanwhile, Alex is tired of everyone dismissing her as the dimwitted blonde, so she becomes well read to prove them wrong and in the process throws off the whole group dynamic.
---
3x14 In the Heat of the Noche (March 29, 2013)
---
Brad uses his skills, plus help from the gang, to prop up Chuckles and Huggs after the gym's loopy owner, Terry tells him it may be closing. Meanwhile, Penny and Max try to break the habit of texting the men in their lives.
---
3x13 Our Best Friend's Wedding (January 29, 2013)
---
In order to get Pete to change his mind about eloping with Penny, wannabe matrimonial coordinator Jane spirits the whole gang to a wedding exposition. Once there, Max and Brad wind up at a gay-marriage part of the expo, while Alex and Dave contemplate their own commitment issues.
---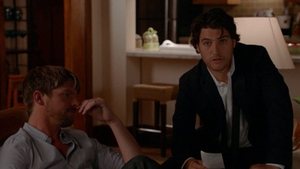 3x12 The Marry Prankster (January 29, 2013)
---
When the gang pranks Max into thinking he won a big lotto jackpot, he vows revenge when they least suspect it. Meanwhile, Brad gets a new job as a CFO, but Jane is not amused when she learns the title is Chief Fun Officer and that Brad is working at a kids' gym.
---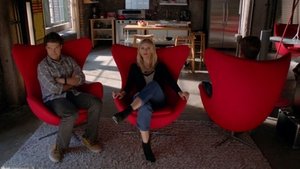 3x11 The Ex Factor (January 15, 2013)
---
When Ryan, Jane's ex, comes to town for a visit, Brad is surprised to learn that Ryan is a woman. Meanwhile Max gets a super cool new roommate, Chase, who immediately upgrades the apartment with expensive furniture and gadgets. The gang is in awe, but when Chase suddenly disappears, they start snooping into his private life.
---
3x10 KickBall 2: The Kickening (January 13, 2013)
---
Alex signs up the gang to participate in the Northside Kickball Classic tournament. However, self-appointed manager Max has difficulty bringing his players up to scratch - Dave has a history of freezing at crucial moments after an unfortunate incident during a previous game, Penny uses the tournament as an opportunity to meet good-looking guys and refuses to put on appropriate footwear, while Jane abandons her friends altogether and started playing for another team.
---
3x09 Ordinary Extraordinary Love (January 08, 2013)
---
When a hot young pop star stops in and buys a dress at Alex's store, Penny helps Alex turns it into a press opportunity. Meanwhile, Max is having an identity crisis, so Jane and Derrick take him on a tour of Chicago's themed gay bars to help him find his niche, and Brad and Dave try to be "men" and fix things around the house.
---
3x08 Fowl Play/Date (January 06, 2013)
---
After Brad and Penny accidentally break Alex's beloved childhood memento, they try to glue it back together which leads to an even worse situation. Meanwhile, Jane and Dave try a little too hard to find a match for Max.
---
3x07 No-Ho-Ho (December 18, 2012)
---
The gang discovers that Jane has been lying about her birthday, and that she was actually born on Christmas but never liked her natal day being trumped by the holiday. With that in mind, they throw her a celebration that is Christmas-free and all about Jane.
---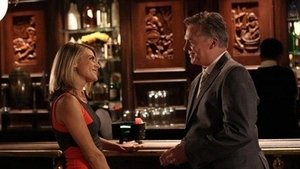 3x06 To Serb with Love (December 11, 2012)
---
Jane and Alex's parents throw a big celebration to commemorate the 20th anniversary of the family mattress business, and Jane agonizes over coming up with an amusing toast to spring on her humorless dad. Meanwhile, Alex tells Dave that her parents are unaware that they are once again bedfellows, and Max goes looking for a new BFF since Penny's tied up in her relationship with Pete.
---
3x05 P&P Romance Factory (December 04, 2012)
---
Penny meets a terrific new guy, Pete, but her frantic attempt to hide the fact that she's wearing a prescription helmet because of her concussion really limits their potential romance. Jane tries to break into the "boys' club" at the car dealership and enlists Brad to be her "trophy wife". Max and Dave's fist bump issues bring back painful childhood memories.
---
3x04 More Like Stanksgiving (November 20, 2012)
---
The gang celebrates Thanksgiving by watching a previously unaired episode of "Real World" they appeared in back in college, and, long after the fact, learn some shocking new dirt about one another.
---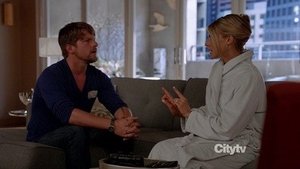 3x03 Boyz II Menorah (November 13, 2012)
---
Max has become a hit on the Bar Mitzvah circuit as an energetic emcee and allows Brad to partner up with him, but not everything turns out kosher. Meanwhile Dave and Alex make an effort not to take their relationship for granted.
---
3x02 Sabado Free-Gante (October 30, 2012)
---
Dave and Alex's inability to commit to a new apartment proves to be quite a challenge for their real-estate agent, while Jane pulls out all the stops when she takes Penny car shopping. Later, Max shows out-of-work Brad how easy it is to spend a cashless Saturday in Chicago.
---
3x01 Cazsh Dummy Spillionaires (October 23, 2012)
---
Dave and Alex start seeing each other again; Max tends to Penny after an accident lands her in a full body cast, but when he starts crushing on her physical therapist, he tries to impede her recovery; Brad tries to keep a secret from Jane.
---