Happy Endings
Season 2
Happy Endings
Season 2
First Air Date: September 28, 2011

| | | |
| --- | --- | --- |
| First Aired on | : | 2011 |
| Episodes | : | 21 episodes |
The second season of Happy Endings, an American television series. ABC officially renewed Happy Endings for a second season on May 13, 2011. It was later announced it would move to a new time-slot on Wednesdays at 9:30pm, as a lead-in to new series, Revenge. It premiered on September 28, 2011. On November 3, 2011, ABC picked up the show for a full 22-episode second season. However the 21st episode to air was labeled as the season finale by ABC as they "needed" to premiere Don't Trust the B---- in Apartment 23 on April 11, 2012. Despite the episode officially being held back for the third season, the 22nd episode aired on E4 in the UK on May 17, 2012, and other international markets, as part of the second season. Although the season was not officially released on DVD until October 23, 2012, the DVD was included in a release that contains the first two seasons of the show that was released on August 14, 2012.
Episodes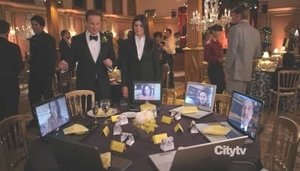 2x21 Four Weddings and a Funeral (Minus Three Weddings and One Funeral) (April 04, 2012)
---
The gang find themselves at yet another wedding, this time the nuptials of Derrick and Eric. Brad struggles to tell Jane something important, Jane tries to find a way to help Eric hide the fact that the pricey reception must be downscaled, and Max tries to find the courage to perform with his old all-male Madonna cover band. Meanwhile, a dateless Penny is sad that she's at another wedding, alone, until she meets cute guy Chris via Skype.
---
2x20 Big White Lies (March 28, 2012)
---
Things spiral out of control after Penny tells a white lie to avoid an irritating childhood friend. Dave and Max's lonely and jealous landlord falls for Alex.
---
2x19 You Snooze, You Bruise (March 21, 2012)
---
Dave finds himself bullied at the gym by Corey, and former bully Alex coaches him on how to fight back. Meanwhile, the residents at Brad and Jane's condo are fed up with Jane being too controlling as president of their home owners' association, and rise up to challenge her for the job.
---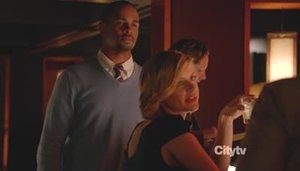 2x18 Party of Six (March 14, 2012)
---
After years of bad luck every time the gang celebrates Penny's birthday, the gang starts to believe the day is cursed.
---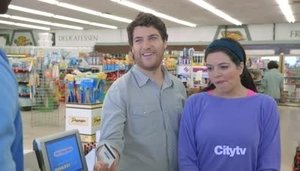 2x17 The Kerkovich Way (March 07, 2012)
---
A panicked Alex enlists Jane's help in convincing Dave that something he's certain happened never did using "The Kerkovich Way," an ancient Serbian memory-wiping technique passed down through the Kerkovich clan. Meanwhile, Penny and Max are determined to finally beat an annoyingly perfect couple in the annual Rosalita's Run and Scavenger Hunt.
---
2x16 Cocktails & Dreams (February 29, 2012)
---
Dave gets a liquor license for his food truck, making it a new hot spot. The gang avoids Dave because his signature drink gives them sex dreams about him.
---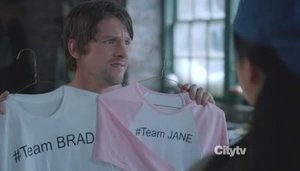 2x15 The Butterfly Effect Effect (February 22, 2012)
---
The friends wait for Brad and Jane's annual "Spring Smackdown," their yearly blowout of a domestic squabble, to let them know when Max will come out of hibernation and when winter will end.
---
2x14 Everybody Loves Grant (February 15, 2012)
---
When the whole gang, with the exception of Dave, falls in love with Grant, Max wonders if he really is good enough to date the "perfect" guy. Meanwhile, Dave sets out to prove he's way cooler than Max's new boyfriend.
---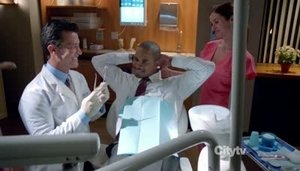 2x13 The St. Valentine's Day Maxssacre (February 08, 2012)
---
Penny has a new boyfriend she wants to dump and Dave is afraid his new girlfriend is about to dump him. Alex goes looking for a party in the sketchy part of town, and Brad's hopes for a perfect night out for Jane are dashed when a dental appointment goes terribly wrong. Max picks up a couple with his limo only to find that one of the passengers is Grant, the boyfriend he broke up with a year ago.
---
2x12 Makin' Changes (January 18, 2012)
---
Jane encourages Penny to find a man and then change him to suit her expectations. Alex stages an intervention to stop Dave from his obsession with V-neck shirts.
---
2x11 Meet the Parrots (January 11, 2012)
---
Dave's father comes to town to introduce his new girlfriend, who turns out to be Penny's mother, Dana. Alex decides to adopt a pet parrot that turns out to be not so charming. Alex enlists Brad and Max's help, as she is convinced the Chinese restaurant next door is a front for a brothel.
---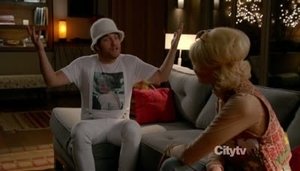 2x10 The Shrink, the Dare, Her Date and Her Brother (January 04, 2012)
---
Dave has a surprising reaction when his shrink starts dating Penny. Max and Jane's fight over a sweater leads to a strange competition, and Alex and Brad bond when they discover a shared interest.
---
2x09 Grinches Be Crazy (December 07, 2011)
---
Max agrees to dress up as Santa for Penny's charity event. Jane accidently gives housekeeper Gita the envelope stuffed with money for their big Xmas getaway to Turks & Caicos, instead of the $200 Christmas tip she had planned. Dave cashes in all the homemade coupons Alex gave him as gifts from past Christmases.
---
2x08 Full Court Dress (November 23, 2011)
---
Jane needs a dress to wear to her charity event, but she's a little leery when Alex offers to design one for her. Penny helps a panicked Max babysit his niece and nephew, and Dave and Brad's new friendship with their oddball mailman, Drew, isn't quite what they had hoped for.
---
2x07 The Code War (November 16, 2011)
---
When Max's high school girlfriend Angie, the girl he dated before he realized he was gay, returns to town, Penny (who was Max's girlfriend in college) starts to feel jealous. Meanwhile, Alex starts to develop an unusual crush on Max. When Dave starts dating Angie, Max becomes angry and declares a "code war". Jane finds out that Brad has a "work wife", so she sets out to obtain a "work husband".
---
2x06 Lying Around (November 02, 2011)
---
Brad discovers that Jane's old sorority sister is coming for a visit, so he lies and says he has a work retreat out of town, when he's actually on "staycation" in a fancy hotel in the city. Penny becomes jealous when Alex dates her former boyfriend Liam, and Max and Dave make a commercial to promote the "Steak Me Home Tonight" food truck.
---
2x05 Spooky Endings (October 26, 2011)
---
Penny, Max, Dave and Alex head to a Halloween warehouse party, where their costumes don't have the effect they anticipated. Meanwhile, Jane and Brad spend their Halloween house sitting for some friends in the suburbs.
---
2x04 Secrets and Limos (October 19, 2011)
---
Jane convinces Penny to make a vision board to visualize the path to her dreams, although everything doesn't go according to plan. Brad finds it hard to relate to his stern boss until the guy sees Max's limo. Dave is reluctant to let the gang to meet his new girlfriend.
---
2x03 Yesandwitch (October 12, 2011)
---
Penny's mom Dana visits, however, Penny learns that her mom's inspiring upbeat attitude is hiding some bad news, which leads Penny to decide to give her mom a reality check. Max plays tour guide to some tourists in his new limo with the help of Brad and Jane.
---
2x02 Baby Steps (October 05, 2011)
---
Alex's new T-shirts intended for children end up being a hit with with teenagers. Jane searches for the child she believes was conceived from an egg she donated years ago. Max starts working at Dave's food truck.
---
2x01 Blax, Snake, Home (September 28, 2011)
---
Alex and Dave to decide that they should be honest with each other. Penny buys a new condo and declares that it's "The Year of Penny", the year where everything will start going her way. Max tries to find out why Brad hasn't been hanging out with him lately.
---