Personal Taste
Season 1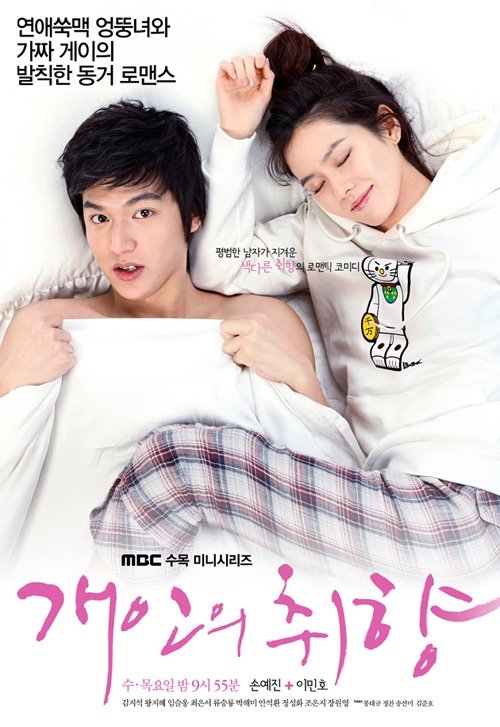 Personal Taste
Season 1
First Air Date: March 31, 2010

| | | |
| --- | --- | --- |
| First Aired on | : | 2010 |
| Episodes | : | 16 episodes |
Episodes
1x16 Episode 16 (May 20, 2010)
---
Jin Ho and Gae In break up and go their separate ways, while their friends try to convince them to change their minds. Jin Ho and Chang Ryul's designs make it to the final round of the Dam Art Gallery Project.
---
1x15 Episode 15 (May 19, 2010)
---
Gae In's dad is back in the Sanggojae and finds out that Jin Ho was a boarder their and also Gae In's Boyfriend. Things start going south for the couple, will their relationship survive?
---
1x14 Episode 14 (May 13, 2010)
---
Jin Ho and Gae In start living together in the Sanggojae. Chang Ryul is working hard to beat Jin Ho and win the Art Gallery project. Jin Ho's Mother hears that Gae In is the way of her sons success, and does everything in her power to get Gae In out of her sons future.
---
1x13 Episode 13 (May 12, 2010)
---
It's Gae In's birthday and Chang Ryul tries to give her a present, which Gae In respectfully rejects. While Jin Ho and Gae In are out on a date, No Sang Joon and Young Seon sneak into the Sanggojoe and leave a surprise for the two.
---
1x12 Episode 12 (May 06, 2010)
---
Gae In makes it clear to Chang Ryul that she has ended the relationship. However, immediately afterwards Chang Ryul saves her life which results in him going to the hospital. Chang Ryul feels ok with giving her up, until Kim In Hee tells him the "real" reason why Jin Ho moved into the Sanggojae.
---
1x11 Episode 11 (May 05, 2010)
---
Jin Ho admits his love to Gae In in front of In Hee and Chang Ryul . Director Choi sends Gae In to Jeju Island to be inspired by the many children's theme parks their, but he has a hidden agenda. He wants Gae In to hook him up with Jin Ho.
---
1x10 Episode 10 (April 29, 2010)
---
Gae In and Jin Ho continue planning Gae In's revenge on Chang Ryul, all the meanwhile Jin Ho is being hurt more and more because of the plan. Young Seon see's Gae In slowly falling in love with the gay Jin ho, so she plans a night where Director Choi and Jin Ho come over for dinner.
---
1x09 Episode 9 (April 28, 2010)
---
In Hee gets No Sang Joon drunk and finds out that Jin Ho isn't actually gay so she tries seducing him through different methods. Chang Ryul brings flowers to Gae In and tries to get her to like him again. No Sang Joon tries to take pictures of the Sanggojae as originally planned.
---
1x08 Episode 8 (April 22, 2010)
---
Director Choi convinces his father, the chairman, to allow one small company who does not fit the qualifications to fight for the Art Gallery project so Jin Ho's company now has a chance. Chang Ryul comes after Gae In with a renewed sense of love for her, and tries to win her over.
---
1x07 Episode 7 (April 21, 2010)
---
Chang Ryul asks Gae In to do him a favor and pretend she is In Hee in front of his mother. Jin Ho decides its time for the Gae In's "last test" of womanhood. Jin Ho befriends Director Choi...but is their more to it then meets the eye?
---
1x06 Episode 6 (April 15, 2010)
---
Jin Ho helps make Gae In feel better through a variety of acts in this episode. After Chang Ryul's father goes and speaks to the Chairman in charge of the Art Gallery Project, the qualifications of the companies competing for the Project increases, making Jin Ho's company ineligible for the massive project...
---
1x05 Episode 5 (April 14, 2010)
---
After being hurt again by Chang Ryul, Gae In begs Jin Ho to make her into a woman. After many refusals, Jin Ho finally gives in and starts the process. In Hee tries to attract Jin Ho despie his "homosexuality". Director Choi comes to meet Gae In out of the blue...
---
1x04 Episode 4 (April 08, 2010)
---
Gae In wants Jin Ho to forgive her, after her drunken gay comment in the crowded restaurant. Jin Ho is starting to care more and more about Gae In. In Hee is trying to help Jin Ho with the Art Gallery Project and at the same time, trying to gain Jin Ho's love in return. Chang Ryul starts thinking about Gae In again after seeing her run home in the rain.
---
1x03 Episode 3 (April 07, 2010)
---
Jin Ho moves back into the Sanggojae house, and Kaein still thinks he is gay. Kaein continues her search for Won Ho, and other ways to make money to pay back the loan shark. Jin Ho and the other architects are given the opportunity to vie for the Dam Art Gallery Project.
---
1x02 Episode 2 (April 01, 2010)
---
Kae In goes to the wedding, and finally realizes that In Hee is marrying her ex boyfriend who broke up with her the night before. Kae In's life also becomes more stressful when she finds out that she has to pay back her loan or lose her fathers prestigious house. Her father also calls to say that he's coming back 4 months earlier than expected!
---
1x01 Episode 1 (March 31, 2010)
---
Kae in meets Jeon Jin ho in a bus, and repeatedly runs into him throughout the next two days. Kae in also gets dumped by her bf, who's interested in someone else. Jeon Jin Ho's company is in trouble and the only way it can survive is if they win a big contract. In order to do so, they must go to a wedding...
---