Murder One
Season 1
Murder One
Season 1
First Air Date: September 20, 1995

| | | |
| --- | --- | --- |
| First Aired on | : | 1995 |
| Episodes | : | 23 episodes |
In Season 1, a single case is chronicled from its opening trial arguments to the final judgment over the course of the entire season.
Episodes
1x23 Chapter Twenty-Three (April 23, 1996)
---
With nothing left to lose, a dying Richard Cross tells Hoffman where to find the tape recorded in Jessica's apartment the night of her murder. In the aftermath of the jury's verdict in the Goldilocks murder case of Neil Avedon, Jessica's killer is unmasked and all loose ends tied up.
---
1x22 Chapter Twenty-Two (April 22, 1996)
---
Hoffman races to track down Richard Cross and find the missing video tape even as a terrified Neil Avedon is attacked by a fellow inmate in prison; a possible mob connection surfaces in the case.
---
1x21 Chapter Twenty-One (April 22, 1996)
---
Even as the jury reaches a verdict, Hoffman breaks into Jessica's apartment, convinced a hidden camera is located there and that a tape of the murder most likely exists. The jury delivers its verdict in the trial of Neil Avedon. Following the decision, Hoffman and Grasso appear on "Larry King Live" to discuss the case. King appears as himself. 
---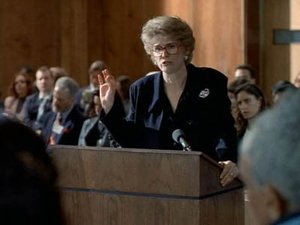 1x20 Chapter Twenty (April 08, 1996)
---
Avedon awaits his fate as closing arguments are heard and jury instructions are given. Meanwhile, the prosecution tries to have Judge Bornstein dismissed, due to allegations that she and Hoffman were once romantically linked. As Hoffman and Grasso deliver their closing arguments Justine realizes just how mentally unstable Cross is and finally discovers the cause of his erratic behavior.
---
1x19 Chapter Nineteen (April 01, 1996)
---
Richard Cross is called as a witness for the defense. Cross acts strangely on the witness stand, Neil decides to testify in court on his own behalf, and Justine has an unnerving encounter with Cross in his office. Meanwhile, Appleton secretly goes through Cross's private files to obtain information that would aid the defense.
---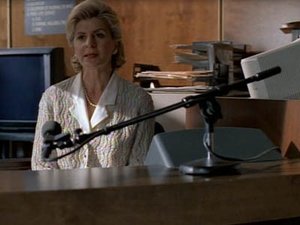 1x18 Chapter Eighteen (March 19, 1996)
---
The defense calls witnesses for Avedon, including his mother (Concetta Tomei); Hoffman considers the prosecution's offer to plea bargain; Appleton is reprimanded for her involvement with Richard Cross; Grasso suffers a personal tragedy.
---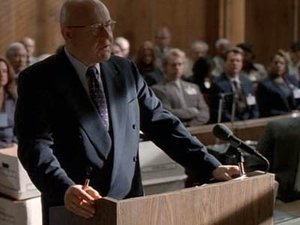 1x17 Chapter Seventeen (March 12, 1996)
---
Eduardo Portalegre (Nick Corri) is again charged with rape and becomes a suspect in Jessica's murder. Patients of Graham Lester testify that he drugged and raped them while they were in his care. Julie and DA Garfield testify; Annie asks Ted for a divorce. Hoffman uncovers a costly connection between Richard Cross and Dr. Lester's nurse.
---
1x16 Chapter Sixteen (March 05, 1996)
---
After Jessica's diary is entered as evidence, Hoffman calls to the stand some of the men Jessica mentioned in her diary, including Gary Blondo and Rusty Arnold. Meanwhile, Julie agrees to testify about her relationship with Richard Cross, but Hoffman is later stunned after she takes the stand and claims she no longer has to answer his questions.
---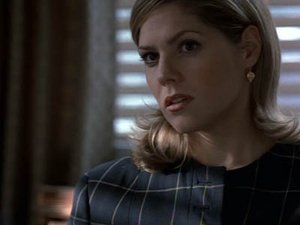 1x15 Chapter Fifteen (February 20, 1996)
---
The murder trial is halted when two male jurors argue over a woman juror as a love triangle is exposed. Judge Bornstein orders that Dr. Lester's records on Avedon be unsealed, forcing the physician to testify; Dr. Lester testifies that Neil Avedon made a startling confession the night Jessica was murdered. Passion develops between Arnold and Julie Costello.
---
1x14 Chapter Fourteen (February 13, 1996)
---
A copy of the videotape that may have gotten David Blalock killed surfaces; the woman (Anna Gunn) who appeared to be strangled by Avedon in a sex video testifies. As more evidence comes to light proving Richard Cross lied about his activities the night of Jessica's murder, Hoffman begins experiencing marital problems.
---
1x13 Chapter Thirteen (February 06, 1996)
---
Evidence is delivered against Avedon by witnesses who include Dr. Lester's nurse though Hoffman believes she may be lying. Meanwhile, an informant turns up with vital information about Richard Cross; rumors begin circulating about the state of Cross's health. Elizabeth identifies her abductor.
---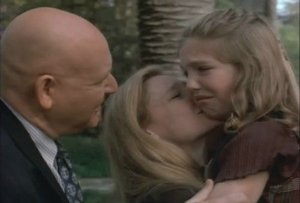 1x12 Chapter Twelve (January 23, 1996)
---
The "Goldilocks Murder" trial begins with opening statements and the prosecution's first witness (Ted Marcoux), who testifies he heard Avedon threaten Jessica. When a member of his family is abducted, Hoffman suspects someone is trying to send him a message about the Avedon murder case and that Cross is somehow involved.Meanwhile, Appleton's business relationship with Cross is questioned.
---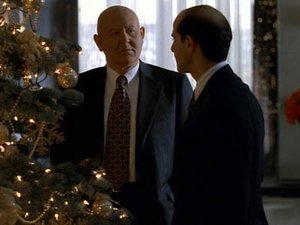 1x11 Chapter Eleven (January 16, 1996)
---
Hoffman tries to get Avedon's charges dropped due to Holly Gerges's confession. Meanwhile, jury selection continues, with a law professor (Steven Gilborn) among those questioned. Hoffman becomes suspicious after Cross asks him to help Roberto Portalegre, an influential associate from Brazil whose son was accused of date rape.
---
1x10 Chapter Ten (January 09, 1996)
---
Jury selection begins in Avedon's murder trial, and among the potential jurors are an ex-cop, an ex-marine and a feminist. Meanwhile, a stalker (Debra Christofferson) reappears on Avedon's trail and Francesca (Donna Murphy) considers divorcing Richard. Hoffman faces a rumor that he had an affair with Francesca Cross, a rumor he believes was started by Richard Cross.
---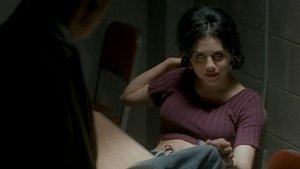 1x09 Chapter Nine (January 01, 1996)
---
Convinced that Richard Cross is trying to manipulate the outcome of Neil Avedon's murder trail, Hoffman advises Justine to turn down a business opportunity from him.
---
1x08 Chapter Eight (November 17, 1995)
---
Avedon plans a live television interview; a surprising source brings forth a videotape that further incriminates Avedon; Julie is arrested for DUI. Meanwhile, Appleton convinces a former patient (Charlotte Ross) of Dr. Lester to share her disturbing experiences with Julie.
---
1x07 Chapter Seven (November 10, 1995)
---
Hoffman receives information that Avedon may have confessed to killing Jessica Costello; someone is suspected of leaking facts to the press. Meanwhile, Gillespie defends a 12-year-old gang member (DeJuan Guy) accused of murdering a rival at a funeral.
---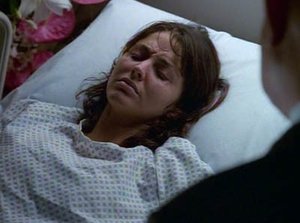 1x06 Chapter Six (November 03, 1995)
---
Hoffman hires Velacek to investigate David Blalock's murder, and he retains an expert jury consultant (Lorraine Toussaint). Meanwhile, Avedon appears in court to see if his bail will be revoked, and Spivak defends a man (Billy Maddox) accused of a murder committed 17 years before. When Julie overdoses on drugs prescribed by Dr. Lester, Hoffman suspects the doctor has ulterior motives for keeping his female patients so heavily sedated.
---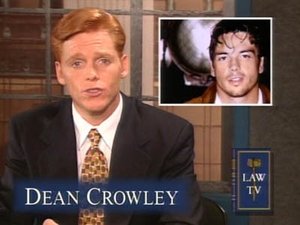 1x05 Chapter Five (October 19, 1995)
---
Avedon goes to court for his preliminary hearing; Blalock (Kevin Tighe) believes he's found a witness who can discredit Cross's alibi for the night of the murder. Meanwhile, Appleton defends a Jewish youth (Maury Ginsberg) accused of an anti-Semitic hate crime. After a lead in her sister's murder proves deadly, Julie Costello shows up at the law firm to talk to Hoffman, fearing that her own life is now in danger.
---
1x04 Chapter Four (October 12, 1995)
---
Avedon takes a lie-detector test and is released on bail, but Grasso tries to get the bail revoked because of the incriminating sex tape brought in by Melissa. Meanwhile, Hoffman defends a police detective (Joe Spano) accused of using unnecessary force after responding to a domestic dispute call.
---
1x03 Chapter Three (October 03, 1995)
---
A personal item belonging to Jessica Costello surfaces that could incriminate members of the Hollywood community; Avedon's substance abuse creates problems for Hoffman, who selects a new attorney for second chair. Lisa defends an investments specialist on trial for mishandling his clients' life savings.
---
1x02 Chapter Two (September 26, 1995)
---
Hoffman grows suspicious when Cross appears overly confident at his arraignment on the charge of murder; a surprise witness (Tia Carrere) comes forward with new information. Ted Hoffman goes from defending Richard Cross for the murder of Jessica Costello to defending Neil Avedon (Jason Gedrick) , a hot young Hollywood actor, for the same murder.
---
1x01 Chapter One (September 20, 1995)
---
A powerful L.A. entrepreneur (Stanley Tucci) is accused of killing his mistress's 15-year-old sister, Jessica Costello, after she is found "naked, tied up, strangled, [with] drugs all over the place" in an apartment he owns. The murder of Jessica Costello becomes front-page news and the hottest new case for the law firm of Hoffman & Associates.
---