Voyage to the Bottom of the Sea
Season 2
Voyage to the Bottom of the Sea
Season 2
First Air Date: September 19, 1965

| | | |
| --- | --- | --- |
| First Aired on | : | 1965 |
| Episodes | : | 26 episodes |
Episodes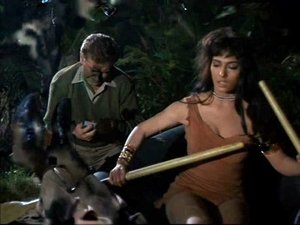 2x26 The Return of the Phantom (March 20, 1966)
---
Captain Krueger returns to compel Nelson to shoot Crane. Once that is done, Krueger takes over Crane's body and searches out a host for Lani, Krueger's dead lover, so the two can be reunited. Can Admiral Nelson save his friend and end the plans of the evil Captain forever?
---
2x25 The Mechanical Man (March 13, 1966)
---
Drs. Paul Ward and Peter Omir have discovered a powerful new element -- Subterranium 116. This element can produce limitless pure energy, but Omir may have another agenda.
---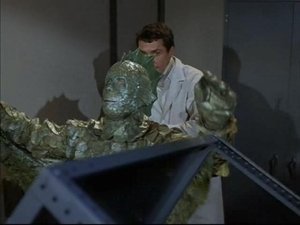 2x24 The Menfish (March 06, 1966)
---
With Admiral Nelson away, his old friend Admiral Park takes over Seaview's current mission. Dr. Borgman is conducting experiments, and Park suspects he is up to no good.
---
2x23 The Monster's Web (February 27, 1966)
---
Captain Gantt, an ego-maniacal scientist, is in a nuclear sub testing a powerful new fuel. Due to his bungling, the sub crashes into a giant web and is attacked by a monsterous sea spider. The Seaview investigates and rushes to retrieve the remaining fuel canisters before the enormous underwater pressure collapses the test sub abd detonates the fuel - an explosion which would kill millions!
---
2x22 The Death Ship (February 20, 1966)
---
Things go wrong when Nelson and Crane test out a new automated system for Seaview.
---
2x21 Dead Men's Doubloons (February 13, 1966)
---
A 16th century pirate seemingly comes back from the grave to threaten Seaview.
---
2x20 The Shape of Doom (February 06, 1966)
---
Dr. Alex Holden is hunting a gigantic whale in which he has injected an experimental growth serum. It turns and destroys his boat, killing his crew. He is rescued by Seaview, which was on en route to plant a nuclear device to blast an undersea channel Holden obsesses over getting his swallowed equipment from the whale when it turns and comes at the sub, swallowing the bomb as it is being lowered! Nelson cannot detonate the bomb, as the president's carrier is in the area. The nearly insane Holden steals Nelson's remote detonating device and threatens to blow up the whale if he's not permitted to get samples of the whale.
---
2x19 Graveyard of Fear (January 30, 1966)
---
A scientist and his secretary come aboard Seaview when their research vessel is sunk by a giant Portugese Man-Of-War. They want Admiral Nelson to return to the scene, but won't tell him the real reason.
---
2x18 The Sky's On Fire (January 23, 1966)
---
Cruising for days under the ice, Seaview surfaces to find the sky is ablaze thanks to the Van Allen belt catching fire. Nelson races to Washington to confer with fellow scientists and hatches a plan to detonate a nuclear device into the atmosphere and extinguish the fire. Weber, a Fellow scientist, feels they should do nothing and allow the fire to burn out. Nelson disagrees and takes Weber and two others aboard Seaview to decide the course of action as the sub races to the firing point. However, Weber is determined to stop Nelson and is willing to kill to do it!
---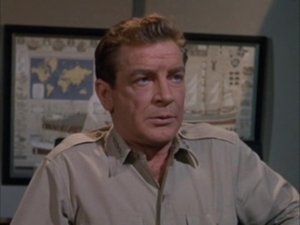 2x17 The Phantom Strikes (January 16, 1966)
---
Seaview encounters a sunken WWI sub...with someone still left aboard.
---
2x16 Deadly Creature Below! (January 09, 1966)
---
Seaview rescues two men adrift at sea, only to discover they are escaped prisoners intent on not returning to prison. While they attempt to hijack the sub, an undersea creature surfaces to menace the Seaview.
---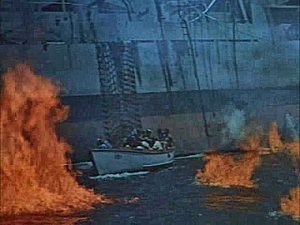 2x15 Killers of the Deep (January 02, 1966)
---
A foreign power is salvaging sunken nuke missiles from the ocean floor to make themselves a superpower.
---
2x14 Terror on Dinosaur Island (December 26, 1965)
---
A submerged domed island is forced to the surface by its volcano and exposes a Jurassic-style world.
---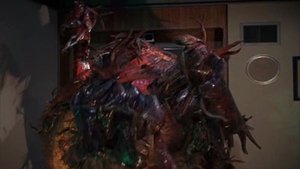 2x13 The Monster from Outer Space (December 19, 1965)
---
A space probe returns to earth and is recovered by Seaview...only to unleash an alien organism aboard.
---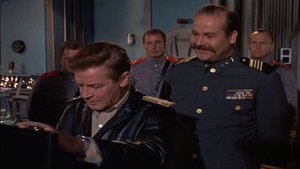 2x12 The Machines Strike Back (December 12, 1965)
---
A missile defense platform-drone malfunctions and threatens to destroy the East Coast of the US.
---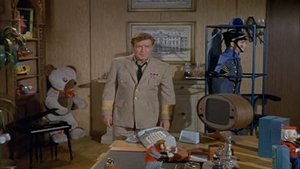 2x11 The X Factor (December 05, 1965)
---
A toy manufacturer is involved with kidnapping and shipping politicians and scientists to foreign powers.
---
2x10 The Silent Saboteurs (November 28, 1965)
---
Asian powers attempt to interfere with the American Space Program.
---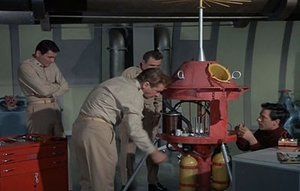 2x09 The Peacemaker (November 21, 1965)
---
Defecting scientists create a proton bomb, but are killed by a foriegn power and the bomb is captured. A surviving scientist works at disarming the bomb...with other plans in mind.
---
2x08 Leviathan (November 14, 1965)
---
Nelson and crew are invited to a marine scientist's undersea lab for a visit but there is giant sea life in the way.
---
2x07 The Deadliest Game (November 07, 1965)
---
While inspecting undersea bomb shelters with the President, aides attempt a power grab.
---
2x06 The Left-Handed Man (October 31, 1965)
---
Nelson works on finding an assassin before he can kill the new Secretary of State.
---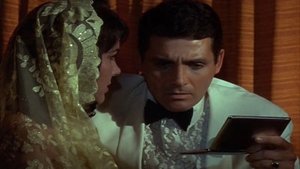 2x05 Escape from Venice (October 24, 1965)
---
Crane is caught up with a circle of spies as he tries to make his way back to Seaview with important missile defense data.
---
2x04 The Cyborg (October 17, 1965)
---
Cybernetic genius Tabor Ulrich creates a perfect mechanical duplicte of Admiral Nelson. His plot: to make the crew of the Seaview they are fighting World War Three. In doing so, the sub will launch nuclear missles at the China, Russia and the USA. After the holocaust, Ulrich plans to take over and usher in "the age of the cyborg".
---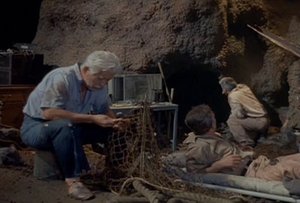 2x03 ...And Five of Us Are Left (October 03, 1965)
---
Seaview comes to the rescue of newly discovered WWII survivors living in an underwater cave beneath a rumbling volcano.
---
2x02 Time Bomb (September 26, 1965)
---
Nelson is injected with a radioactive material that makes him a walking time bomb. This episode marks the first appearance of the FS-1!
---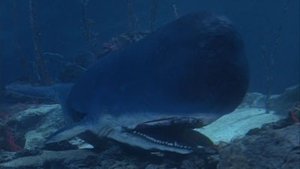 2x01 Jonah and the Whale (September 19, 1965)
---
The Seaview is on a joint mission with Russian scientists to salvage the remains of a Soviet undersea lab. While a scientist is being lowered in the diving bell, a giant whale arrives and rams the bell. The glass is shattered, killing him. Nelson and the remaining Russian scientist, Katya Markova, go on a second dive. The whale reappears, this time swallowing the diving bell whole! Now it's a race against thime as Captain Crane and the crew of the Seaview find the diving bell and get it out before Nelson and Markova run out of oxygen!
---