Pumpkin Scissors
Season 1
Pumpkin Scissors
Season 1
First Air Date: October 02, 2006

| | | |
| --- | --- | --- |
| First Aired on | : | 2006 |
| Episodes | : | 24 episodes |
Episodes
1x24 Soldiers, Commoners, Nobles (March 17, 2007)
---
Pumpkin Scissors is quickly running out of time to find a solution before the mansion is attacked.
---
1x23 And Then There Was a Sweet Trap (March 10, 2007)
---
Everyone witnesses Alice's duel, and the military prepares to raid the mansion.
---
1x22 The Isolated Scales (March 03, 2007)
---
Alice must deal with the mob and her opponents, and Randel again looks for a reason to fight.
---
1x21 The Puppet and the Idol (February 24, 2007)
---
Marquis sends his two bodyguards at Alice when she challenges him to a duel.
---
1x20 Enter the Performers (February 17, 2007)
---
The ball is invaded by an angry mob.
---
1x19 Trick in Treat (February 10, 2007)
---
Alice goes to a ball with her sisters while the rest of Pumpkin Scissors gives rations out to the homeless.
---
1x18 Small War Potential (February 03, 2007)
---
Stecchin attempts to cheer up Randel, who has been depressed since the last mission.
---
1x17 The Yet Unrescued Darkness (January 27, 2007)
---
Alice fights the Claymores while Randel fights Hans.
---
1x16 The One Who Tears to Pieces (January 20, 2007)
---
Alice must unleash her special weapon to finish the fight against the drug dealers.
---
1x15 The Decision To Stray (January 13, 2007)
---
Pumpkin Scissors continues to fight the drug dealers, and their situation is complicated by a person with a flamethrower.
---
1x14 The Flame Still Burns (January 06, 2007)
---
Pumpkin Scissors must deal with drug dealers while moving homeless people from the sewers.
---
1x13 Rough, but Delicious (December 25, 2006)
---
Martis meets with a foreign princess.
---
1x12 The Unseen Pain (December 18, 2006)
---
Alice agrees to cooperate with her kidnappers and is released; little do they know what someone has in store for them.
---
1x11 Quiet Movement (December 11, 2006)
---
Alice is kidnapped by a group of people who want her to reveal the military's secrets.
---
1x10 Pumpkin and Scissors (December 04, 2006)
---
The meaning behind the Pumpkin Scissors' title is finally revealed as Stecchin explains its creation to Randel.
---
1x09 Woman of the Morning Mist (November 27, 2006)
---
Ladies man Oreldo helps a desperate woman come to terms with her past.
---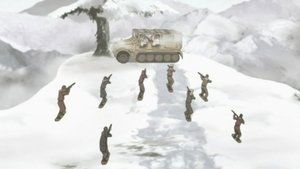 1x08 Burning Snowfields (November 20, 2006)
---
The Pumpkin Scissors race to deliver vital supplies in a frozen wasteland.
---
1x07 The Lead And The Follow (November 13, 2006)
---
Alice gets a day off to meet her fiance, and the rest of the Pumpkin Scissors must look for missing supplies.
---
1x06 A Fruitful Time (November 06, 2006)
---
Randel and Alice try to find the mother of an abandoned baby.
---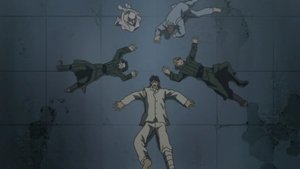 1x05 The Frivolous Men (October 30, 2006)
---
Martis and Oreldo investigate more about Randel while he is in the hospital.
---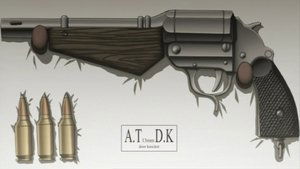 1x04 The Cracking Portrait (October 23, 2006)
---
Having become distrustful of Randel, Martis begins investigating his past.
---
1x03 For That is a Precious Thing (October 16, 2006)
---
Pumpkin Scissors are sent to rebuild a tunnel, and convince reluctant villagers to join their cause.
---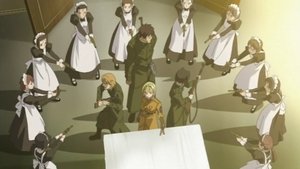 1x02 War Relief Unit (October 09, 2006)
---
Randel is officially inducted into the Pumpkin Scissors unit, just in time for Section III to have to deal with a Viscount who has been mistreating his subjects.
---
1x01 The Invisible 9 (October 02, 2006)
---
The Pumpkin Scissors unit gets help from an unexpected source in dealing with a group of rogue soldiers.
---