It's About Time
Season 1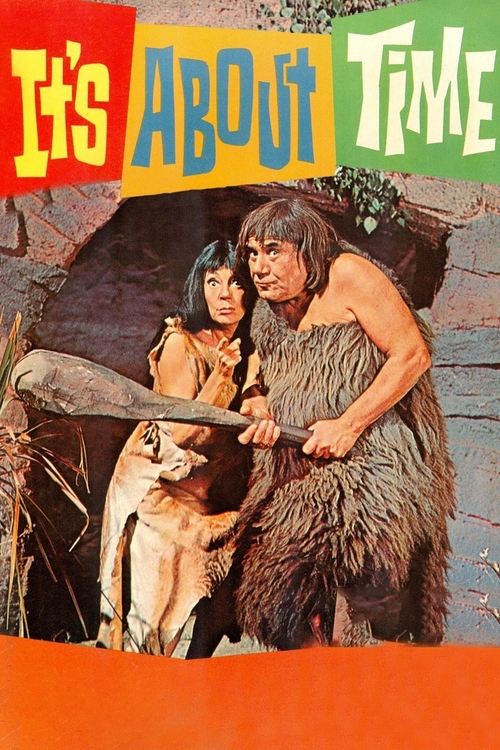 It's About Time
Season 1
First Air Date: September 11, 1966

| | | |
| --- | --- | --- |
| First Aired on | : | 1966 |
| Episodes | : | 26 episodes |
Episodes
1x26 The Stone Age Diplomats (March 12, 1967)
---
Mac and Hector's landlord wants to kick out Gronk and family from their apartment. But the boys set-up a ruse that they are diplomats from a foreign country who simply dress differently and convince their actor friend to pretend to be the ambassador of the fake nation.
---
1x25 Our Brothers' Keepers (March 05, 1967)
---
Hector and Mac bring the cave family to the airbase to meet Gen. Morley as proof they traveled back in time to the Stone Age.
---
1x24 School Days, School Days (February 26, 1967)
---
Breer heads off to school for the first time and things seem to be going well. Then Gronk and Shad decide to check on their son, which leads to multiple misunderstandings and expulsion for Breer.
---
1x23 To Sign or Not to Sign (February 19, 1967)
---
Mac teaches Gronk and Shadd to write their names. With this new talent they sign up for things.
---
1x22 The Cave Family Swingers (February 05, 1967)
---
A talent agent overhears the cave family singing in Hector and Mac's apartment and advises the family members to continue to rehearse their unique sound.
---
1x21 Shad Rack and Other Tortures (January 29, 1967)
---
Hector and Mac try to convince a General to come and meet the cave people. Meanwhile Shad, Gronk, and their family visit a beauty parlor and a clothing store to try to help themselves blend in better with other people.
---
1x20 20th Century Here We Come (January 22, 1967)
---
Hector and crew leave the stoneage and enter the 20th.
---
1x19 The Stowaway (April 02, 1967)
---
While blasting off, Mac and Hector discover cave-girl Mlor hiding behind an instrument panel in the spacecraft.
---
1x18 To Catch a Thief (January 08, 1967)
---
Hector and Mac resolve to catch the real thief after being accused of stealing various items from the cave dwellers.
---
1x17 Which Doctor's Witch? (January 01, 1967)
---
Gronk becomes gravely ill on the eve of the tribe's big dinosaur hunt, and Boss performs a dance to cure him but to no avail.
---
1x16 The Mother-in-law (December 25, 1966)
---
Gronk's mother-in-law pays a visit and takes a heavy-handed interest in her granddaughter's personal affairs.
---
1x15 King Hec (December 18, 1966)
---
When Hector warns the cave dwellers of an imminent storm, they shower him with adoration and give him the royal treatment.
---
1x14 The Sacrifice (December 11, 1966)
---
Mac and Hector are dismayed to learn that Mlor is going to be sacrificed to the dinosaurs to guarantee the villagers' safety, and they beg Boss to abolish the barbarous custom.
---
1x13 The Broken Idol (December 04, 1966)
---
While searching for aluminum ore with which to repair their spacecraft, Mac and Hector accidentally desecrate an idol to the fire god.
---
1x12 Love Me, Love My Gnook (November 27, 1966)
---
When a puppy trots out of the spacecraft, Hector decides to give it to Breer as a farewell present; the cave dwellers become petrified at the sight of the puppy, blaming it for all of the calamities befalling the village.
---
1x11 Androcles and Clon (November 20, 1966)
---
Hector and Mac make a model plane for Breer, but Boss denounces the plane as evil and orders Clon to bring the astronauts to him for judgement.
---
1x10 Cave Movies (November 13, 1966)
---
Before blasting off, Hector and Mac make movies of the cave dwellers using camouflaged equipment; Boss and Clon quietly watch in awe as the astronauts review their footage.
---
1x09 Have I Got A Girl for You (November 06, 1966)
---
Shad tries to find the perfect mates for the astronauts.
---
1x08 Mark Your Ballets (October 30, 1966)
---
Hector takes a snapshot of Boss, who suspects the astronauts will use it to harm him and condemns them to death. The astronauts try to save their skin by convincing the natives to hold an election and remove Boss from power.
---
1x07 The Champ (October 23, 1966)
---
Not wanting to fight, Mac persuades Boss to choose a champion to represent the tribe against its neighbor.
---
1x06 Me Caveman - You Woman (October 16, 1966)
---
The astronaut visitors are troubled that Cavemen drag their women around by the hair as their form of courtship. And so, they do their best to institute modern, civilized courting techniques.
---
1x05 The Rainmakers (October 09, 1966)
---
There is a drought in the village, Boss decides to offer Mac and Hec as a sacrifice to the great Water Spirit.
---
1x04 Tailor Made Hero (October 02, 1966)
---
Mac and Hector are heroes to Breer after they rescue him from a blocked cave. Mac and Hector try to think of ways to get Gronk to look like a hero to Breer.
---
1x03 The Initiation (September 25, 1966)
---
Mac and Hec decide to move into a cave but they must become tribe members first. The must perform a few customary rituals before they become tribe members.
---
1x02 The Copper Caper (September 18, 1966)
---
Mac and Hector need to find copper to repair the space ship. Unfortunately, the only copper they can find is around Boss's neck, in his necklace.
---
1x01 And Then I Wrote Happy Birthday to You (September 11, 1966)
---
Hector and Mac have their first day in the past and the caveman think they are evil spirits. They make good with a caveman's son and save his life. He wants to be an adult and the custom is to spend a day in the jungle alone. Hector and Mac suggest that instead of having this ritual they throw him a birthday party instead.
---