Waterloo Road
Series 8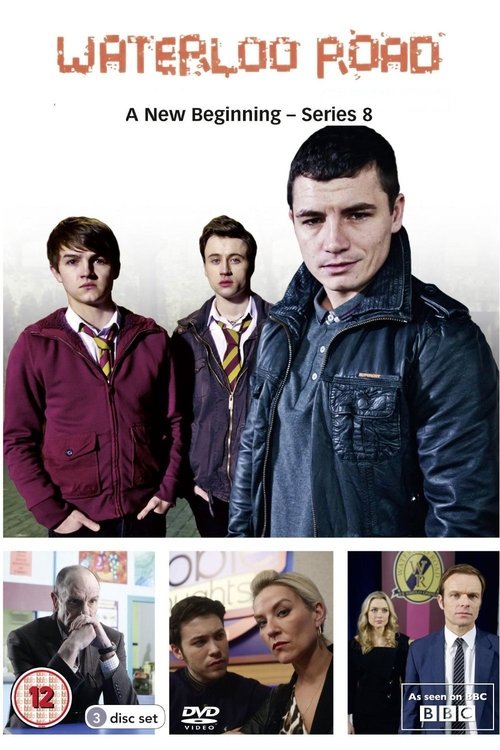 Waterloo Road
Series 8
First Air Date: August 23, 2012

| | | |
| --- | --- | --- |
| First Aired on | : | 2012 |
| Episodes | : | 30 episodes |
The eighth series of the British television drama series Waterloo Road began broadcasting on 23 August 2012, and ended on 4 July 2013 on BBC One. It consisted of thirty episodes. The series follows the lives of the faculty and pupils of the Eponymous school, a failing inner-city school. While a comprehensive school in all other series, Waterloo Road is a privately funded independent school for the majority of the eighth series. Production also relocated to Greenock, Scotland beginning with this series.
Episodes
8x30 Hero (July 04, 2013)
---
Everybody is pleased to have Grantly back now that he is over his illness. Tom gets ready to donate his kidney to his life-long friend. After Kyle Stack shows up at the school though, the day ends in disaster as Tom attempts to help him.
---
8x29 The Adrian Pile Show (June 27, 2013)
---
The Barrys family get ready to air their dirty laundry on national television. Kevin ends up under the spotlight though after an unexpected guest shows up. Christine decides to enjoy her new role as the school's head teacher with gusto. Maggie needs to make a heart-breaking decision.
---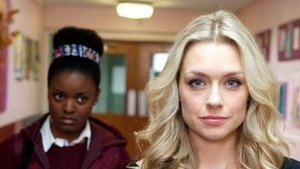 8x28 Journey's End (June 20, 2013)
---
Michael returns to the school and makes one last ditch effort to stop Lorraine from making the school fee-paying. Lula's campaign against Nox Pharmaceuticals reaches a shocking conclusion. The rift in the Barry family increases forcing Carol into taking some drastic action.
---
8x27 Sugar Mummy (June 13, 2013)
---
It is the day of Audrey and Ndale's wedding, but with jealous Sonya as bridesmaid the day may not go so smoothly. Elsewhere, Michael is keeping his plans to save Waterloo Road secret from Christine, Lula steps up her plans against Nox, and Nikki's first day as headteacher does not go to plan.
---
8x26 Revenge (June 06, 2013)
---
Desperate to rid themselves of Steve-O, Kevin and Connor enlist the help of Barry with a dramatic, but dangerous, plan; Sonya gets involved in love rival Audrey's wedding – much to Ndale's horror; and Michael clashes with Lorraine, forcing him to make a decision which will change Waterloo Road forever.
---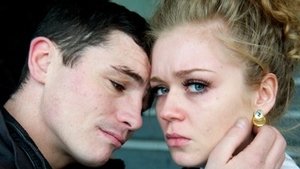 8x25 Love Hurts (May 28, 2013)
---
Steve-O continues his reign of terror over Connor and Kevin, forcing Dynasty into a shock decision; Christine contemplates moving on from Waterloo Road; and Lula makes an unlikely ally in the shape of new science teacher, Esther Fairclough.
---
8x24 Tan-Tastic (May 23, 2013)
---
Sonya has a day from hell which sees her dumped by Ndale and hospitalising Rhiannon; Lorraine and Nikki reach a crossroads in their relationship, Steve-O tightens his grip on Connor and Kevin; and an ex-pupil makes a surprise return to Waterloo Road.
---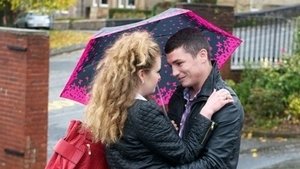 8x23 Grandmaster (May 16, 2013)
---
Dynasty's world is turned upside down with the arrival of her criminal ex-boyfriend, Steve-O Malone, who wants a new start with her – trouble is, she has eyes for someone else; Maggie is forced to return to work after Lorraine lacks compassion; and while Audrey fights to keep her job, Tom makes a life-changing decision of his own.
---
8x22 Princess of Spices (May 09, 2013)
---
Maggie's patience is put to the test when Rhiannon goes off the rails; Sonya sets about recruiting a school handyman; and Connor is bullied into a dodgy deal by Barry.
---
8x21 Nowhere to Run (May 02, 2013)
---
Lula disapproves when new Waterloo Road pupil, Fergal, tempts Harley to behave dangerously out of character; Lorraine makes a surprise announcement; and Grantly struggles to keep his illness under wraps.
---
8x20 Paradise Found (March 07, 2013)
---
It's exam day and Scout's promising future is in jeopardy thanks to mum, Tina; Connor is torn between the two women in his life as his secret wedding to Imogen approaches; and opportunity comes calling for Chalky and Kevin.
---
8x19 Spartacus (February 28, 2013)
---
Barry's behaviour finally makes Sian snap. With Sian's teaching career on the line, can Michael and the school save her? Elsewhere, Christine discovers Connor and Imogen are engaged, Kevin and Chalky's new phone app causes a stir and Scout's mum makes an unwelcome return.
---
8x18 Man of the Match (February 21, 2013)
---
Tom clashes with Michael over his decision to ban star player Kacey from the boys' football league final, causing Kacey's identity issues to come to a head with shocking results.
---
8x17 Baby Be Mine (February 14, 2013)
---
Maggie is horrified to discover Jade is considering having her baby adopted, but how far will she go to change her mind? Meanwhile, Connor is sent into a spin when he discovers a pregnancy test - but he is shocked to discover it does not belong to the person he was expecting...
---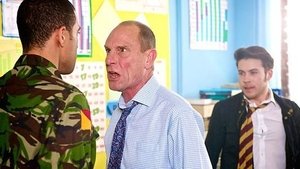 8x16 Sanctuary (February 07, 2013)
---
Former pupil Bolton Smilie causes a stir when he turns up in his army uniform to see Tom, but will Tom discover his real motivation for coming back before it is too late? Meanwhile, the Barrys' treatment of Connor leads Imogen to realise she still has feelings for him.
---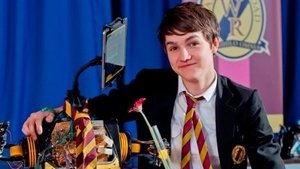 8x15 Mr Chalk's Waterloo (January 31, 2013)
---
Kevin is suspicious when he discovers that Chalky is not who is says he is, but what dark secret is he hiding? Sian's plan to keep the Barrys apart backfires, and Connor is forced to face up to his actions when he reveals that he started the fire that burnt Imogen.
---
8x14 Sins of the Father (January 24, 2013)
---
Christine's world is turned upside down by the arrival of her estranged husband. As the lies she has been telling for years start to unravel, they threaten to destroy her relationship with Connor. Elsewhere, Nikki is forced to reassess her view of Scout, and Connor wrestles with telling the truth to Imogen.
---
8x13 A Woman's Worth (January 17, 2013)
---
Imogen challenges Dynasty over her plan to get a boob job, but can Imogen face her own image issues? Elsewhere, Nikki's antagonism with Scout builds when she accuses her of stealing Lorraine's car, and romance is in the air for Christine and Michael.
---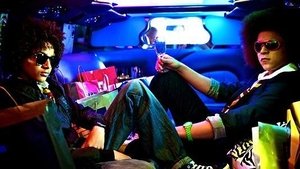 8x12 Whole Lotto Trouble (January 10, 2013)
---
It's all about the money this week when Phoenix and Harley win the lottery, but their good fortune is overshadowed by the arrival of their father, Nelson. Nikki is forced to question her actions towards Scout, and Michael finds a friend in Christine when he gets news about his court case.All Phoenix and Harley want to do is spend, spend, spend, but Nelson's arrival casts a shadow and causes division. Phoenix reckons Nelson's only interested in their winnings and feels vindicated when their father reveals his business is in financial trouble. Angry at his father's deception, Phoenix wants nothing to do with Nelson, but Harley, and then Lorraine, suggest it might be a good idea to invest some of their lottery win into the family business. But, Phoenix has one condition – he wants an apprenticeship in the firm. With the blessing of his brother Harley and the school, Phoenix prepares to bid an emotional farewell to Waterloo Road. Elsewhere, Nikki suspects Scout has stolen her car and handbag and sets about punishing the pupil. However, Scout discovers Barry is the real culprit and threatens to expose him, but master manipulator Barry suggests another course of action to wronged Scout.
---
8x11 Bad Boy (January 03, 2013)
---
The new school term starts with the opening of Michael's new Pupil Referral Unit and the return of no-nonsense teacher Nikki Boston. But the positive mood changes with the arrival of the Barry family - a hell-raising criminal clan lead by matriarch Carol Barry, lone parent to Waterloo Road's newest pupils - bad boy Barry and daughters Dynasty and Kacey. Carol assures Michael that her brood will behave, but it's not long before sparks fly when Barry goads fellow pupil Jack MacAlister into a fight. Tom intervenes and discovers the reason behind their hostility - Barry is sleeping with Jack's mum Olivia. When challenged, Barry promises Tom that he'll keep his relationship with Olivia discreet for Jack's sake, but the troublemaker has no intention of honouring his word and sets about humiliating Jack in front of the school, screening a steamy video of him with Olivia. Michael gives Barry a stern warning - put an end to his bad behaviour or he'll be excluded from Waterloo Road. And if Barry won't listen to his teacher's words of warning, his mother Carol isn't so easy to ignore, arriving at school to literally slap her son into shape. Meanwhile, Scout raises Nikki's hackles with her disrespectful attitude to being in the PRU. Later, when her car goes missing, Nikki suspects Scout is responsible - an accusation the schoolgirl denies. But Nikki doesn't believe Scout and the battle lines are drawn. Elsewhere, the new term also brings uncertainty for head teacher Michael. On bail awaiting trial, accused of assisting his father's death, opinions in the staffroom are divided, casting doubt on Michael's leadership. Also, scarred in last term's fire, Imogen blames Christine for ruining her life and driving a wedge between her and Connor, little realising the truth. Finally, Chalky learns that he is going to be Kevin's foster parent.
---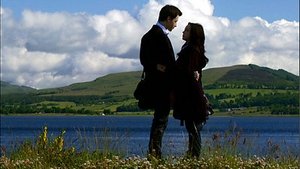 8x10 Paradise Lost (October 25, 2012)
---
It's the last day of term but not everyone is in good spirits. Back on the booze, Christine blames work pressures and doesn't even try to hide her alcoholism from Connor. But unbeknownst to Christine, Connor is secretly plotting with Imogen to run away together. However, Connor and Imogen's plans to move into the empty schoolhouse during the holidays are threatened after Christine overhears Scout and Pheonix talking. Frustrated by Waterloo Road's poor academic improvements, Lorraine announces some harsh business decisions for the school. To her, the solution is simple - get rid of poor performers like Phoenix.Michael is horrified and instead urges Lorraine to reconsider. And when he discovers Tariq has been accepted for the national Para-canoe team, it's proof to Lorraine that Waterloo Road can reverse the fortunes of problematic pupils. Sussing out Kevin is deliberately downplaying his academic abilities, Chalky confronts him. But it's not long before the unlikely pair realise they've got more than just a head for maths in common, leading Kevin to suggest that Chalky fosters him. Later, at Tariq's leaving party, the celebrations are cut short when danger comes calling. Frustrated by his mother's interference in his life, Connor takes drastic action, with explosive consequences for the school and girlfriend Imogen. Michael's own family dramas come to a head when he agrees to help his father, Billy, end his life. But not everyone sympathises with his decision which ultimately puts his future at Waterloo Road in jeopardy.
---
8x09 Skin Deep (October 18, 2012)
---
Waking from a nightmare, Rhiannon heads to the bathroom where she takes out a small tin. But before she can open it, she's disturbed by rival Scout. Later at school, Rhiannon finds a quiet spot and takes out the tin again, revealing her self-harming kit.Rhiannon's disruptive behaviour in school is noted by Audrey, who excludes her from class. Believing she's compensating for her weight issues by acting the class clown, Audrey urges Rhiannon to join the lunchtime power-walking club. However, when Rhiannon lags behind the others, Audrey asks Scout to look after her enemy. The two girls bicker, but soon start to joke around together. The moment is short-lived, though, as Scout notices blood on Rhiannon's t-shirt. Making Scout promise not to tell anyone, Rhiannon confesses that she cuts herself because it makes her feel better. Meanwhile, as Christine and Audrey's bullying case reaches a climax, they agree to mediation. But when Audrey admits some of her actions could be misconstrued, Christine seizes the opportunity to push the case further. Elsewhere, new boy Kevin takes drastic action to gain credibility with Connor, which threatens his future at Waterloo Road, Sian is horrified to discover that Billy has asked Michael to end his life.
---
8x08 The Price Of Love (October 11, 2012)
---
Quiet student,Morag decides to take participate in Lorraine's bench design competition. She confides in her little brother that, if she wins, their estranged mum might find out and get in touch with them. When Tom turns up to collect Morag's bench design, her father Kai can't resist the opportunity to preach about his Freeganist, anti-money beliefs. But his moral high-ground becomes shaky when he learns the competition carries a substantial cash prize for the winner.Enraged at his daughter's deception, Kai forces Morag to destroy her handcrafted bench. Horrified, Tom decides to take matters into his own hands and secretly helps Morag design another bench, resulting in a clash of beliefs between Kai and Lorraine. Meanwhile,Connor attempts to help Christine by marking her late coursework, but this backfires as he gives everyone a top grade. Suspicious, Audrey confronts Christine about the irregular grades, forcing the English teacher to cover her tracks. Now considering Audrey as the enemy within, Christine lodges a false complaint of bullying against her to Michael.Later, when Connor finds his mother is drinking again, he finds a potentially lethal outlet for his frustrations. Elsewhere, new boy Kevin turns up at Waterloo Road and quickly draws attention to himself, not least from Chalky who suspects the schoolboy is more intelligent than he's letting on. Also this week, Madi tries to persuade Sian to let her spread her wings and leave school, while Billy has a surprising request for Michael to consider.
---
8x07 A Woman Scorned (October 04, 2012)
---
Maggie calls off the wedding to Grantly, saying they're to busy to get hitched. However, when Scout has suspiciouns something is amiss after hearing Maggie making a secret phone call, Along with Phoenix, she tells Grantly that she thinks there's another man. Their suspicions are confirmed when Grantly confronts Trevor - Maggie's estranged husband. Grantly discovers Maggie is being blackmailed by Trevor, who she never divorced. With their wedding day in Jeopardy, Grantly Hatches a plan to make Maggie his bride, with assistance from Scout and Phoenix. Elsewhere, At The School Gates, Sian arrives to be confronted by Madi, who questions of her whereabout's overnight, Keen to keep her love life quiet, Sian steers the conversation away by noting Madi's belongings dumped - her mum has thrown her out. Later, Madi is drawn by Ray, a good looking businessman who is leading Lorraine's work experience classes. She Sets her sights on Ray, Unaware he is dating Sian. Upset by a phone call from Home, Madi turns to Ray for comfort but misreads his intentions and tries to kiss him. When Ray doesn't recipotate, she is humiliated and vengeful, Madi Posts a rumour on a social networking site that he kissed her, but her lies impact on her friends. Meanwhile, Josh faces his future after Waterloo Road but worries of Tom's reaction.
---
8x06 We Need to Talk About Cheryl (September 27, 2012)
---
Late for a meeting with Lorraine, Janeece leaves daughter Cheryl home alone. Later, Chalky discovers Cheryl crying, having hurt herself. He rushes her to A&E, but accidentally drops Janeece in it with social services. Janeece's first attempt at being a PA goes well, and Lorraine hints that she's always looking for new people to join her business. Back at school, though, Michael is livid that Janeece was lured away by Lorraine again. As he reprimands her, Janeece dashes off to the hospital without explanation, not realising that social services want to question her. Returning to Waterloo Road, Janeece fumes that Chalky got her into trouble. Fed up with being used - and worried about Cheryl's welfare - Chalky snaps, delivering some much-needed home truths to Janeece. The confrontation is a catalyst for change as Janeece makes some tough decisions about her future at Waterloo Road and her relationship with Chalky.Meanwhile, Rhiannon's bullying of Scout intensifies as she frames her for stealing. Scout feels increasingly isolated as everyone appears to fall for Rhiannon's ruse - including Maggie. Elsewhere, Christine struggles after her doctor reveals that she has alcoholic hepatitis. Fearful another drink could kill her, she immediately stops - but soon suffers overwhelming withdrawal symptoms, witnessed by a full classroom. Also this week, Sian urges Michael to visit his father and make amends, but her pleas fall on deaf ears, forcing Sian to reveal Billy's shocking secret.
---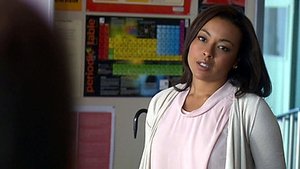 8x05 Future Proof (September 20, 2012)
---
Havelock High's Head Girl, Liberty is a rising athletic star and carer to her mum Sandra, who has rheumatoid arthritis. Concerned that Gerard's failing management of the school will ruin her university plans, Liberty secretly blows the lid on her head teacher with a damning story in the local paper. Liberty pleads with Audrey for a place at Waterloo Road before Gerard discovers she was behind the newspaper exposé. While Michael believes it would be wrong to poach Havelock's star pupil, Lorraine strongly disagrees. Under pressure, Gerard's bad press threatens to overshadow Havelock's performance in the first inter-school competition against Waterloo Road. Soon afterwards, when Liberty unwittingly reveals she was responsible for the newspaper article, Gerard snaps. Elsewhere, Janeece is excited after being asked to be Lorraine's PA for a day but fails to spot that Cheryl has chicken-pox. When the child-minder sends Cheryl home sick, Janeece leans on Chalky for help but fails to reveal Cheryl's illness -with far-reaching consequences. Meanwhile,Connor snubs Christine, thinking she's just seeking attention - but after a serious fall, he realises that she may have been telling the truth about being ill. Connor questions whether he can cope with two women in his life and pushes Imogen away.
---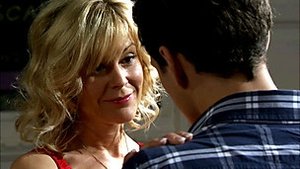 8x04 Read My Lips (September 13, 2012)
---
It's Imogen's birthday, At school, Imogen is horrified to discover that her fitness guru mum is helping with Tariq's rowing fundraiser. Jealousy rears its ugly head when Christine witnesses a closeness between Connor and Imogen. Worried that Connor might be confiding in Imogen about her drinking habit, Christine snaps at her son. But Connor retaliates - he'll make his mother's life a misery if she doesn't back off. Later, at Imogen's party in the school house, a tipsy Sally turns up uninvited. Sensing Imogen's shame, Connor asks Sally to leave. Feeling protected, Imogen reveals her hidden secret to Connor… Also this week, rival headmaster Gerard makes false claims against Michael, while Sian reaches out to Michael's estranged father Billy.
---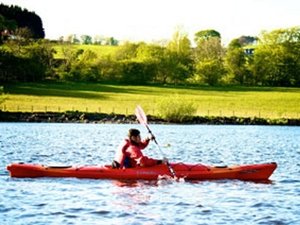 8x03 Troubled Waters (September 06, 2012)
---
Tariq is struggling to accept his disability, which gives cause for concern. When encouraged to join in a fight against pupils of rival school, Havelock High, Tariq rejects the offer, claiming that life is too short. He is further unsettled when he finds out that his friends will attend his kayaking trials, so tries to get Phoenix and Gus to arrange a fight against the rival pupils. It is then a race against time for Tom and Michael when Tariq's true intentions are revealed. Also, rival headmaster, Gerard Findlay is determined to discredit Michael by posting an old article about Michael's past all over the school, but is caught by Grantly.
---
8x02 Spirit Child (August 30, 2012)
---
Troublemaker Lula's home life spills into school as Tom attempts to uncover the root of her disruptive behaviour; a desperate Connor tries to out Christine's drinking; Josh helps Tariq face up to his disabilities; and Grantly deals with a spate of graffiti at the school house.Lula Tsibi's homelife is far from happy. Distressed following another heated argument with her over-bearing Uncle Lionel, Lulu runs to the sanctuary of her school but her behaviour irks the other pupils and gives the teachers cause for concern. Matters come to a head at Denzil's commemorative ceremony when Lula lashes out at Imogen and Sian. Far from being apologetic, Lula makes some unsettling comments about death. And later, she has a run in with Tariq, hurtfully suggesting his disability is a punishment from God. Tom speaks to Lula's uncle Lionel. But when Lula hears this she tells Tom her uncle plans to perform an exorcism on her believing she's possessed. Terrified, she begs Tom to help her. Elsewhere Connor bugs his mother to lay off the alcohol but is met with Christine's usual hostility. Playing up in class, Connor attempts to shame Christine but it backfires and he's humiliated in front of his classmates. Concerned, Imogen tells Connor he can't look after his mother forever – advice which spurs Connor to take drastic action. Grantly is furious when his car is vandalised by Havelock kids but Michael wants to keep the peace and not involve the police. But while Michael attempts to build bridges with rival headteacher Gerard Findlay, Grantly can't help but rock the boat. Also this week, Josh tries to convince Tariq life is worth living, but Tariq isn't interested and Sian receives an unexpected visitor at the gates of Waterloo Road.
---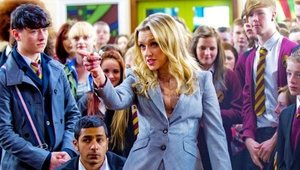 8x01 New Beginnings (August 23, 2012)
---
[15] Ann McManus and Eileen Gallagher Paul Murphy 23 August 2012 [16] As the new Waterloo Road school opens in Scotland headteacher Michael Byrne has his work cut out dealing with a couple of runaway teens and a burgeoning rivalry with a local headmaster. On the run from a foster home, teenager Jade shares a squat with her controlling boyfriend Drew but dreams of a better life. She announces that she's going to school at Waterloo Road and despite his fear the authorities will find out about them, Drew is persuaded to enroll too. Michael and Sian arrive at the new Waterloo Road. The local press reaction to the school has been largely positive, except one story reporting discontent from Gerard Findlay, headmaster of rival school Havelock High, who claims Waterloo Road are stealing his pupils. The school is buzzing as Jade and Drew arrive. Despite not being registered at Waterloo Road Drew uses his charisma to win Lorraine over – but it's not long before Tom sees an angry side to the new boy. When Michael offers Jade, but not Drew, accommodation in the school house, Drew reacts angrily, forcing his girlfriend to reveal a secret which will have far-reaching consequences for the pair. In the staffroom, new teachers Christine Mulgrew and Audrey McFall introduce themselves to Waterloo Road's familiar faces. Not everyone is enthusiastic about the new school and Tom bemoans Michael's regime. But English teacher Christine doesn't seem keen to be drawn into any staff discussions, keeping herself to herself. It's only when Grantly suggests the teaching team go for a drink after school that Christine's interest is spiked. Elsewhere, Tariq struggles to adjust to his new life as a paraplegic and Rhiannon starts a bullying campaign against Scout.
---