The Untouchables
Season 2
The Untouchables
Season 2
First Air Date: October 13, 1960

| | | |
| --- | --- | --- |
| First Aired on | : | 1960 |
| Episodes | : | 32 episodes |
Episodes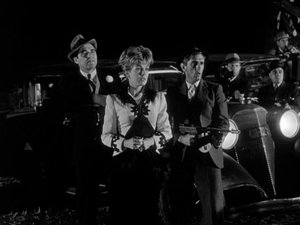 2x32 90-Proof Dame (June 08, 1961)
---
Chicago, April 1932. The city is ruled by underworld czars, one of the toughest of which is Nate Kester, former henchman for the Capone mob. To put up a pretense of legality, he owns and runs the Odeon Theatre, which specializes in Burlesque, but his real operation is bootleg booze. Kester has his boys drag in Henry Bogar, who has a 5-6 state territory selling imported brandy. Kester tells him that from now on he will carry his stuff-- cheap rotgut with forged ""de Bouverais"" cognac labels. Bogar tastes the stuff, and calls it slop; he says brandy drinkers will never buy it as long as the real stuff is available.
---
2x31 The Nick Acropolis Story (June 01, 1961)
---
Chicago, Summer 1931. Nick Acropolis is the new bookmaker in town, his territory is Illinois and the 6 surrounding states; he covers bets on horse racing, boxing matches, ball games, everything. By August, his operation is $2-million per month. And so Eliot Ness and his Untouchables are on the case; Enrico Rossi has a wiretap on one of Nick's betting parlors, run by Sully Hinds. Nick and his boys pay a visit to their bookkeeper, Louis Manzak, who is Nick's brother-in-law. Louis embezzled 200 grand of Nick's money, to make a side-bet on a boxing match, and lost.
---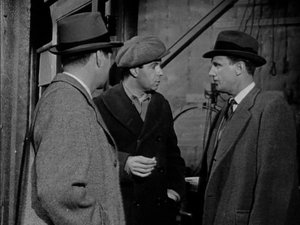 2x30 The King of Champagne (May 25, 1961)
---
Chicago, the 3rd week of November 1932. Working on an anonymous tip, Eliot Ness and his men raid a warehouse; all the crates are filled with champagne bottles, it was a shipment for the New Year's celebrations. Ness has the landlord who owns the warehouse, Michel (french for Michael) Viton, arrested; but he's released. Birdie, a deaf-mute, takes Viton to his boss, Edmund Wald, a bottle manufacturer (he's also the one who tipped Ness, to get rid of the competition).
---
2x29 The Seventh Vote (May 18, 1961)
---
Chicago, April 25, 1932. With Capone in prison doing his rap for income tax evasion, his 8 lieutenants are running things; their HQ is the Montmartre Club, in Cicero, 4 miles west of Chicago. Capone's booze trucks are being hijacked, his speaks are tommy-gunned; Capone's breweries are being smashed, and not just by Eliot Ness, but by rival gangs.
---
2x28 The Nero Rankin Story (May 11, 1961)
---
September 16, 1933. Although Eliot Ness had successfully destroyed The Underground Court (episode # 46), he had not smashed its parent organization, the big Syndicate, in control of over 50% of the nation's crime. With the death of Judge Foley, who was the chairman of the Syndicate, 5 top-ranking members are now assembling at a roadhouse on the outskirts of Chicago-- to vote on whether or not to appoint Nero Rankin as the new chairman; Nero had been designated by Foley to be his successor, in the event of his death.
---
2x27 Stranglehold (May 04, 1961)
---
New York, 1933. Racketeers are poking their greasy fists into every corner of the nation's business. The Fulton fish market in New York supplies fish on the East Coast to as far west as the Mississippi; they supply 700-million pounds of fish a year, worth $200-million. When Captain Joe McGonigle, owner of the fishing boat the Margie Mac, won't pay protection money, 2 of Frank Mercouris' hoods, Lenny Shore and Swede Kelso, drown his deck hand, and it makes the newspapers; it's only the beginning of trouble with the Syndicate moving in-- and so Eliot Ness and his men fly to New York.
---
2x26 Death for Sale (April 27, 1961)
---
Chicago, last week of April 1933. Frank Nitti is offered a huge quantity of Chinese opium. Ever since the government had established the Bureau of Narcotics in 1930, the flow of opium from China to the USA had slowed to a trickle, and by 1932 the flow had almost ceased; now, with the end of Prohibition seeming imminent, the Syndicate is ready to deal in opium again. Late on the night of May 4, Nitti sends one of his top lieutenants, Ed Getty, to pick up some opium from Art Rele and his thug Cliff Anders. But Ness and Lee Hobson show up, too; in the shootout, only Art Rele escapes.
---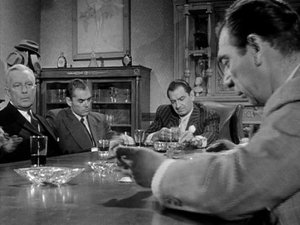 2x25 Mr. Moon (April 20, 1961)
---
Autumn 1934. An armored truck, loaded with the special paper used in printing U.S. currency, is headed for the Bureau of Engraving in Washington, D.C. The truck is hijacked, and the 3 armed guards are tommy-gunned. Since counterfeiting will be on a national level, it's a federal offense, and so Eliot Ness and 5 other federal agents from around the country convene in Washington, D.C., and are briefed on the situation.
---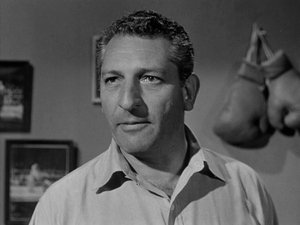 2x24 Ring of Terror (April 13, 1961)
---
Ring of Terror-- Boxing ring, that is. July 1931, the Chicago Sports Arena was like a hundred other boxing rings across America-- a place where young toughs from reform schools and rotting tenements, willing to sacrifice their blood, could try to rise above the oppression of poverty. But the young men with the boxing gloves only got a small amount of the money; the big payoffs went to the gangsters.
---
2x23 Testimony of Evil (March 30, 1961)
---
October 11, 1932.  Chicago.  Less than one month before the elections, David Mantley, running for State's Attorney on the Reform ticket, is making speeches: he says the power behind his opponent, Jeremiah Down, is mobster Bryan O'Malley.  At the same time, across town, O'Malley is being feted at a testimonial dinner-- even though a week from now he'll have to stand trial for murder and income tax evasion.
---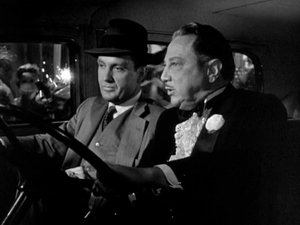 2x22 Murder Under Glass (March 23, 1961)
---
November 1932. FDR was moving to end Prohibition, and the crime syndicate was already shifting away from booze to narcotics. In the next few months, the narcotic supply is running low. February 20, 1933, Frank Nitti and his lieutenant Pete Konitz fly down to New Orleans, where the Mardi Gras will be taking place. Bouchard is busy having Sully fit his car with bulletproof glass. Later, Nitti is demanding a drug shipment from Bouchard.
---
2x21 The Lily Dallas Story (March 16, 1961)
---
April 11, 1932. Millionaire building contractor Thomas B. Randall is the target of a kidnapping; he is throwing a party right now. Intruding on his estate that night are: ex-bootlegger and now gang leader George ""Blackie"" Dallas, Pete Appleby (former torpedo for the Purple Gang), Marty Stoke (bank heist expert) and Jiggs (ex-heavyweight boxer and now strongarm man). The gang kills a security guard, and kidnaps Randall-- and they warn his family and guests not to call the police, or he gets it.
---
2x20 The Antidote (March 09, 1961)
---
Mid-October 1932. The nation's attention is on the election campaign between incumbent president Herbert Hoover and his opponent Franklin D. Roosevelt, who is crippled by polio.  With Prohibition still the law of the land, the government is looking for ways to denature alcohol, which legitimate manufactures need for industrial purposes (making perfumes, etc).  Should the alcohol fall into the wrong hands, if it was denatured, it would be useless to bootleggers.
---
2x19 The Nick Moses Story (February 23, 1961)
---
1932. Just 3 weeks after Al Capone was convicted on the ironic charge of income tax evasion, the Justice Department in Washington, D.C. was calling its leading law enforcement agents from all over the country to fly to the nation's capital to testify and get a new Anti-Racketeering Bill passed. Back in Chicago, 4 of Capone's bigshots who ran his bootlegging empire had skipped town, like rats deserting a sinking ship.
---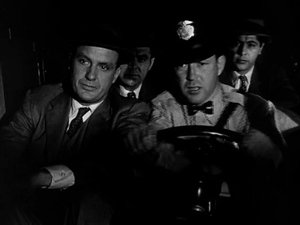 2x18 The Underground Court (February 16, 1961)
---
September 8, 1934. A cruise ship from Cuba to New Jersey has caught fire. There are over 300 passengers on board; some of the passengers and crew are jumping overboard to avoid the flames. Ness and his men, on assignment in New Jersey, speed to get there when the ship docks; Ness has an arrest warrant for Valentine Ferrar, racketeer and founder of the Big Syndicate. Valentine Ferrar had been in Cuba, picking up a million bucks collection money for the Syndicate.
---
2x17 Augie The Banker Ciamino (February 09, 1961)
---
Summer 1931, Chicago.  Eliot Ness and his Untouchables had smashed most of the big breweries owned by the mobsters.  But racketeers, taking advantage of the poverty and desperation of many immigrants, forced them to make a gallon of whiskey a day in small stills in their homes-- makeshift stills which could be put together for less than $3. The absolute boss of Little Italy is Augie ""The Banker"" Ciamino, and with whiskey pouring out of 1,000 tenement stills, he was cancelling the gains that Ness had made.
---
2x16 The Jamaica Ginger Story (February 02, 1961)
---
On the night of May 25, 1931, 2 trucks are rolling into K.C., carrying $1-million worth of Jamaica Ginger rotgut, also known as ""Ginger Jake."" The trucks are owned by Rafael Torrez, gangster and race horse trainer, who has a monopoly on the Jamaica Ginger. Rival crime boss Jerry LaCarver, wanting in on the enormous profits, is ready to hijack the trucks, along with his gang of 5 hoods: the 2 notorious Roth brothers, Andy Bello (alias Louis Belmont), Richie Peters and Wally Heilman. They hijack the trucks with dynamite and shotguns.
---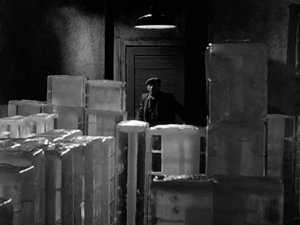 2x15 The Organization (January 26, 1961)
---
Chicago.  November 9, 1932.  Al Capone was in prison, and Frank Nitti was running his Organization.  But other crime overlords were ready to take over; the biggest was Joe Kulak, from St. Louis.  Joe Kulak was called ""The Teacher"" because he had trained so many Underworld bigshots, and given them their start.  Eliot Ness and his men keep tabs on Kulak from the moment he arrives in the Windy City.
---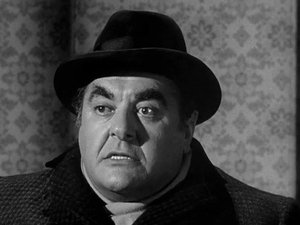 2x14 The Masterpiece (January 19, 1961)
---
Chicago, December 1931. With Al Capone in prison, the bootlegging part of his empire was split in 2. One of Capone's lieutenants, Mayer Wartel, acquired the speakeasies; another lieutenant, Karl Positan, acquired the breweries and distilleries. In an attempt to take over the entire operation, Positan withholds his whiskey and beer; the number of speaks flourishing drops to an all-time Prohibition low. Eliot Ness and his men keep an eye on the situation. Nitti's plenty sore.
---
2x13 The Big Train (2) (January 12, 1961)
---
Movie: ""The Alcatraz Express"" (continued) Sunday, August 19, 1934. At 2:30 a.m., the Big Train is backed into the prison yard of the State Pen in Atlanta. 54 hardened criminals, including Al Capone and Tony Diaz, are handcuffed and loaded onto the train. On board are prison guards armed with machine-guns. Once seated, the prisoners are additionally given leg shackles and told to put them on. Then, at 5:00 a.m., the Big Train pulls out-- right on schedule.
---
2x12 The Big Train (1) (January 05, 1961)
---
Movie: ""The Alcatraz Express"" (Disclaimer shown on screen) ""The events portrayed in this film are fictitious. The Federal Prison guards portrayed do not represent any actual persons, living or dead. ""Nothing herein is intended to reflect unfavorably on the courageous and responsible prison guards who supervised Capone during his internment in the Federal Penitentiary in Atlanta and during his transfer from Atlanta to Alcatraz.
---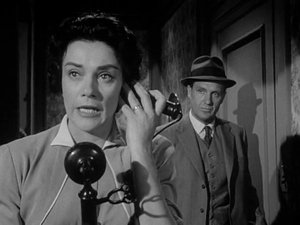 2x11 The Tommy Karpeles Story (December 29, 1960)
---
May 8, 1931. The special U.S. mail train, coming from Rock Island, is stopped by emergency flares on the tracks in Hillsdale, Illinois. Gangsters wearing Army gas masks lob tear gas grenades into the train; they shoot a postal clerk and make off with a million dollars in negotiable securities. 3 months later, ""Tough"" Tommy Karpeles, former big-time Chicago hoodlum, is arrested for complicity in the case; his 2 accomplices were not caught.
---
2x10 The Otto Frick Story (December 22, 1960)
---
The night of May 3rd, 1934. A traveling carnival is at the Midway, 35 miles outside of Cleveland. There are half a dozen bellydancers on stage, as the barker goes, ""Hurry, hurry, hurry,"" and a sign reads: ""One dime shows you the best hootchy koochy show in the world!"" Hans Eberhardt, twice convicted for armed robbery and dope peddling, spots Ness and his Untouchables and the local police about to pull a raid; he runs to the office trailer of carny Otto Frick.
---
2x09 The Larry Fay Story (December 15, 1960)
---
New York, April 1931. Gangster Larry Fay, a former student of Al Capone, has his greasy fists firmly in the milk racket: he's organized milk companies into a monopoly. The price of milk was 10 cents a quart* (this was during the Depression when many people made 30 cents an hour); he increases the price 3 cents a quart-- with 2 cents going directly into Larry Fay's pockets.
---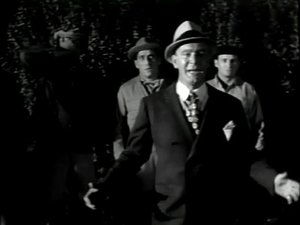 2x08 Kiss of Death Girl (December 08, 1960)
---
Chicago, September 8, 1932. That night, a convoy of 4 trucks, which had crossed the Canadian border, are driving towards Chicago; they are hauling 1,000 cases of Canadian scotch, valued at over $100,000. Ness and his Untouchables have set up a roadblock just outside of town. 7-8 miles up ahead of Ness there is another roadblock, set up by gangster Phil Corbin, owner of Chicago's Club Continental; he's waiting with his boys to hijack the convoy.
---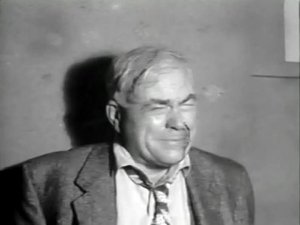 2x07 The Purple Gang (December 01, 1960)
---
Detroit, August 1932. The notorious Purple Gang-- long synonymous with terror in beer, booze, labor and prostitution-- gets into a new racket: kidnapping. They specialize in snatching other members of the underworld, since they can't go to the police for help. So far, they've kidnapped 9 hoods (the latest mug is Rocky Garver), for a total of 100 grand.
---
2x06 A Seat on the Fence (November 24, 1960)
---
Chicago, late Summer 1932.  Eliot Ness and his men had stemmed the supply of narcotics coming into the Windy City from Asia and southern Europe.  Now the Underworld was using new ways to supply the city's 5,000 dope addicts.  The Syndicate was robbing drugstores, doctors' offices, wholesale drug houses-- any place which kept a supply of painkilling drugs.
---
2x05 The Mark of Cain (November 17, 1960)
---
Chicago, late Spring 1932. There is public protest about the increase in drug addiction. Charlie Sebastino has amalgamated all the small distributors into one big empire, setting himself up as emperor. Ness and his Untouchables had virtually shut down dope dealings, by nailing the big operators, but this network is run through small-time pushers.
---
2x04 The Waxey Gordon Story (November 10, 1960)
---
New Jersey, the night of April 16, 1931. Waxey Gordon, the undisputed beer baron of New York, is muscling in on New Jersey, which is run by Frankie Dunn, ""Bugs"" Donovan and Roger Weiden. Waxey is waging a gang war to eliminate rival gangsters for control of the Jersey beer market. Waxey and his boys smash into a brewery owned and run by Frankie Dunn; they blast with their choppers until the large beer vats, Frankie and his workers are filled with holes.
---
2x03 Nicky (November 03, 1960)
---
Chicago. By the middle of 1933, Eliot Ness and his Untouchables had almost checked the manufacture and sale of whiskey in Chicago. But the biggest operator was still in business: Giuseppe Marconi a.k.a. Gus Marco. He was an apparently respectable owner of a garage of taxis by day; but he trafficked in bootleg booze by night, he had a huge distillery underground in which he processed stolen industrial alcohol.
---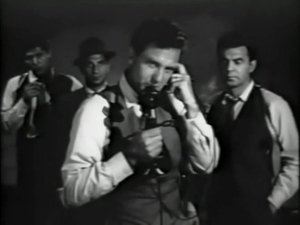 2x02 The Jack Legs Diamond Story (October 20, 1960)
---
New York, 1931. While many people were unemployed and poor during the Depression, gangster-owned speakeasies and nightclubs created a new mobster aristocracy. One top mobster is Jack ""Legs"" Diamond -- known to the Underworld as ""the Clay Pigeon"" because of the many times he'd been shot at, and survived.
---
2x01 The Rusty Heller Story (October 13, 1960)
---
Chicago, March 1931. Eliot Ness and his men were doing raid after raid on Capone's speakeasies and breweries; his empire was tottering. Who would take over? A big-time gangster from New York, Charlie ""Pops"" Felcher, had just arrived in Chicago, along with his crooked lawyer Archie Grayson.
---