Spice and Wolf
Season 1
Spice and Wolf
Season 1
First Air Date: January 08, 2008

| | | |
| --- | --- | --- |
| First Aired on | : | 2008 |
| Episodes | : | 13 episodes |
Episodes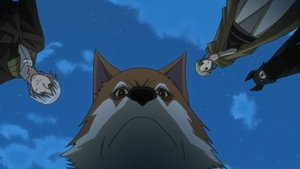 1x13 Wolf and a New Beginning (March 25, 2008)
---
After freeing himself from his bonds, Lawrence goes in search of Holo. Instead of finding her, she finds him. When Lawrence informs her of the situation, Holo agrees to help him save Nora. Can they make it in time to save her?
---
1x12 Wolf and a Group of Youngsters (March 18, 2008)
---
Lawrence, Holo, and Nora meet at the gate. With Liebert from the Remelio Company joining them, the group starts their journey to Ramtora. After making it there and get the gold without a problem, the group starts their return trip. Things don't go as smoothly as before, when a group of wolves attack. Knowing the wolves are not normal ones, Holo has Lawrence and the others go off without her.
---
1x11 Wolf and the Biggest Secret Scheme (March 11, 2008)
---
Returning to the inn, Lawrence apologizes to Holo for before and gives her the little money he managed to collect, to use for traveling expenses. As Lawrence is leaving, he is surprised when Holo throws the money at him. After making up, Holo informs Lawrence of a dangerous plan to get him out of debt.
---
1x10 Wolf and the Swirling Plot (March 04, 2008)
---
After finishing up the paperwork at the trading guild, Lawrence and Holo head to the market place to sell the armor. Upon arriving at the place they were going to sell the armor, they find things nearly empty. Upon trying to leave, Lawrence is called on by the head of the company. Upon speaking with him, Lawrence finds out that armor no longer has any value and he is now in debt.
---
1x09 Wolf and the Shepherd's Lamb (February 26, 2008)
---
After receiving a prayer of safe passage from the shepherd, Lawrence and Holo are surprised when she asks them to hire her to protect them from wolves. Although Lawrence is reluctant and Holo doesn't want her joining them, Lawrence agrees to hire the shepherd, who introduces herself as Nora. With Nora traveling alongside them, Holo and Lawrence must take great caution in order to keep Holo's secret from Nora.
---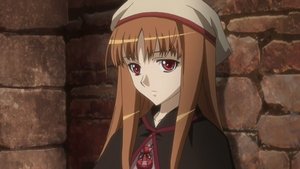 1x08 Wolf and Virtuous Scales (February 19, 2008)
---
While at a bar, Lawrence and Holo learn about a magician attacking people with wolves. After completing their trading, the two head off for the next town, that is until they learn that group of bandits have been raiding caravans on the main road to the next town. Now Lawrence and Holo are forced to go down the path where the attacks have been. Are they the next victims?
---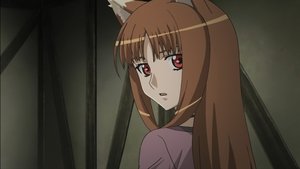 1x07 Wolf and a Tail of Happiness (April 01, 2008)
---
While in the town of Pazzio, Lawrence decides to purchase a better set of clothes for Holo. However, Lawrence only has a Lumione gold coin, too large denomination to purchase clothes. They return to Weiz, money dealer and fellow friend, intending to exchange it for Trenni silver coins and agree to meet later at a tavern for drinks. Lawrence uses a "secret technique" to buy clothes from a clothing shop owner for Holo that were once worn by a noble. He first buys cheap blankets at an inflated price to buy the expensive clothes at an extremely cheap price, made even cheaper by Holo's charm. Though the clothing shop owner makes a profit on the blankets, he loses money on the entire deal because of the more expensive clothes.
---
1x06 Wolf and Silent Farewell (February 12, 2008)
---
Lawrence and Holo continue their escape through the sewers. When Holo hears noises in front of them, the two try to backtrack, but run into more men. After eluding them, Lawrence is attacked by two other men. Although he manages to defeat them, he is stabbed during the fight. After arriving at a dead end, Chloe shows herself to Lawrence and when Lawrence refuses to hand over Holo, she orders for him to be killed. Fortunately for Lawrence, Holo refuses to let that happen.
---
1x05 Wolf and Lovers' Quarrel (February 05, 2008)
---
Lawrence find out that the royal family has economical problems, and this may be related to Zheren's plan. Lawrence then goes on to save Holo, and they escape. However, when a certain someone is hunting them, how will things turn out?
---
1x04 Wolf and Her Helpless Partner (January 29, 2008)
---
With the knowledge of Zheren's plan, Holo and Lawrence head to the Milone Company. Can they make it in time to stop Zheren from tricking other people with his scheme?
---
1x03 Wolf and Business Talent (January 22, 2008)
---
Lawrence and Holo arrive in a large village centered around trade. After spotting some apples, Holo tells Lawrence she wants some, so he gives her some money and she manages to fill the wagon full of apples. Later as Lawrence tries to sell his furs, Holo steps in and manages to increase how much the furs are sold for by a large amount.
---
1x02 Wolf and Distant Past (January 15, 2008)
---
Lawrence and Holo are now travelling together but it is cut short when they have to seek refuge, from the rain, in a nearby Church. There Lawrence discusses various trade issues with a man and following this a young man named Zheren approaches him. He offers Kraft some information to do with the trade of coins but this could be false information. Once the weather returns to its pleasantness, Lawrence and Holo head off but they end up discussing some distressing topics.
---
1x01 Wolf and Best Clothes (January 08, 2008)
---
The 25 year old peddler, Kraft Lawrence goes to the town of Pasroe, during the time of their festival, for some trade. On the moonlit night he is startled when he discovers a wolf-like girl in his wagon. She then tells him that she is the wolf god of that village and her name, Holo. The next day he leaves the town for more trade and Holo goes along with him.
---