Spice and Wolf
Specials
Spice and Wolf
Specials
First Air Date: May 30, 2008

| | | |
| --- | --- | --- |
| First Aired on | : | 2008 |
| Episodes | : | 6 episodes |
Episodes
0x06 Black Wolf Cradle (Part 2) (January 06, 2010)
---
Audio Drama included in Blu-ray Volume 4.
---
0x05 Black Wolf Cradle (Part 1) (December 02, 2009)
---
Audio Drama included in Blu-ray Volume 3.
---
0x04 Wolf and the Amber Melancholy (April 30, 2009)
---
Holo, Lawrence, and Nora sit down to have dinner together, but Holo's animosity toward Nora prevents her from enjoying it. Later, Holo falls ill due to fatigue and is forced to rest for a few days. She dreams and reminisces about her past and her journey so far with Lawrence, realizing her affection for him is intensifying. Lawrence treats Holo's fever and fatigue by feeding her and balancing the four states, the hot, cold, dry, and wet. Over the course of her sickness, Holo grows closer to Lawrence, but Holo's aversion to Nora continues to cause problems. Nora visits Holo, however, and makes amends after sharing a joke at Lawrence's expense.
---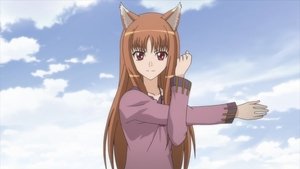 0x03 Stretching with Holo, Yoitz Style (November 04, 2009)
---
Extra short anime featuring Holo from Volume 2 Bluray Disc.
---
0x02 Studying with Holo (October 07, 2009)
---
Extra short anime featuring Holo from Volume 1 Bluray Disc.
---
0x01 Wolf and Tail of Happiness (May 30, 2008)
---
While in the town of Patzuille, Lawrence decides to purchase a better set of clothes for Holo. However, Lawrence only has a gold piece, too large denomination to purchase clothes. They return to Weiz, intending to exchange it for silver and agree to meet later at a tavern for drinks. Lawrence uses a "secret technique" to buy clothes for Holo that were once worn by a noble. He first buys cheap blankets at an inflated price to buy the expensive clothes at an extremely cheap price, made even cheaper by Holo's charm. Though the clothing merchant makes a profit on the blankets, he loses money on the entire deal because of the more expensive clothes.
---