Diagnosis: Murder
Season 2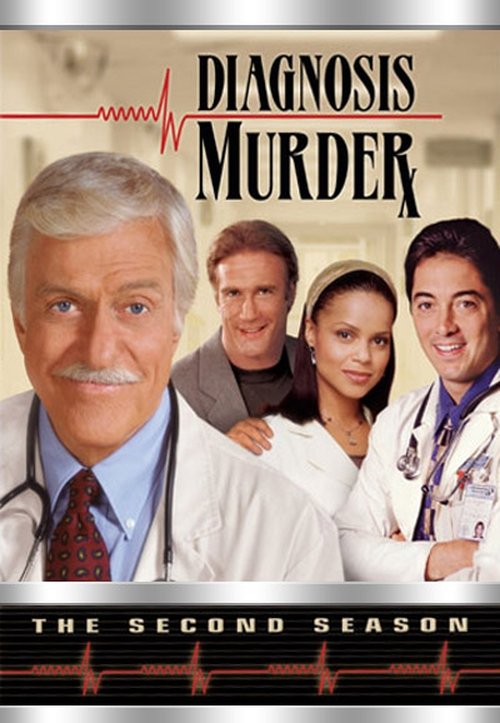 Diagnosis: Murder
Season 2
First Air Date: September 16, 1994

| | | |
| --- | --- | --- |
| First Aired on | : | 1994 |
| Episodes | : | 22 episodes |
Episodes
2x22 My Baby is Out of this World (May 05, 1995)
---
The death of a popular musician raises suspicious questions. The musicians' pregnant wife, who claims to be carrying an alien's child, complicates matters.
---
2x21 Death in the Daytime (April 28, 1995)
---
Amanda wins a guest role on The Young and the Restless and walks right into a murder.
---
2x20 Naked Babes (March 31, 1995)
---
When Amanda's friend Angela is kidnapped immediately after giving birth to quadruplets, Amanda feigns pregnancy and goes undercover at an adoption agency to locate Angela. Jack and Dr. Sloan try to care for the babies.
---
2x19 How to Murder Your Lawyer (February 24, 1995)
---
After Steve's night school law teacher is nearly run down in the parking lot, he and a paralegal investigate shady dealings in their law firm.
---
2x18 Sea No Evil (February 17, 1995)
---
IRS Agent Gretchen McCord returns when her lifeguard nephew is accused of murder.
---
2x17 Playing for Keeps (February 10, 1995)
---
Dr. Sloan investigates the murder of an antagonistic pro volleyball player. Steve searches for an alleged stalker while Amanda and Jack keep an eye on her teammates, none of whom are particularly upset over her death.
---
2x16 A Blast From the Past (February 03, 1995)
---
One of Steve's old ""collars"" gets out of prison and comes looking for revenge.
---
2x15 Call Me Incontestable (January 20, 1995)
---
A rash of murders made to look like suicide leads to a dating service and its beautiful customers.
---
2x14 The New Healers (January 13, 1995)
---
When an unpopular actor on a hot new medical drama (being filmed at Community General) suddenly dies, Mark suspects everyone from the writer to other cast members.
---
2x13 The Bela Lugosi Blues (January 06, 1995)
---
Mark has some unorthodox theories when several dead bodies are found drained of blood with puncture marks on their neck.
---
2x12 Standing Eight Count (December 09, 1994)
---
The newly crowned boxing champion is found murdered shortly after the bout. Jack and Amanda investigate the deceased's former trainer, his opponent, and his opponent's manager to find a way through a web of lies and deceit.
---
2x11 Death By Extermination (December 02, 1994)
---
The body of a dead real estate agent is found in the walk-in closet of Mark's sister's new house. Mark and Steve have to work around Dora Sloan's annoying habits while investigating the murder.
---
2x10 The Last Laugh (2) (November 18, 1994)
---
Realizing that he's been duped, Mark goes all out to thwart the murderer's plans. Amanda and Jack go after Wallace Sterling, the crooked financier and art lover by selling a forged painting of a can of Cream of Celery soup.
---
2x09 The Last Laugh (1) (November 11, 1994)
---
A plastic surgeon dies due to an overdose of laughing gas... with no shortage of suspects. Mark campaigns furiously to exonerate Bonnie Valin, the victim's wife, while Steve makes a solid case against her. Meanwhile, Amanda's new electronic checking service is less than effective.
---
2x08 Georgia on My Mind (November 04, 1994)
---
Jack and Steve vie for a young woman's affections as she leads them in an investigation of a PI's death.
---
2x07 You Can Call Me Johnson (October 28, 1994)
---
At Jack's request, Mark operates on a Godfather-like mobster, Albert Bartell... and faces retribution from the man's son when Albert dies suddenly.
---
2x06 Murder Most Vial (October 21, 1994)
---
A cantankerous patient at Community General is given a double injection of his medication, eventually leading to his death. Jack suspects a doctor he's had a grudge against for a long time. Despite Mark's objections, Jack sets out to prove his ""enemy"" is the killer.
---
2x05 My Four Husbands (October 14, 1994)
---
A famous actress, a patient at Community General, is implicated in the murder of one of her four ex-husbands. Against everyone's advice, Mark believes in her innocence and sets out to prove it.
---
2x04 The Busy Body (October 07, 1994)
---
Dr. Sloan's birthday is less than festive when he discovers the body of a prominent divorce lawyer in the Hospital pharmacy. When Steve arrives, the body is nowhere to be found. Mark and Jack work feverishly to find the body, find the culprit, and lead a tour of potential investors all at the same time.
---
2x03 Woman Trouble (September 30, 1994)
---
Two women involved in a love triangle plot to murder a man, take his millions, and leave the country. Dr. Sloan investigates after his friend's mysterious disappearence.
---
2x02 A Very Fatal Funeral (September 23, 1994)
---
Suspicion is cast on Norman Briggs after the chairman of a philanthropical medical group of which Norman is a part, is murdered. Steve and Mark attend the funeral to nail the culprit, who promptly falls over dead.
---
2x01 Many Happy Returns (September 16, 1994)
---
Dr. Sloan is under suspicion after his tax preparer is killed with Mark spotted 'hovering' over the body.
---