Step by Step
Season 2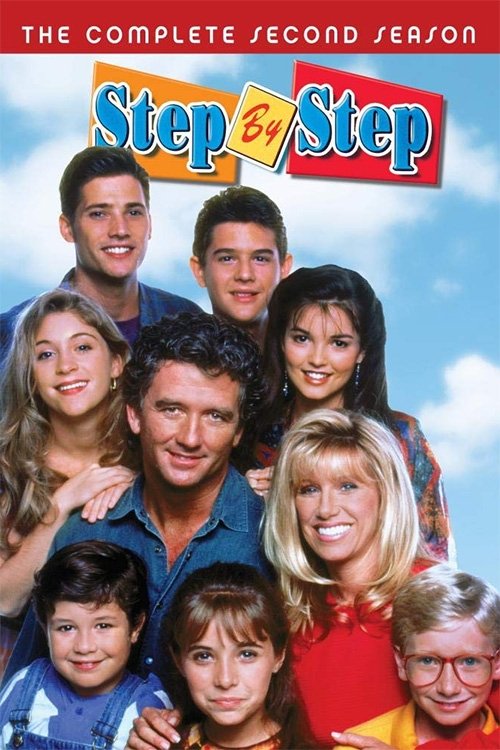 Step by Step
Season 2
First Air Date: September 18, 1992

| | | |
| --- | --- | --- |
| First Aired on | : | 1992 |
| Episodes | : | 24 episodes |
Episodes
2x24 Double Date (May 21, 1993)
---
Carol sets up Karen with Freddy, who is a 153 on Karen's grading scale. Karen, however, prefers Jeffrey (a 195). Despite disappointing Carol, Karen accepts a date with Jeffrey and dumps Freddy by lying to him. She sneaks out of the house to go with Jeff and they win Perfect Couple right after Freddy confronts Karen. She refuses the award and finishes the evening with Freddy. Carol does not like the way Frank organizes his money. She tries to make him use a male purse, but he refuses. He concentrates his efforts on putting an alarm on Lucille because Cody had his stereo stolen out of it. The alarm was so good Frank got stuck in the van demonstrating it.
---
2x23 This Old House (May 07, 1993)
---
Frank gets a job, which includes moving a house. Carol convinces Frank to hire Cody for the demolition work, though Cody has never done this precise demolition before. Cody finds out that a family lives in the house Frank is wrecking and has nowhere to go. Cody refuses to demolish the building and gets to know the Emersons. When Carol finds out that the family lives there, she sits beside Cody in an sort of demostration. Cody and Carol find a solution to the problem. Their answer is to move the house and make Frank hire the father. Al, Brendan and Mark get a job licking envelopes. JT says that he can be the manager of the envelope licking and really increase their productivity. JT's management style doesn't work, because he just bosses the others around. So Al, Brendan, and Mark quit, and JT has to lick envelopes all night. Afterward, Dana and Karen suggest a sponge.
---
2x22 The Psychic (April 30, 1993)
---
Karen is angry at JT for putting her baby picture in the school year book. While Frank and Carol get a new Snooze-O-Matic adjustable bed.
---
2x21 The Un-Natural (April 02, 1993)
---
Al's baseball team (Port Washington Cubs), which is coached by Frank, makes it to the championship, but they lose a player and need a replacement. Carol talks Frank into letting Mark be that replacement, although ""He is not even good enough to be bad."" Frank tries to avoid playing Mark until they are so far ahead it won't matter. The game comes down to the final hit, however, and Frank is forced to put Mark in. After being jeered by the crowd, Mark wants to quit, but Al threatens him so he has tries to hit. He uses his knowledge of Physics to hit the winning Home Run. JT and Dana's competitiveness once again yields a battle of the sexes. Karen and Dana think women are able to stay awake just as long as men, while JT disagrees. Cody agrees to make it a 2-on-2 contest because his ""14 hours of sleep a night cuts into his leisure time."" JT, Dana, and Karen all end up zonked on the couch, while Cody's brain begins to tell him the secrets of the universe.
---
2x20 No Way to Treat a Lady (March 12, 1993)
---
JT has a new girl friend, who is a motorcycle chick. Later, she meets Mark, who treats her like a lady. Upon her announcement of appreciation, JT gets Mark to teach him how to be a gentleman. JT's girlfriend explains to JT that she wants the manners in moderation. Meanwhile, Al is getting her first bra with Carol. Frank shows up at the store so he can be there when Al gets her first bra. Al gets embarrassed and tells Frank that some things she'd rather have Carol help her with.
---
2x19 Aloha (2) (February 26, 1993)
---
The second half concludes the exciting story. JT's girl, who always disappears when he sees her, turns out to be connected to Cody's treasure. JT and Cody discover the treasure is not monetary but is the sunset from where there digging that is the real treasure. Mark,Al and Brendan win the sand castle competition and get a helicopter tour of the island. Carol tries to get Dana to not accept the engagement by telling her absolutely no. Then in using logic she says Dana is too young, but Dana says Carol was younger when she first married. Then Carol says that marriages where the people spent one week together on a tropical island didn't work, but Dana again reminded her of her marriage (this time the one to Frank).In the end Dana decides she has to many dreams to pursue to be tied down.
---
2x18 Aloha (1) (February 19, 1993)
---
The whole family wins a trip to Hawaii and Cody decides to buy a ticket to go with them. Carol irritates everyone by trying to tour EVERYTHING. When they convince Carol to loosen the reigns, Dana meets the man of her dreams, JT finds the girl of his dreams but can't seem to meet her, Cody finds a bottle with a message and goes in search of a lost treasure, and Al, Brendan, and Mark enter a sand castle building contest. Dana's rich dream man soon proposes to her with a six carat solataire in a Tiffany setting.While Carol flips out and demands Dana say no,she considers her option.
---
2x17 Love, Port Washington Style (February 12, 1993)
---
Dana has been dumped--AGAIN-- just before Valentine's Day. She acts real moody and volunteers to work a double shift at the 50's cafe, since she is dateless. When a customer does show up, Dana snaps at him and he responds kindly, yet with an irritation of his own. They end up dating, as Dana leaves work early. Carol is so busy in the beauty salon that she solicits Frank's assistance. Frank does his best, which is not good enough. Frank burns a bald spot in some girl's hair. While Carol has to spend hours talking to her parents, Frank's style becomes popular with the high school crowd.
---
2x16 No Business Like Show Business (February 05, 1993)
---
JT's World has achieved enough success to garner attention from a local syndication company. JT (as usual) believes he's going to be a huge star, so decides to stop doing his home work. Then let's his new boss fire his crew (Mark, Al, and Brendan). Meanwhile, Carol and Frank in an effort to spend some more time together, attend an art class. One which features a nude male model. Two days later, just as production on ""JT's World"" is about to begin, JT's boss announces that the suits upstairs wanna make some minor changes. That being JT and Cody are fired, instead they hire professional actors to play their parts.
---
2x15 One of the Guys (January 22, 1993)
---
Frank announces he needs a new worker and Carol urges him to hire a female worker for Lambert construction. Meanwhile, J.T., Al and Karen try to make some money off Mark by letting him invest in the stock market for them.
---
2x14 Happy Birthday, Baby (January 15, 1993)
---
Dana's 17th birthday is upcoming and she informs Carol that she does not want just another party. Carol will not let her have the party she wants so Dana says she won't have a party. Dana and her friend invite a lot of people to a hotel room and they have a ""real"" party. As it happens, Frank and Carol's romantic weekend was across the hall and Carol went across to tell them to be quiet. A heartwarming conversation between mother and daughter then took place. Karen asks Al to wash a blouse for $2 to wear on a date with Bobby. Al didn't wash it properly and changed the color of the dress. Karen wore it on the date anyway. Cody was asked to be Judge Woppner and decide who owed money. He ruled that the service was not done as promised nor was the shirt ruined.
---
2x13 If I Were a Rich Man (January 08, 1993)
---
Cody, who has been visiting the Lakeview Retirement Home a couple of times each week for a while, makes one visit with JT. After this visit, Cody learns that his favorite resident, Walter, has died. Walter leaves his estate ($250,000 worth) to Cody. All of Cody's cousins want some of the money and Cody struggles with the proper use, but eventually decides to give it all, save $500, to the Lakeview Retirement Home and its residents. Meanwhile, Carol wants a new camcorder after the old one breaks, but Frank doesn't want to spend $500 on one. So he buys one from a guy working out of a Buick for $162.50. The camcorder explodes and Cody gives the family $500 of his inheritance to buy a real camcorder.
---
2x12 Boys Will Be Boys (December 11, 1992)
---
Frank's old friend Scooter comes to visit. Frank starts off excited that his high school buddy is coming, but it turns out that Scooter still acts like he is in high school. In order to tell Scooter to leave, Frank tells him how he has become a better man because of his marriage to Carol. Cody wins a turkey at the local supermarket's raffle. Unfortunately, the turkey comes live and Cody can not bear to kill it. He names the turkey Elmer and gets him a job at the petting zoo.
---
2x11 Back to Basics (December 04, 1992)
---
Carol spent $84 on 8 videos and one lost under Brendan's bed. She calls a family meeting, and when no one agrees to give anything up, Carol takes everything away. The Foster kids blame Brendan so he tries to run away. He hides in Cody's van, and Cody tells Frank and Carol through pantomime. They find Brendan and tell him that he is more important than money.
---
2x10 Virgin Territory (November 20, 1992)
---
J.T and Cody score dates with two pretty sisters. After the date the sisters really want the boys to come home with them. Cody wanted to save his virginity till he found the "" Dudette of his dreams"". So J.T gets mad at him because Cody blew off his date making J.T's date mad too.
---
2x09 The Making of the President (November 13, 1992)
---
J.T and Dana run against each other for Class President. When J.T wins Dana becomes upset, but when J.T realizes that the responsibility is too much for him to handle he resigns and gives Dana the position.
---
2x08 Someone to Watch Over Me (November 06, 1992)
---
Carol is going out of town, leaving Frank in charge. Dana is upset about that, but manages to convince Frank to let her go on a date with ""Mike the Mover"" who Frank knows happens to have a bad reputation. After finally letting them,he gets scared and decides to follow,with Cody in tow.He climbs a tree above Mike's car in and attempt to hear what they are saying.But the limb breaks and he literally drops in on them. Later, however, Mike proves to be what Frank thought as he puts the moves on Dana in the living room,and while Dana proves to be trustworthy. JT borrows Frank's truck to go to the mall, by agreeing to wash and wax it. Frank gives J.T. 15 bucks to buy some expensive wax. But JT buys some that costs a dollar and pays Brendan to do it, but the wax strips the paint. Just as Frank is restoring his car, JT brakes the window with a baseball.
---
2x07 Model Daughter (October 30, 1992)
---
Karen gets a modeling job in Chicago.So she begs Carol to let her and she finally does let her.Excited, Karen and Carol go to Chicago. Carol suggests how they should do Karen's hair,what kind of bathing suit Karen should wear, and many more similar things.Basically being a typical stage mother.Carol's suggestions really begin to embarrass Karen greatly. Meanwhile Dana is sick and she driving Frank crazy with her demands. She keeps ringing a bell for each request. Who eventually smashes her bell to pieces. Evidently Dana's illness was contagious, because Al, JT, Brendan and Mark all get sick. The worst is Mark, because he throws up every 20 minutes when he is sick. Contributed to by Haley and Nest
---
2x06 The Boss (October 23, 1992)
---
JT and Karen get jobs at a 50's cafe as while Cody gets a job there as a DJ. Dana gets a job as Assistant Manager and is extremely bossy. Therefore JT and Karen quit and the cooks quit (they only put up with Dana so they could look at Karen). Dana ends up getting Frank and Carol to help her and Cody works in the kitchen. Frank and Carol end up correcting Dana. Mark and Al play with a truth telling machine that helps reveal, among other things, Frank's middle name (Delano), where Cody's keys are (in his car), what kind of job Frank had while in school (a paper route), and a very interesting fact about Cody.
---
2x05 It's a Dog's Life (October 16, 1992)
---
The neighbor's go on vacation to Florida and ask the Lambert/Foster children to take care of their dog, Mr. Fritz.When Al and Brendan beg for Frank and Carol to let them dog sit for a week while the owners are out of town, Frank is willing, while Carol reluctantly says yes.At first Carol doesn't like the idea, but agrees to it if the children take responsibility. After a while, Carol falls in love with the dog and begins giving it special treatment. While Mark is scared of it, Al and Brendon soon become sick of it and Frank is jealous of it, the owners call and tell them to keep the dog because they aren't coming home Frank makes Carol take it the kennel.The new neighbors who move into the house vacated decide they want the dog instead. Contributed by Haley
---
2x04 JT's World (October 09, 1992)
---
JT and Cody start there own TV show on local cable access called JT`s World. The living room is the set, and Al, Brendan and Mark are the crew. JT meets Karen`s beautiful friend Lisa, and invites her to be in the show. But Lisa falls in love with Cody instead. JT becomes so upset that he fires Cody because of it. Frank and Al tells JT that he made a stupid decision. And when Cody gives his guitar to him to use it in the show, JT decides to re-hire Cody. But this time the show will be named JT`s a Cody nd Cody`s world. In the meantime: Frank told Carol that he if he got stranded on a deserted island, then he would hit on a woman. In the end it turned out that Carol would do the same thing if she had the chance.
---
2x03 Stuck on You (October 02, 1992)
---
JT tries to get a date,Al gets a new friend and Frank feels he may be loosing a daughter.
---
2x02 To B or Not to Be (September 25, 1992)
---
JT has a test coming up at school on Shakespeare.So Carol convinces Frank to help JT. Frank and JT first try a tape but that gets lost.But they soon discover it's all about sex and romance,they stay up all night studying. In the morning, JT is sure the test will be easy, because of his studying; however, JT receives a bad grade. Carol and Frank talk to the teacher and discover that she gave JT a bad grade because she believes because he is a jock,that he is stupid. After the talk, she reluctantly agrees to give JT a B+.Dana, in a moment of kindness toward , says that although JT is a sport-fanatic, he deserves better.
---
2x01 S.A.T. Blues (September 18, 1992)
---
Dana goes to take her SATs,and guess who shows up out of now where,Cody. He explains that every week he does something new (one week he ate nothing but peaches). Dana does good (92nd percentile), but Cody does better. Dana insists that they both take it again. This time Dana does even better than Cody did the 1st time, yet Cody beat her again. Cody is afraid, ""they"" will make him be a brain surgeon, although at the end he decides to give college a try, and Dana decides she doesn't always have to be perfect.
---