Step by Step
Season 1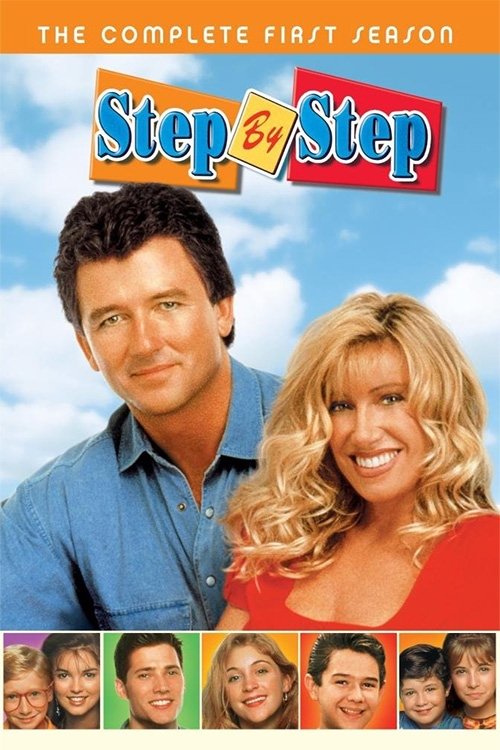 Step by Step
Season 1
First Air Date: September 20, 1991

| | | |
| --- | --- | --- |
| First Aired on | : | 1991 |
| Episodes | : | 22 episodes |
Episodes
1x22 Beauty Contest (April 24, 1992)
---
Carol and Karen enter a mother-daughter beauty contest.
---
1x21 He Wanted Wings (March 27, 1992)
---
About to turn 40, Frank decides to realize his life-long ambition to learn to fly.
---
1x20 Daddy's Girl (March 06, 1992)
---
Grandpa comes to visit with his fiance'. Frank recognizes her as a stripper from a bachelor party he went to a year ago. When Frank tells his dad, he storms off and does not believe Frank. He finds out later that she is an ex-stripper and they postpone the wedding. JT wants Dana to set up a date with a pretty friend of hers' so she makes him run errands for her all week. JT does not get along with her, but to show Dana there are no hard feelings he buys her spaghetti and meatballs. Amazingly, she does not enjoy it that much.
---
1x19 Country Club (February 28, 1992)
---
A client of Carols' invites the family to spend a weekend at a Country Club. While Karen and Carol are extremely excited, Frank and Dana feel a country club is not for them. Cody gets a guided tour on a lawn chair of the country club; Al and Brendan make $60 playing pea in the cup with the rich kids; Karen finds four guys; Mark gives stock tips; Dana falls for the Country Club President's son; and Frank goes around fixing things. Because Dana is spending time with his son, the President recruits Frank to play on their scramble golf team. Dana becomes upset with Frank because he embarrasses her in front of her new beau. After frank leaves the President makes fun of his win for the team, Dana overhears and stands up for him. Dana and Frank grow to appreciate one another and are happy to find out that the President's snobbishness is not passed on to his son.
---
1x18 School Daze (February 21, 1992)
---
Carol goes back to school because she feels embarrassed about leaving school four classes short of a degree. She soon realizes as well as a student she's a also committed mother, wife, and beautician, and soon everyone's ready to be committed when Frank takes over the housework. Nobody can seem to remember to pick up Brendan either. All the kids decide to chip in so Carol can realize her dream and the house can run smoothly.
---
1x17 The Boys in the Band (February 14, 1992)
---
JT gives Al's band a name and becomes their manager. He gets them a gig at a bowling alley that Frank just finished remodeling. The owner of the bowling alley is inflexible, though, and when the other four girls in the band catch the flu, JT has to recruit Karen and Dana. Because he can recruit noone else, JT and Cody end up singing with the band dressed as girls. During the first song, the audience discovers JT and Cody are men and Carol steps up to save the day. A mouse that ran from the beauty salon to the house is scaring everyone except Frank. Frank is unable to kill the mouse, however, because his family does not think he should kill an ""innocent"" creature.
---
1x16 Bully for Mark (February 07, 1992)
---
Mark is found doing homework for a classmate, and it is discovered that it is because he is being threatened. Carol tries to teach him to confront this bully while Frank teaches him to defend himself. Finally, they discover the bully is a girl, and Al sticks up for Mark because she is beginning to view him as a brother. JT runs the 100M for the JV track team and ends up breaking the school record. Dana is assigned to write an article for him in the school paper. She writes a negative column on him, but JT pays the typesetter to write a different article.
---
1x15 Drive, He Said (January 17, 1992)
---
Dana passes her driving test with flying colors, but Frank flunks his.
---
1x14 Home Alone (January 03, 1992)
---
Frank and Carol go off for a romantic weekend getaway, leaving Dana in charge with one rule-- no parties. The ""lover's retreat"" turns out to be less than desirable, yet Frank and Carol decide to try to make it work anyway. That is until Frank's back goes out. Meanwhile, Dana decides to have a study group with 2 friends, and to be fair she allows everyone else 2 friends as well. Al and JT's friends ignore the rule, Karen invites her 4 finalists, and then a party breaks out. JT ends up getting stuck in the chimney just before Frank and Carol return.
---
1x13 Getting Organized (December 13, 1991)
---
JT and Cody become engrossed with the idea of aliens while Dana and Karen make fun of them, but then try to make the boys look foolish by pretending to have a UFO fly over them. Cody and JT find out about their plan and turn the tables on them. Frank's office is extremely disheveled. Carol sees this and in an effort to help him and organizes his office. She even puts his records that were in shoe boxes into a computer before throwing them away. Just as Frank gets excited about the new system he will have, Carol loses the information that was in the computer. They end up having to go rooting through a dumpster to find the boxes. Just their luck as a dump truck comes by and picks them up for even messier results, Low and behold though, they do recover the missing boxes.
---
1x12 The New Car (December 06, 1991)
---
Carol's old car has one wheel in the junkyard, and she and Frank determine that she needs a new car. Frank visits his old fishing buddy's car lot, but Carol turns out to be the better bargainer. J.T. ""borrows"" Carol's car for a date, and someone ""borrows"" it from him. Penny finds a mortician that really likes her. She brings him over to Frank and Carol's for a date but he seems to like to talk shop a little too much.
---
1x11 A Day in the Life (November 29, 1991)
---
Frank gets ""America Up Close"" to do one of their 'blended family' segments on the Lambert/Foster clan. Carol is disappointed, because now the whole world will see them acting nasty toward each other, and when it happens she gets mad at Frank and makes him sleep on the couch. Dana leads the kids in a mission to save their parents, by everyone being nice for the cameramen. When they do, Carol and Frank make up, just before the act fades away.
---
1x10 Mixed Messages (November 22, 1991)
---
Cody decides to impress Dana, so he gets a job as a corporate executive. He has to put prizes in the little quarter machine for kids. He puts the happiness of kids above profit, though, and ends up getting fired. The family decides that they need an answering machine to help retrieve messages. Karen gets a call from Bobby and misses a message that Frank's remodeling job is canceled because the building is being demolished. Frank is almost killed, and Karen is punished by a week of phone restriction, making the punishment fit the crime.
---
1x09 Into the Woods (November 15, 1991)
---
Camping in the wilderness proves too much for Carol to bear.
---
1x08 Just for Kicks (November 08, 1991)
---
Dana and Bernice want to go see their favorite folk singer at a local bar named Jake's. Carol gives her permission to go, but later finds out from Frank that Jake's has ""a two fight minimum."" Carol tries to tell Dana not to go, but Dana feels Frank is trying to control her life so she sneaks out anyway. Cody learns that Dana went to Jake's and rushes out to help her and gets there just in time. He beats up several punks and got some help from Frank who comes looking for her as well. Upon arriving back at home, Frank and Dana learn to appreciate one another through a revealing conversation on the troubles of a stepfather-stepdaughter relationship.
---
1x07 Yo-Yo's Wedding (November 01, 1991)
---
On Brendan's 6th birthday, Frank wants to take him out for pizza and bowling. but Carol realizes he would prefer a regular party and helps him plan a party with Yo-Yo the clown as the entertainment. Frank and Carol receive word that their wedding was not official or legal. They plan to meet at City Hall and have a romantic lunch, making the entire day special. Frank, however, gets stuck at work and can not give the entire day. Carol then insists on a ""real"" wedding with a Reverend, but he is leaving on Saturday for a 6 month vacation. They arrange to squeeze it in between the party and the outgoing flight. Yo-Yo is unable to come to the party so Frank is forced to dress like a clown and take his place and keeps the costume as his wedding attire.
---
1x06 Pulling Together (October 25, 1991)
---
Carol thinks that the 2 families need to do something together and that the Port Washington Games are perfect. The Lamberts who won each of the past three years feel that the Fosters should not have to be on their team, because they are not very athletic. The Fosters don't put up a fight as they find the games a little too rowdy and barbaric for them but eventually agree to participate. To make matters worse, Cody will not be able to make the games this year. The Lamberts are able to stay close enough that when Karen mesmerizes the opponent, it all comes down to the last event. Luckily, Cody arrives just in time to save the day.
---
1x05 Frank & Son (October 18, 1991)
---
JT agrees to go to work with Frank because he needs extra money, something ""Frank is more excited about then JT."" After failing miserably there, JT ends up helping Carol out as a shampoo boy, a job he only likes because he gets ""to touch girls without getting sent to the principal's office."" Meanwhile, Dana needs to build a good birdhouse or her entire GPA will drop and Al needs to write a book report on Tom Sawyer. They decide to switch assignments until Brendan points out that it is cheating. After the disappointment with JT and Brendan telling him that working for him would be a punishment, Frank is delighted to see Al's birdhouse. Frank and Al walk off talking construction.
---
1x04 First Anniversary (October 11, 1991)
---
On Frank and Carol's first month wedding anniversary, they decide not to buy each other gifts. Frank listens to what Carol says and does not buy her a gift while Carol ignores what they said and buys Frank a gift while thinking that his purchase at the hardware store was a gift for her when really it was a new saw he bought for himself. Carol tells Frank that even though she said she didn't want a gift, that he should know that it is their anniversary and he should have thought to get her gift himself. He later suprises her with memories of Jamaica by transforming the beaty salon into paradise island. Meanwhile, JT bets Cody that he can't get a date with Dana but unluckily, for JT, she finds out about the bet, goes out with Cody and then she becomes upset because when JT pays Cody, he says that he can't take money from him.
---
1x03 Rules of the House (October 04, 1991)
---
Noticing a certain lack of discipline about her new stepchildren, Carol sets about creating order by instituting a few rules -- which so infuriate Al that she threatens to go live with Grandmother in Milwaukee. The rule that really upsets Frank's kids is Carol's control of the television viewing time: everyone is allowed to watch no more than six hours of television per week. Everyone is given 12 tickets, and each is good for viewing one half hour of television. When Frank has run out of tickets but desperately wants to watch the World Series, he persuades Carol to lighten up a little.
---
1x02 The Dance (September 27, 1991)
---
Frank wants to take Carol to an expensive restaurant; but Carol has agreed to be on the committee of Al's dance. After being dumped by a boy, Al stays in the dumps until she's rescued by her science fair pen pal: Steve Urkel. And since Frank can't take Carol out, he shows up at the school dance and finds a way to work in a little romance anyway.
---
1x01 Pilot (September 20, 1991)
---
During their vacations in Jamaica, contractor Frank Lambert and widowed beautician Carol Foster get married. When they return to their hometown, Port Washington, Wisconsin, they need to slowly introduce their very different children. Their plan is to make the children think they are dating but Frank accidentally tells the truth (that they are married) and there is nothing to hide so eventually the Lamberts move to the Foster's house. Later, as a sign of ""step-maternal"" love, Carol believes Al is having a pain that is hurting her (something Frank never believed) and she takes her to the hospital; the pain results to be a appendix and they remove it.
---