Lock, Stock...
Season 1
Lock, Stock...
Season 1
First Air Date: May 29, 2000

| | | |
| --- | --- | --- |
| First Aired on | : | 2000 |
| Episodes | : | 7 episodes |
Episodes
1x07 ...And a Good Slopping Out (July 11, 2000)
---
A criminal 'friend' has the key to Miami's safe and he wants it back. This is hampered by the fact that said criminal has been caught by the police and is now in jail. Miami arranges it so that Lee, Bacon and Jamie end up in the same prison and tells them that unless they get the key for him he will make sure that the trumped up charges he arranged for Barbie to file that put them there, will be made to stick. If they can get the key then Barbie will drop all the charges and they will go free.
---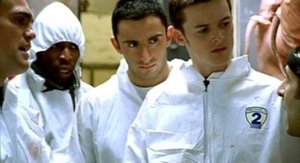 1x06 ...And One Big Bullock (July 04, 2000)
---
Miami Vice goes into the meat business and employs the lads to pick up a consignment being delivered by three psychotic Russians. Moon's country cousins get involved with them and a fight over a prize bull. Meanwhile a drug crazed duo want their revenge on Miami and intend to get their own hands on the beef to exact it.
---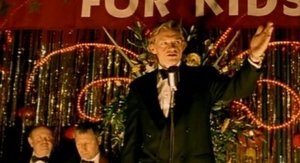 1x05 ...And Two Sips (June 27, 2000)
---
Miami Vice is having accountant problems, they keep turning up dead! Not only is someone skimming money from his operations but Moira is holding out her 10% of Lapland. The boys unwittingly get involved and end up having to pay Miami £20,000 each. Jamie needs to borrow the money from his uncle and has to 'babysit' a friend of his uncle's called 'Two Sips' who is returning to England for a few days.
---
1x04 ...And Spaghetti Sauce (June 20, 2000)
---
The boys accidentally record over a consignment of porn tapes belonging to Deep Throat, a viscious and nasty criminal, while running off copies of a wedding video they made. With just three days to replace or pay for the missing films they use every idea they possibly can to make their own porn videos, so at least they will have something to give to Deep Throat when he come calling on them.
---
1x03 ...And A Fist Full of Jack and Jills (June 13, 2000)
---
The boys are offered a hoard of sex pilss on the cheap in return for making a few dodgy deliveries. Everything goes wrong when the pills turn out to be a duff batch and people start dying, what is even worse for the lads though is that they have just sold a large batch of them to gangland baoss, Larry Harmless. And to make things even more complicated there are a group of Spaniards, two Dutch druggies and a car full of money floating around
---
1x02 ...And Two Hundred Smoking Kalashnikovs (June 06, 2000)
---
A friend of the lads and a 'local businessman', Robbie Rossi, asks them to pick up a delivery of some dodgy, whoops sorry, some designer clothes. For doing this he offers them a large sum of money. Everything goes well until the lads discover that they have been conned and steal the van back for themsleves. When they open the van they know find it full of Kalshnikov machine guns bought in by Miami Vice to help him out in a turf war. Once more they could find themselves on the wrong side of Miami's anger.
---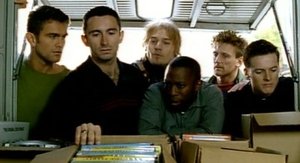 1x01 ...And Four Stolen Hooves (May 29, 2000)
---
The four owners of The Lock, a pub in London's East End, buy a quantity of stolen porn videos and a priceless watch. They think they are in the money but unknown to them all the goods were stolen from East London's toughest, hardest gangster, Miami Vice. Not surprisingly he wants his watch back and doesn't care about how he goes about recovering it.
---