18 Wheels of Justice
Season 2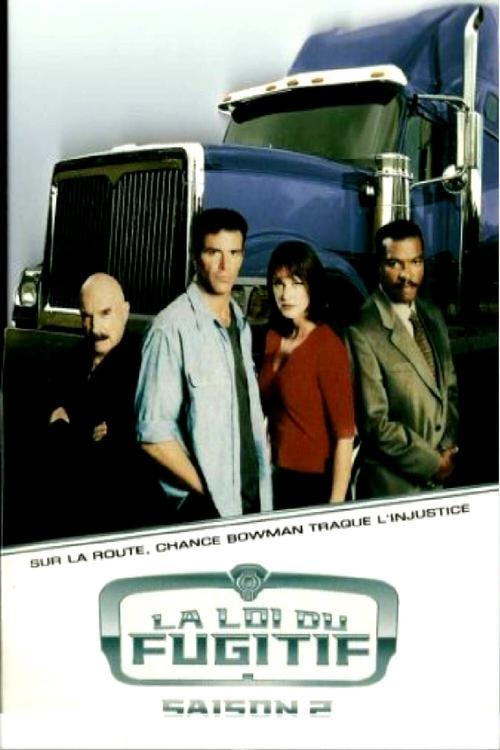 18 Wheels of Justice
Season 2
First Air Date: January 03, 2001

| | | |
| --- | --- | --- |
| First Aired on | : | 2001 |
| Episodes | : | 22 episodes |
Episodes
2x22 The Interrogation (June 06, 2001)
---
Chance and Cie are being interrogated by Snow and Hardesty. Chance had beaten a guy into the hospital while they were on a mission and that guy died in the hospital.They are accusing Chance of murder.
---
2x21 Second Sense (May 30, 2001)
---
Chance is helping the sister of a murdered FBI agent. He's helping her to find the killer of her brother.
---
2x20 The Game (May 15, 2001)
---
Someone is trying to kill Jacob Calder. When Cie and Chance are transferring him to another prison, Cie gets kidnapped. She will be released in exchange for Calder. Chance and Calder are the only ones who care for Cie, so they will have to work together to save her.
---
2x19 Once a Thief (May 08, 2001)
---
Chance, Cie and Snow try to bring in a mobster wanted for a host of crimes, from murder to diamond smuggling.
---
2x18 A Family Upside Down (May 01, 2001)
---
Chance goes undercover to catch an international smuggler of stolen goods.
---
2x17 Crossing the Line (April 24, 2001)
---
Cie becomes involved with a suspect when she and Chance investigate a case of suspected police corruption.
---
2x16 The Cage (April 17, 2001)
---
Chance and Cie go after an illegal "cage fighting" operation when participants start turning up dead.
---
2x15 Dream Girls (April 10, 2001)
---
Chance and Cie's investigation of the murder of an undercover cop leads them to a local escort service.
---
2x14 Slight of Mind (April 03, 2001)
---
Hardesty escapes from kidnappers, but only after he's been tortured and brainwashed.
---
2x13 Come Back, Little Diva (March 27, 2001)
---
Chance and Cie go undercover on a pop singer's tour in to determine if one of her crew is dealing heroin.
---
2x12 A Place Called Defiance (March 20, 2001)
---
With Calder advising from jail, Chance and Cie investigate a mysterious incident where a young boy is injured and an ATF agent is killed.
---
2x11 Wrong Place, Wrong Time (March 13, 2001)
---
Chance and Cie must rescue Snow when he is kidnapped by a gang of teenagers that is being pursued by a trained assassin.
---
2x10 Past Imperfect (March 05, 2001)
---
When a senator receives death threats, Chance and Cie go undercover as part of his re-election campaign in order to protect him.
---
2x09 Countdown (February 27, 2001)
---
An inmate's confession causes Chance and Cie to investigate the case of an inmate scheduled for execution.
---
2x08 Hot Cars, Fast Women (February 20, 2001)
---
Chance and Cie employ a female car thief to help them bust a Russian arms dealer.
---
2x07 Just South of El Paso (February 13, 2001)
---
Chance and Cie investigate a case in Texas that involves a Texas Ranger, missing money and a South American drug cartel.
---
2x06 Criminal Trespass (February 06, 2001)
---
Chance and Cie go undercover to infiltrate a gang of protected witnesses who are planning a bank heist.
---
2x05 Honor Thy Father (January 30, 2001)
---
Cie journeys to a small, rural town to meet her father, brother and sister, but quickly gets the impression that all is not as it seems. Susan Hawk of "Survivor" makes a special appearance.
---
2x04 Old Wives' Tale (January 23, 2001)
---
Calder gives Chance the name of a man who may be able to reveal the truth about Chance's dead wife.
---
2x03 Amore... Omerta (January 17, 2001)
---
Chance and Cie go undercover as a truck-driving husband and wife in order to bring down the Mob's hijacking ring.
---
2x02 Dance with the Devil (January 10, 2001)
---
Cie Baxter has gone undercover as a lap dancer to track down a serial killer who's been preying on the dancers, but then another female undercover agent is murdered and Chance determines to keep Cie from suffering the same fate.
---
2x01 Shattered Images (January 03, 2001)
---
When Chance finds out that crime boss Jacob Calder was not responsible for his wife's death after all, the two enemies find themselves strangely dependent on one other, Chance for information and Calder for his life.
---