18 Wheels of Justice
Season 1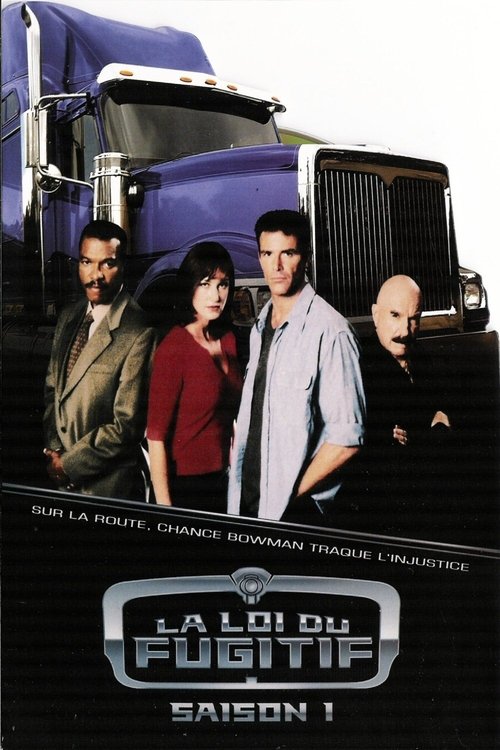 18 Wheels of Justice
Season 1
First Air Date: January 12, 2000

| | | |
| --- | --- | --- |
| First Aired on | : | 2000 |
| Episodes | : | 22 episodes |
Episodes
1x22 Revelation (3) (September 06, 2000)
---
Kidnapped by crime boss Jacob Calder, Cie Baxter starts to learn his family secrets, while agents Chance Bowman and Jesse James Rader race to save her.
---
1x21 Caged (2) (August 30, 2000)
---
When Chance is charged with the murder of Danny Calder, Cie Baxter enlists the aid of undercover agent Jesse James Rader to try to identify the real killer.
---
1x20 Legacy of Blood (1) (August 23, 2000)
---
Jacob Calder calls a summit meeting to intensify his efforts to kill Chance Bowman, while his illegitimate son Danny goes after Chance's boss Burton Hardesty. What Calder doesn't know is that one of his operatives, ""Jesse James"" Rader, is an undercover federal agent.
---
1x19 Con Truck (August 16, 2000)
---
With Chance still in the hospital recuperating from injuries, Cie takes his big rig to a prison to provide secret transport for a convict, unaware that his buddies are plotting to take her hostage and stage a prison break.
---
1x18 Sleeping Dragons (August 09, 2000)
---
Against her better judgment and risking her career with the Justice Department, Cie helps Chance when he goes to the rescue of Beth Barrington, the crime organization's chief accountant.
---
1x17 Outside Chance (August 02, 2000)
---
A gang of non-violent Robin Hoods is robbing banks and armored cars to help people in need. Chance becomes involved when one of the gang's members turns out to be a militia-minded extremist who wants to make a statement.
---
1x16 There's Something About Marvin (July 26, 2000)
---
Chance helps a woman who is desperately worried about her ill father Marvin, who has gone off on some kind of quest to complete his ""list"" of thrill-seeking experiences.
---
1x15 Road to Hell (July 19, 2000)
---
Chance's infiltration of a drug dealer's illegal operation is hampered by a dirty cop who is forcing a juvenile dealer to work undercover for him on the same case.
---
1x14 Wages of Sin (July 12, 2000)
---
Chance has become the target of a world class hitman contracted by Jacob Calder, but the hit takes a surprising turn when the killer reveals his ""code of ethics.""
---
1x13 Ranger's Chance (July 05, 2000)
---
When Chance's commanding officer from the Rangers is implicated in a daring weapons theft, Chance comes to his aid after recognizing that the M.O. belongs to a thief working for Jacob Calder.
---
1x12 Smuggler's Blues (June 21, 2000)
---
Chance's infiltration of a deadly cigarette smuggling ring with ties to Calder is endangered when a female reporter who is working the same case recognizes him and decides he is a bigger story.
---
1x11 Two Eyes for an Eye (March 22, 2000)
---
Cecil Loftus, the head of a tough crime family, joins forces with Chance in an attempt to bring down Jacob Calder.
---
1x10 Games of Chance (March 15, 2000)
---
Chance and Cie Baxter head for Las Vegas to rein in Henry Conners, a protected witness who took off on an unsanctioned vacation, but Cie has a personal interest in locating Henry - they were once lovers and have unfinished business. Meanwhile, Calder is alerted to Chance's location and sends a hit woman after him.
---
1x09 The Fire Next Time (March 08, 2000)
---
Chance helps a black preacher and his family when their church is burned.
---
1x08 Through a Glass Darkly (March 01, 2000)
---
The evil Jacob Calder manages to get himself released from prison and takes personal supervision of the hunt for the man who put him there, Chance Bowman. So Burton Hardesty, Chance's Justice Department supervisor, reinstates Chance as a federal marshal.
---
1x07 Ordeal (February 23, 2000)
---
A ruthless couple hijack Chance's truckload of high-definition televisions and leave him to die in the desert, where in his delirium he has visions of his life before his wife was killed in an explosion meant for him.
---
1x06 Prize Possession (February 16, 2000)
---
Chance becomes the reluctant guardian of a 12-year-old tomboy whose parents are using her as a pawn in a bitter divorce contest. At the same time, Chance rediscovers an old friend, a former Academy instructor, whose retirement has left him lonely and bitter.
---
1x05 Triple Play (February 09, 2000)
---
Now in the Pacific Northwest, Chance tries to play Good Samaritan to a con man who claims his wife has been kidnapped. But along with a lovely but inexperienced insurance investigator, he finds himself delivering the wife to the real kidnappers, and realizes that no one is who he or she really seems to be.
---
1x04 Showdown (February 02, 2000)
---
After a near-miss encounter with Calder's top hit man, Chance decides that rather than keep running, he must stand and fight. To see just what Chance is up against, his associate Cie Baxter joins him in the field for what becomes a showdown, ""High Noon"" style, in the Ohio sun.
---
1x03 Mr. Invisible (January 26, 2000)
---
A minor accident at a stock car racetrack delays Chance Bowman from moving on and introduces him to a talented mechanic with a tainted past.
---
1x02 Key to the Highway (January 19, 2000)
---
An encounter at a truck stop embroils Chance Bowman in a young widow's problems and an altercation with the local police, much to the chagrin of his Department of Justice supervisor Burton Hardesty, who wants Chance and his huge, hi-tech Kenworth T2000 to remain undetected by an imprisoned drug lord.
---
1x01 Genesis (January 12, 2000)
---
After Special Agent Michael Cates testifies against vicious drug lord Jacob Calder, he is put into the witness protection program under the name Chance Bowman as a trucker driving a state-of-the-art long-haul 18-wheeler.
---