Mind of Mencia
Season 2
Mind of Mencia
Season 2
First Air Date: March 23, 2006

| | | |
| --- | --- | --- |
| First Aired on | : | 2006 |
| Episodes | : | 15 episodes |
Episodes
2x16 Episode # 216 (September 03, 2006)
---
Carlos takes a look back at the most memorable moments from the latest season of his hit show.
---
2x15 Episode # 215 (July 23, 2006)
---
Carlos makes his own version of "Pirates of the Caribbean" starring Jamie Kennedy and Tracy Morgan. Also, Carlos discovers if stereotypes are real by finding unwitting "athletes" to participate in the first-ever installment of "Stereotype Olympics."
---
2x14 Episode # 214 (August 06, 2006)
---
Carlos takes on advertising and shows what ads would look like if he infused them with truth. Also, Carlos spies on his biggest fan's middle-class white neighbors in a segment Carlos calls "Watching Whitey."
---
2x13 Episode # 213 (August 06, 2006)
---
Carlos makes his famous" DeeDeeDee" catch phrase into a music video. Also, Carlos hosts a wrestling tournament that pits religious icons against one another. Tune in to find out who will rule the earth in Carlos' "Royal Religious Rumble" with co-host WWE's The Edge.
---
2x12 Episode # 212 (July 16, 2006)
---
Carlos hits the streets to advise people how to make their dreams come true, and talks with Tony Hawk about how to realise his own skateboarding dreams. Also, we take a trip into the future to see what the news will be like in 2026.
---
2x11 Episode # 211 (July 30, 2006)
---
Carlos hits the street to ask people what America would be without immigrants. Then, the ghost of Johnny Cochran is back for another installment of "Judge Carlos
---
2x10 Episode # 210 (August 27, 2006)
---
Carlos treats a group of senior citizens to a sushi dinner to find out what they think about sex, politics, and immigration in "Dinner for 75 and Over." Also, Carlos takes a look at classic fairy tales and retells them with a Mencia spin
---
2x09 Episode # 209 (July 09, 2006)
---
Carlos takes us back in time and reveals the real reason the founding fathers signed the 1st Amendment. Also, Carlos introduces a new "music video" by the mega rich "Sheik Rapper." And Carlos shows his new line of workplace gadgets that help with the real problems of office politics.
---
2x08 Episode # 208 (May 10, 2006)
---
Carlos takes a look back with some of his favorite moments from the second season so far and explains how he came up with all this crazy stuff. Featuring clips from "Wetback Mountain," his Kanye West video, and "It's Hard out Here for a Ho" with Dave Attell.
---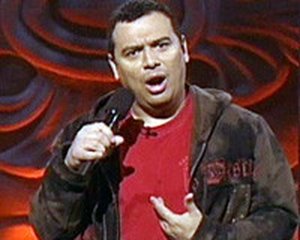 2x07 Episode # 207 (May 03, 2006)
---
Carlos hits the streets to ask the question "Is Gay the New Black?," featuring special guest star Robin Williams. He also investigates what it would have been like if Jesus was married, in the first installment of "That's F*cking Historical
---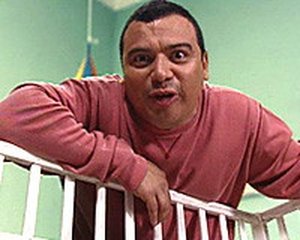 2x06 Episode # 206 (April 26, 2006)
---
Carlos sends a special message to baby "Tom-kitten". Then he gives us his answer to The Soprano's with his own version of the show featuring a Hispanic crime family (with special guest star Cheech Marin!). He also whips a group of whiny, stupid people into shape as Drill Sergeant Carlos.
---
2x05 Episode # 205 (April 19, 2006)
---
Carlos hits the street to find out what the race of the future will look like. He also helps people with their problems through the use of cool R&B slow jams as "Carlos Smoov
---
2x04 Episode # 204 (April 12, 2006)
---
Carlos discusses the hot topic of illegal immigration, hits the streets to investigate if people should hit their kids, and gives spring break tips like only Carlos can. Also, Peter Boyle pays Carlos a visit to help translate the real meaning of bumper stickers.
---
2x02 Episode # 202 (March 23, 2006)
---
Carlos takes on Kanye West and his huge ego. Then he hits the streets to see if it's harder out there for women or men. He also introduces us to some lady dancers who are not only big on moves but big in a lot of other ways too.
---
2x01 Episode # 201 (March 23, 2006)
---
Carlos is back for an all new season of Mind of Mencia! This week Carlos takes a look at all the stupid stuff that people did while he was gone. He reveals his big secret in "Wetback Mountain," and he gives a piece of his mind to people who are trying to hang onto their youth in "Act Your Age."
---