Clannad
Specials
Clannad
Specials
First Air Date: March 28, 2008

| | | |
| --- | --- | --- |
| First Aired on | : | 2008 |
| Episodes | : | 5 episodes |
Episodes
0x05 Another World: Kyou Chapter (July 01, 2009)
---
In an alternate timeline, Ryou confesses her love to Tomoya and they both begin dating. However, Tomoya soon notices that Kyou has been acting strange, and confronts her. Kyou admits that she is also in love with him, but never confessed because she was too scared to risk being rejected or hurting Ryou's feelings. This creates an uneasy love triangle among Tomoya, Kyou, and Ryou, leading Tomoya to finally admit that he loves Kyou. Ryou, already knowing that Tomoya loves Kyou more, encourages Kyou to work up the courage to confess. Ryou breaks up with Tomoya with no hard feelings, wanting to cherish both the good and painful memories they had together. Tomoya and Kyou then officially become a couple.
---
0x04 Under the Green Tree (March 26, 2009)
---
Tomoya tells Ushio of the past events that happened from when he first met Nagisa, until after Ushio is born and Nagisa survives. When Ushio falls asleep during the story, he begins to quite clearly recall a more tragic set of circumstances. At the end of this retelling, Tomoya, with Ushio and Fuko who are both asleep, are shown under a tree at the present time having a picnic. Ushio wakes up, just before Nagisa calls the three of them, saying that it is time to head home.
---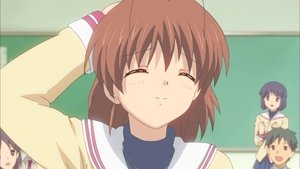 0x03 The Event from One Year Before (March 19, 2009)
---
Unaired 23th canon episode of Clannad After Story. One year before the events of the beginning of the story, Tomoya is beginning his second year, and Nagisa her first time as a third-year student. Nagisa is having trouble making friends as usual, while Tomoya and Youhei are busy being delinquents and carrying out pranks at Kyou's, and inadvertently Nagisa's, expense. After Nagisa is knocked out by a falling metal pan that Tomoya and Youhei had set up as a prank for first-year students, a classmate of Nagisa's finally finds the chance to talk with her and they become friends. Nagisa keeps the banner from the prank (with a message to instill confidence written by Tomoya), because she feels it attributed her to making a new friend.
---
0x02 Another World: Tomoyo Chapter (July 16, 2008)
---
In an alternative timeline where Tomoya and Tomoyo are dating, Tomoyo becomes student council president, but bad rumors start around the school due to Tomoya's bad reputation. Tomoyo becomes busy during the school festival, and continues to be so while she attempts to save the sakura trees in town. Tomoya realizes that he is holding Tomoyo back from greater things, and despite both sides being reluctant, they break up. Time passes as Tomoyo's reputation builds and Tomoya and Youhei watch on the side through her many accomplishments, one of them being ultimately saving the sakura trees by the winter. At that time, Tomoya and Tomoyo meet and talk for the first time in months and they decide to become a couple again.
---
0x01 The Events of Summer Holidays (March 28, 2008)
---
It is now during summer vacation, but despite now having been going out for weeks, both Tomoya and Nagisa are still very nervous about it and have not done much to progress their relationship which comes as a shock to their friends. Mei comes back for another visit and after learning of Tomoya's and Nagisa's current stagnant relationship, decides to be their personal cupid of love in order to advance things along. Mei thinks up a whole plan which Nagisa attempts to follow despite it being very embarrassing for her at times. After Tomoya calls Mei out, she runs away, though Nagisa stops Tomoya from chasing after her. With some time left in the day, Tomoya and Nagisa take a walk together.
---