Disney's House of Mouse
Season 1
Disney's House of Mouse
Season 1
First Air Date: January 13, 2001

| | | |
| --- | --- | --- |
| First Aired on | : | 2001 |
| Episodes | : | 13 episodes |
Episodes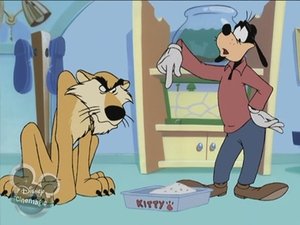 1x13 Pluto Saves the Day (April 14, 2001)
---
Pluto has to save the club after Pete uses magical apples to shut down the club. Cartoons: Goofy's Big Kitty; Pluto's Kittens
---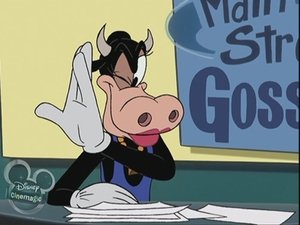 1x12 Thanks to Minnie (April 07, 2001)
---
Minnie feels that she does not belong as a staff member of the House of Mouse, so she quits her job, realizing how much she means to the rest of the staff. Cartoons: Minnie Visits Daisy; Mickey's Big Break
---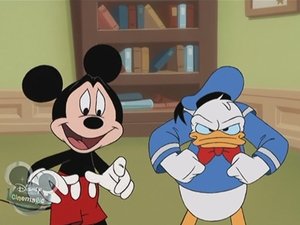 1x11 Donald's Pumbaa Prank (March 31, 2001)
---
Pete tries to break Mickey and Donald's friendship apart by letting out a bad odor in the club made by Pumba. Cartoons: Mickey's April Fools; Whitewater Donald
---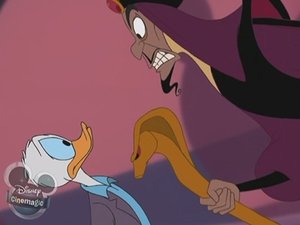 1x10 Donald's Lamp Trade (March 24, 2001)
---
Donald is convinced that Mickey is not his friend after Jafar tricks him into believing this, and must rescue the lamp for Jafar to prove that they are not friends. Cartoons: Survival of the Woodchucks; Goofy's Radio
---
1x09 Rent Day (March 17, 2001)
---
Before the show ends, Mickey needs to pay the rent for Pete after he spends the money on cheese. Cartoons: Mickey's Mountain; Circus Symphony
---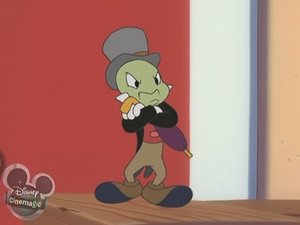 1x08 Gone Goofy (March 10, 2001)
---
Goofy is fired from his job as the waiter after the club's budget causes problems.
---
1x07 Unplugged Club (March 03, 2001)
---
Pete attempts to stop show performances again by removing the electrical battery and turning off all the club's electricity. Cartoons: Music Store Donald; Mickey's Cabin
---
1x06 Jiminy Cricket (February 24, 2001)
---
Jiminy Cricket decides to stop his job as Pinocchio's conscience, and befriends Pain and Panic, soon realizing that Pinocchio and him must stay together after he becomes Mickey's conscience. When Pinocchio reunites with Jiminy, Pain and Panic begin to cry their hearts out, but then get turned into dirt by the Blue Fairy.
---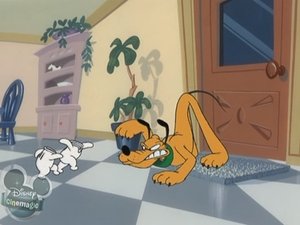 1x05 Timon and Pumbaa (February 17, 2001)
---
Timon and Pumbaa are set to perform a show, but end their friendship after they decide that they can't make the same decisions, so Mickey decides to bring them back together.
---
1x04 Goofy's Valentine Date (February 10, 2001)
---
Minnie and Daisy develop sorrow for Goofy after finding out that he has no Valentine's Day date, so they set up a blind date for him. Cartoons: Donald's Valentine Dollar; Mickey to the Rescue (Staircase); Pluto's Arrow Error
---
1x03 The Three Caballeros (February 03, 2001)
---
The Three Caballeros are to perform at the club, but no-one knows that Donald was a Caballero, so he tries to be the most important performer of the group, re-naming himself "The Duck Formerly Known as Donald", an obvious parody of Prince. Cartoons: Donald's Fish Fry; How to Be Smart
---
1x02 Big Bad Wolf Daddy (January 27, 2001)
---
Donald hires the Big Bad Wolf and the Three Little Pigs to perform a show at the club, which Mickey fears since the wolf damaged the club the last time he performed. Cartoons: Donald's Charmed Date; Pluto Gets the Paper (Mortimer); How to Be Groovy, Cool, And Fly
---
1x01 The Stolen Cartoons (January 13, 2001)
---
As an attempt to end the show and shut down the House of Mouse, Pete steals all the cartoons. Meanwhile, Donald is put in charge of the club after Mickey and Goofy leave to film a new cartoon. Cartoons: Pluto Gets the Paper (Wet Cement); Donald's Dynamite (Magic Act); Hickory Dickory Mickey
---