The Brittas Empire
Season 7
The Brittas Empire
Season 7
First Air Date: January 06, 1997

| | | |
| --- | --- | --- |
| First Aired on | : | 1997 |
| Episodes | : | 10 episodes |
Episodes
7x09 Surviving Christmas (January 22, 1996)
---
---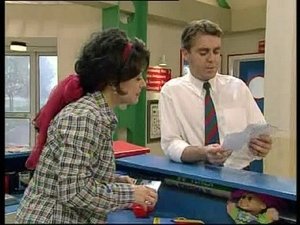 7x08 Curse of the Tiger Women (February 24, 1997)
---
Last in the series of sitcom about Whitbury Leisure Center. Brittas prepares to celebrate seven wonderful years since the center opened, but Druggett tells him he has been chosen for early retirement. Carole reveals he's the father of her twins!
---
7x07 Exposed (February 17, 1997)
---
Investigative journalist, Roger Ferguson, is preparing to make a television expose of the goings on at Whitbury Leisure Center. Gordon is led to believe this will be a serious documentary. An outbreak of Bobula fever causes panic.
---
7x06 Gavin Featherly RIP (February 10, 1997)
---
Comedy set in a leisure center. Gavin is feeling depressed and is receiving therapy from Helen Brittas. He joins the rest of the staff on their annual weekend break to Burbidge-on-Sea and goes missing so Brittas arranges a funeral
---
7x05 The Disappearing Act (February 03, 1997)
---
The staff at the leisure center compete for Employee of the Month award though Brittas is not convinced of the wisdom of the competition; Colin brushes up his magic act for Julie's niece's birthday party; Helen holds dream workshop
---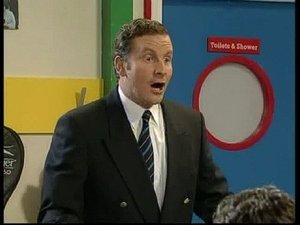 7x04 Wake Up the Lion Within (January 27, 1997)
---
Brittas returns from a course which teaches executives how to release inner powers by roaring like a lion. He encourages his staff to try it out. The Leisure Center has been nominated for the 'European Award for Excellence
---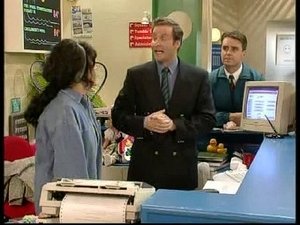 7x03 http://etc. (January 20, 1997)
---
The center enters the 21st century as Brittas has everything computerized, which causes huge problems. Drugget is convinced it is a waste of money and will be Brittas' downfall. Helen's therapy course seem only to appeal to staff
---
7x02 Reviewing the Situation (January 13, 1997)
---
Sitcom based in a leisure center with a manic manager, Gordon Brittas. He initiates a staff review which causes some antagonism; Julie is enjoying armed police protection after threats, which includes body searches
---
7x01 The Elephant's Child (January 06, 1997)
---
Situation comedy. Brittas organizes a sponsored bungee jump and expects his staff to take part. Helen Brittas plans a burglary to fund her bid for the franchise for the sauna solarium and Carole returns from her assertion course. (44)
---
7x00 delete (January 01, 0001)
---
---