The Red Green Show
Season 14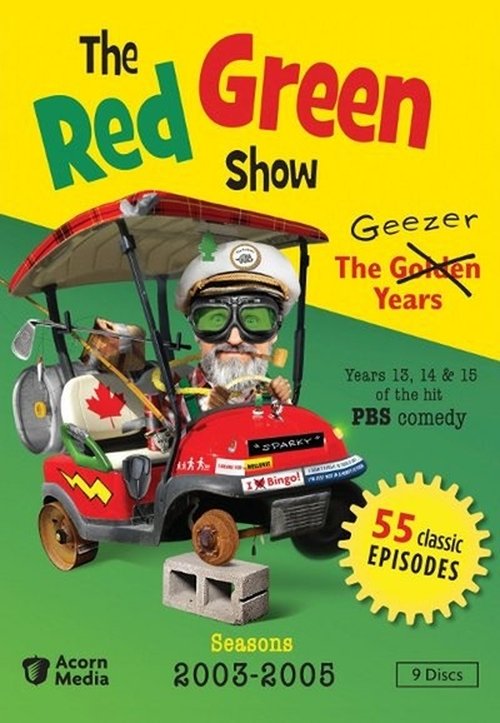 The Red Green Show
Season 14
First Air Date: October 01, 2004

| | | |
| --- | --- | --- |
| First Aired on | : | 2004 |
| Episodes | : | 19 episodes |
Episodes
14x19 PBS Pledge 2005 (January 01, 0001)
---
---
14x18 The Possum Drop (February 25, 2005)
---
Harold is upset about possible animal abuse and volunteers to replace the possum for the annual Possum Drop. Red builds a bicycle that even a man can ride. Bill, Walter and Mike take on Harold and a couple of girls in a game of beach volleyball. Red makes a manly chandelier out of flashlights and wheel rims, and demonstrates how to use a goalie mask to give your beard an even trim.
---
14x17 Fishy Canusa Games (February 18, 2005)
---
Harold freaks out when a Lodge from the United States challenges the men to a fishing contest. Red devises a way to cool car seats in the summer using fire extinguishers. Bill and Walter have an adventure putting new shingles on a shed roof. Blair Cobden tries to take his snowmobile to an island resort. Red cooks a turkey dinner in a dishwasher and uses a Mr. Microphone to avoid a shopping trip with his wife.
---
14x16 Bye Bye Bonnie (February 11, 2005)
---
Harold is upset because his girlfriend is seen around town with another guy. Red uses a snowblower to make applesauce. The men have a run-in with a skunk. Edgar Montrose designs a new art form involving explosives. Red recycles road signs and demonstrates a way to make a newspaper windproof.
---
14x15 A Shot In The Dark (February 04, 2005)
---
Red and Harold contract an extremely contagious virus and have to give each other flu shots. Red devises a way to throw garbage out the van window without littering. Harold injures Walter's ankle, forcing him to walk on his hands. Red creates a foolproof alarm clock and turns an old car into a snow cannon.
---
14x14 Hoard Of The Flies (January 28, 2005)
---
The Lodge is being swarmed by flies just as an antique road show-type crew comes to town to appraise everyone's valuables. Red makes a vehicle out of old hospital equipment. Bill and Walter have an adventure cleaning eavestroughs with a ladder mounted on a skateboard. Red uses soap remnants as chair casters and converts a pick-up truck into a sporty convertible.
---
14x13 Lodge Luau (January 21, 2005)
---
In an attempt to attract tourists, Harold convinces the men to have a Hawaiian theme weekend. Surprisingly, it doesn't go well. Red recycles assorted pieces of junk in very creative ways. Bill and Walter turn a tornado into an adventure. Red demonstrates how to defrost your freezer quickly using a microwave oven, and how to single-handedly operate a two-man saw.
---
14x12 Red Green Insurance (January 14, 2005)
---
Bothered by the high cost and poor coverage offered by the insurance company, Red decides to personally insure the Lodge. Red turns a treadmill into a heavy duty belt sander. Harold and Walter make an adventure out of a flat tire. Red demonstrates the easy way to assemble kit furniture. When Red's car crashes through the garage door, Red sees that as an opportunity to turn it into a sauna.
---
14x11 The Butter Man (December 16, 2004)
---
Red and Harold work through the difficulties that arise from giving someone an inappropriate Christmas gift. Red demonstrates elaborate gift detecting techniques so you can find out what you're getting without unwrapping it. The men build a lawn display of Santa's sleigh and reindeer using a wringer washer and some garden gnomes. Red uses a ceiling fan to trim his tree, and a shop vac to clean up the wrapping paper. Also featured are special Christmas messages from the Lodge members.
---
14x10 Stay Tuned (December 10, 2004)
---
When the government erects a building that blocks the Lodge satellite signal, the men build a huge tower for their satellite dish. Red uses dryer hoses to make the Possum Van more aerodynamic. The men encounter a bear on a fishing trip. Red attaches a propane tank to a lawn sprinkler to make an instant campfire. Red turns his car into a miniature garbage truck.
---
14x09 Ticket To Fame (December 03, 2004)
---
Red owes Harold fifty dollars and repays him with a lottery ticket. Ed Frid is too afraid to use a real animal so he does his segment with a puppet. Red makes a homemade jeep using the awnings, canopy and storm door from his house. Walter and Harold have an adventure picking up office furniture in the Possum Van. Red turns an old fridge into an entertainment center and uses a jai alai bat to pick up apples.
---
14x08 The Lodge Election (November 26, 2004)
---
The men find out that Red has been breaking the rules of the Lodge Charter and an election is called to pick a new leader. A new guy, Blair Cobden, comes on the show to promote his snowmobiling show on a local station. Red strips an old car to make a luxury bass boat. Walter accidentally goes for a ride on a mechanic's creeper. Winston runs a new commercial for "septile disfunction."
---
14x07 The Grapes Of Wrath (November 19, 2004)
---
The men use the next door neighbour's grapes to make their own wine. Red makes a flintlock musket out of some eavestrough and a can of whipped cream. Bill and Walter try to re-point a chimney. Red makes a boat out an old bed and some inflatable mattresses. Dalton brings his coin collection to Harold's Hobby House. Red shows us how to make different sized ice cubes to fit different sized drinks.
---
14x06 Harold¬タリs One And Only (November 12, 2004)
---
Red thinks Harold is spending way too much time with his girlfriend Bonnie and gets them to take a week off. Red invents a way to put a week's worth of dog food out at a time. Walter, Harold and Bill go to a nude beach. Red converts a small car into a washer/dryer. Red uses a badly tuned car engine to convert an old tent into an inflatable garage.
---
14x05 False Idol (November 07, 2004)
---
Red converts a furnace into a dry cleaning machine. Harold tries out for a Canadian Idol type reality show. The boys turn boat launching into an adventure. Red uses the old town clock as a car engine. Glen Brackston brings his coffee cup collection to Harold's Hobby House. Red warns of the dangers of fast dancing for middle aged men.
---
14x04 The Statue (October 22, 2004)
---
Red knocks over a historic statue downtown and must replace it. Harold, Bill and Walter have an adventure with hammocks. Red combines a boat trailer and a K-car to make a boat launcher that's easy to back up. The fishermen exchange ideas on the importance of education. Red introduces method where instead of counting calories, you count meals. Red creates reversible pants and a canoe made entirely out of coolers, called a Canooler.
---
14x03 Once More To The Well (October 15, 2004)
---
The well runs dry in Possum Lodge and Harold suggests that they should hook up to the town's water main; Walter and Harold milk cows; Winston goes on a blind date.; Red talks about younger people being smarter than him; Red makes a lure that make it look that that you have big fish and he builds his version of a fancy European mid-engine sports car.
---
14x02 Life Is A Circus (October 08, 2004)
---
The men put on a circus to celebrate the 75th anniversary of the Lodge. Harold is the human cannonball. Red does a giant stir fry in a satellite dish. The men attempt to rap rats in the adventure film. Red makes a lazy susan for long rectangular dining tables. Red has a special word for middle aged men who are still playing organized sports.
---
14x01 Red's Hot Sauce (October 01, 2004)
---
Special Guest – Colin Mochrie Red used a carpet roll on a forklift to paint a barn. Red creates his own spicy barbecue sauce that turns out to be made partly of jet fuel so he turns it into a gasoline additive. Red puts a refrigerator door on a house as a way to get teenagers to come home on time Harold presents a new segment called Hobby House featuring a local hobbyist who makes things out of hot dogs. Bill and Walter play with crossbows.
---