The Red Green Show
Season 12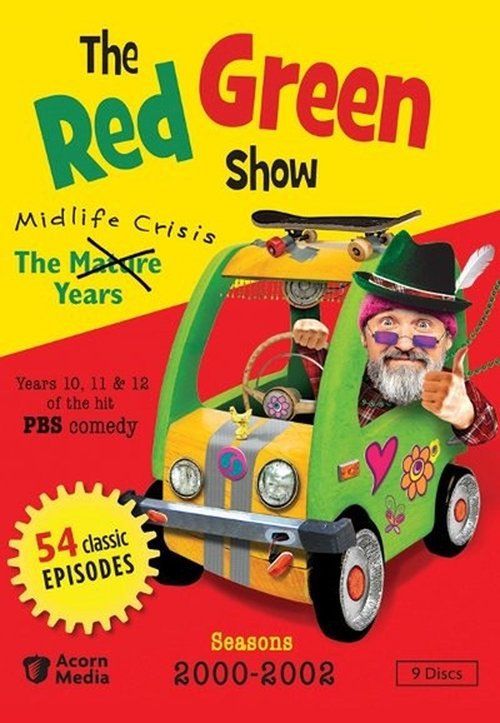 The Red Green Show
Season 12
First Air Date: October 18, 2002

| | | |
| --- | --- | --- |
| First Aired on | : | 2002 |
| Episodes | : | 18 episodes |
Episodes
12x18 Stupid Cupid (February 14, 2003)
---
In an effort to meet women, Harold makes a tape for a video dating service. Red builds a simple water purification system with a tennis racquet, pantyhose and a barbecue. Ranger Gord gives Red his new business card. The men hit an underground electric cable while trying to put up a danger sign. Red customizes a chair so that he won;lt fall asleep while his wife is talking to him. Cast: Steve Smith, Patrick McKenna, Bob Bainborough, Wayne Robson, Jeff Lumby, Joel Harris, Peter Keleghan.
---
12x17 The Moosetrap (February 07, 2003)
---
The men decide to host a dinner theatre at the Lodge. Red builds a portable desk using an old suitcase and some tv trays. The men discuss how you can tell if couple are married by the way they sit in the car. Walter tries his hand at pulling a rickshaw. Ranger Gord presents a homemade animated film on pollution. Cast: Steve Smith, Patrick McKenna, Bob Bainborough, Wayne Robson, Jeff Lumby, Joel Harris, Peter Keleghan.
---
12x16 Red And Breakfast (January 31, 2003)
---
Harold gets Red to help him turn the Lodge into a bed and breakfast with Mike Hammer as their test customer. Red demonstrates a way to avoid speeding tickets. Ed Frid brings in the most dangerous animal in the world. Walter helps Red gte a lawnmower started. Red turns water wings into fake jogging weights. Cast: Steve Smith, Patrick McKenna, Bob Bainborough, Wayne Robson, Jeff Lumby, Jerry Schaefer, Joel Harris.
---
12x15 Mr. Possum Lake (January 24, 2003)
---
Harold is chosen to represent the Lodge in the annual Mr. Possum Lake contest. Red uses discarded toys to make gingerbread trim for his house. Walter runs into trouble flying his model airplane. Red invents a cheap convenient way to have consistent hot water in the shower and a plan to make lawn trimming much easier. Cast: Steve Smith, Patrick McKenna, Bob Bainborough, Jeff Lumby, Wayne Robson, Joel Harris.
---
12x14 Power Struggle (January 17, 2003)
---
In order to satisfy the Kyoto Protocol, the men of Possum Lodge try to generate their own power using a windmill and a lot of vehicles. Red also converts a pickup truck to run on electrical power. The men turn a bingo game into an adventure. Red uses a paper cutter to separate frozen wieners and invents a guaranteed way to keep glasses on coasters. Cast: Steve Smith, Patrick McKenna, Bob Bainborough, Jeff Lumby, Wayne Robson, Jerry Schaefer, Joel Harris.
---
12x13 Never Send A Man (January 10, 2003)
---
Harold allows a boy scout troop to come to the Lodge and educate the men about the outdoors. Red puts s device in his mailbox to prevent junk mail from getting through. Walter has trouble when he tries to split firewood. Red builds a loveseat that expands into a full sized couch. Red installs a manhole cover on his engine for making giant waffles.
---
12x12 The Missile Crisis (January 03, 2003)
---
The men decide to detonate a missile the y found in an abandoned well. Red builds his own outdoor escalator. Walter gets Red to help him change the oil in his car. Red prevent his van from tipping by attaching airplane landing gear to the sides. Red also demonstrates how to use a smoke detector as an alarm clock.
---
12x11 The Go Go Bars (December 27, 2002)
---
Harold gets a shipment of energy bars to test market on the men of Possum Lodge. Red converts a picket fence into a programmable billboard. Ranger Gord presents a homemade animation film on the Northern Lights. Walter and Red find an efficient way to get rid of garbage. Red uses a propane tank to chill his beverages.
---
12x10 Snowed In (December 20, 2002)
---
A massive snowstorm traps three of the men in the Lodge. Red uses helium to reduce his body weight. Walter stages a chili competition. Red converts a house furnace into a full service machine that heats, cooks and boils hot water. Red also demonstrates a method of sneaking up the driveway without being detected.
---
12x09 A Lot Like Christmas (December 13, 2002)
---
Red makes tinsel from potato chip bags and a paper shredder. Moose Thompson is the local Santa. Dalton Humphrey's reindeer are enlisted to haul the hefty Santa on a sleigh. But Dalton's price for the job is 7 boxes of prunes. The Word Game word is Yule. Red turns a pipe organ into a gift deliverer by rocketing gifts out of the pipes. Walter, Winston, and Red make a snowman on a ice rink. Red makes a wreath out of an old tire, glue, and old bows. In "I Don't Know," Hap Shaughnessy and Red debate whether Santa exists.
---
12x08 The Silver Wasp (December 06, 2002)
---
Harold takes part in a Comic Book Convention and enlists Red's help in pretending to be a Super Hero. Red makes an automatic roof rack from an old freezer and a garage door opener. Dalton taps into Lodge electrical power to run a huge illuminated sign on his store. Red uses sports memorabilia to wash his van and demonstrates a way to find your car in a crowded parking lot.
---
12x07 Possum Lodge Provincal Park (November 29, 2002)
---
The men go after government money by offering to convert the Lodge property into a provincial park. Red carves a pumpkin using gunpowder. Some of the men turn a charity carwash into an adventure. Red builds a Drive To Restaurant that brings the fast food out to the customer. Red also invents a spillproof cup holder for carrying hot coffee on a winding road.
---
12x06 Reality Television (December 22, 2002)
---
Harold changes the show to make it more in keeping with the current trend towards reality shows. Red turns a car into a complete lawncare vehicle. The men undertake the world's largest towing job. Red builds an ultra-fast seed starting bed for his wife and demonstrates how to sneak up the driveway without waking your spouse.
---
12x05 The Day Of The Sunflowers (November 15, 2002)
---
As their part in a local beautification project, the men grow sunflowers to hide the Lodge from passing motorists. Red makes a car freshener from a Rolodex. Red and Winston help Walter move. Red invents a portable shade system for your car. The men give advice on gifts for women.
---
12x04 The IQ Test (November 08, 2002)
---
Harold wants to open a chapter of MENSA, so he has everyone write an IQ test. Red puts dual controls in his car. Ranger Gord presents an animated educational film on flying squirrels. Red and Dalton help Walter retrieve his kite. Red creates a portable steering wheel from a vegetable steamer and a power clothesline from an old VCR.
---
12x03 Possum Air (November 01, 2002)
---
In order to bring tourists into the area, Harold starts his own airline, with Red as his first passenger. Red makes a kiddie ride out of a coin-operated washing machine. Walter has a run-in with a wood chipper. Red demonstrates an innovative use of popcorn and an automatic newspaper remover.
---
12x02 The Possum Panderosa (October 25, 2002)
---
Red and Harold promote the Lodge on the basis that they are relatives of Lorne Greene, who grew up there. Red demonstrates how to cut down on your coffee intake and how to deliver pizza with a skeet thrower. The men have a pass, punt and kick competition. Red turns a car into a huge wrench.
---
12x01 Go Fish (October 18, 2002)
---
The wives stage a protest to prevent the men from going on a fishing weekend. Red builds a variable wheelbase car, demonstrates an easy way to change a burned-out lightbulb, and uses a blood pressure cuff to make orange juice. Ed Frid does a feature on lobsters and Walter learns how to back up a boat trailer in this week's adventure film.
---