The Red Green Show
Season 11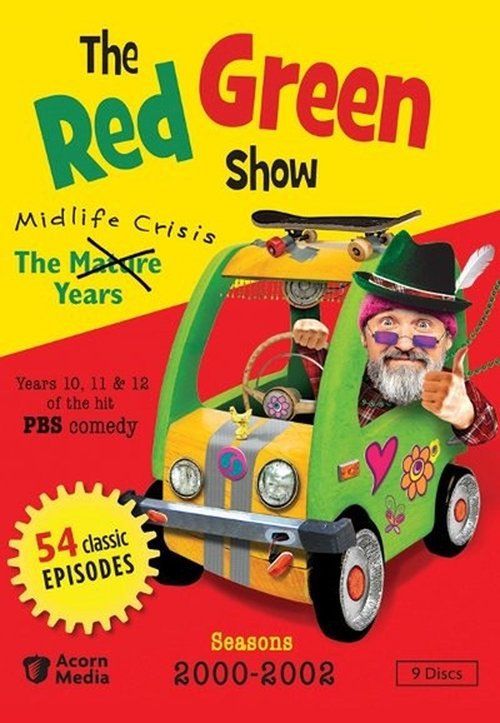 The Red Green Show
Season 11
First Air Date: October 12, 2001

| | | |
| --- | --- | --- |
| First Aired on | : | 2001 |
| Episodes | : | 16 episodes |
Episodes
11x17 The Making Of Red Green's Duct Tape Forever (March 02, 2002)
---
Highlights of the antics in front of and behind the camera during the making of Red Green's feature film "Duct Tape Forever." Interviews with the stars of the movie and an overview by Red of the various aspects of feature film production are featured.
---
11x16 Harold's Dilemma (January 01, 0001)
---
Harold's Public Relations Department has a five thousand dollar shortfall. He decides to solve it by doing a massive renovation to the Lodge to make it more appealing to tourists. Red lines his jacket with toaster elements to stay warm. Red and Mike use a car remote to find their way out of the woods. Red fills his tires with jelly to eliminate flats, and makes a simple engine for his canoe out of PVC pips and Bromo Seltzer.
---
11x15 Masquerade Marathon (January 01, 0001)
---
Mike uses the Possum Lake Masquerade Picnic to help him hide from a bad guy. Red puts hot peppers in the bird feeder to help the birds stay warm. Red also converts a car into a barbecue. The men try to break the world record for toboggan downhill racing. Ranger Gord presents an animated feature called 'Ranger Doolittle'. Red makes a huge ballpoint pen to draw traffic lines on the road.
---
11x13 Xmas In July (January 01, 0001)
---
Harold stages a summer Christmas as a tourist attraction for Possum Lake. Red uses a car engine to make an automatic sprinkler system. Walter and Winston help Red replace the tire in the Lodge tire swing. Red vacuums with a toy train and also has a plan to eliminate the need for snow tires. Mike deals with a moral conflict when finding a wallet with money in it
---
11x12 Mike Goes Straight (January 01, 0001)
---
As part of his rehabilitation, Mike volunteers as a Bylaw Enforcement Officer. Red turns a treadmill into a moving sidewalk. Dalton has an accident while playing paintball. Walter and Red try to knock down a shed. Winston needs to fix a flattened mailbox. Red demonstrates a cheap way to make a wall-hanging television.
---
11x11 Daredevil (January 01, 0001)
---
When Psycho Ernie backs out of his attempt to jump over the Lodge on a motorcycle, Mike volunteers to take his place. Animal Control Officer Ed Frid brings in a snapping turtle to show the audience. Red makes a portable garden in the box of a pick-up truck. The adventure film is all about what can go wrong during a badminton game. Ranger Gord presents an animated film about forestry work called Lumberjack Gord.
---
11x10 Something In The Heir (December 14, 2001)
---
Winston tries to adopt a child to carry on the family septic sucking business. Red turns a car into a castle, complete with turret. Mike and Walter turn a basketball competition into an adventure. Dalton finds out that surfing the internet leaves a trail. Other Handyman Tips - using a toy train to vacuum a rug, and a quick clean-up idea for bachelors who eat alone.
---
11x09 The Chainsaw Races (December 07, 2001)
---
Trouble at the Lodge when Red tries to stage the chainsaw races on the same weekend that Harold is hosting gifted children. Red strikes back at teens with loud car radios by turning a van into a giant portable boom box. Dalton, Winston and Walter have a frightening adventure when a nail gun goes out of control. Lazy marina owner Dwight Cardiff talks about why he likes skydiving. Other Handyman Tips - how to paint a room with a lawn sprinkler and how to recycle windshield washer fluid.
---
11x08 The Ghost Of Possum Lodge (November 30, 2001)
---
Mike discovers a ghost in the Lodge and then gets Red to help him catch it. Red uses an arc welder to protect his van from parking lot dents. In this episode's adventure, Dalton uses a jet engine to vacuum the grounds behind the Lodge. Animal Control Officer Ed Frid brings fox on to the show. Other Handyman Tips - Red demonstrates how to use an adjustable cane to enhance airplane travel, and the concept of filling your tires with jelly instead of air.
---
11x07 Y2 Cans (November 23, 2001)
---
To raise money, the men decide to sell rusty unlabelled food cans left over from the Y2K scare. Red demonstrates how to use a toilet plunger to build a riding lawnmower. Winston and Walter have a parasailing adventure. Ranger Gord is on strike with unspecified demands. Other Handyman Tips - how to add wipers to your side and rear windows, and how to make your own automatic door opener.
---
11x06 Viva Las Possums (November 16, 2001)
---
Harold stages a 50's weekend at Possum Lake, culminating in an Elvis Impersonation contest. Red makes a wood chipper out of a clothes dryer. The adventure features a pit stop during the Possum Lake Car Rally. Marina Owner Dwight Cardiff extols the virtues of skydiving. In the word game, nervous Animal Control Officer Ed Frid tries to get the word 'confidence'. Red shows you an easy way to check the map while you're driving.
---
11x05 Dalton's Hot Gift (November 09, 2001)
---
Mike gets Dalton a new barbecue for his birthday. Red believes Mike stole it form Dalton's store. Red demonstrates an economical way to make an automatic garage door opener. This week's adventure has Winston getting rid of a beehive. In the word game, Harold tries to get Red to say 'celibate'. Nervous Animal Control Officer Ed Frid brings a fox to show the audience. Red shows us how to use a golf club to clean up our yards.
---
11x04 Back To Nature (November 02, 2001)
---
As part of his new job, Harold rents out the Lodge to what he thinks are a group of Senior Executives from a naturalist organization, but who are actually just old nudists. Red shows how you can attach an automotive supercharger to the human body. In the adventure film, Mike has borrowed a police car and has it stuck on a dirt pile. Ranger Gord writes a love letter to Susan Serandon. Red finds a useful purpose for accordions.
---
11x03 The Whooping Crane (October 26, 2001)
---
A whooping crane builds its nest and lays an egg in the chimney of Possum Lodge. Red demonstrates a creative way to go tobogganing in the summer. Harold gives advice on how to tell a fellow employee that they have a body odour problem. Ranger Gord presents his first animated feature of the season and Red shows you how to seal your driveway with paint roller blades. This week's adventure features Road Hockey.
---
11x02 Gladiator (October 19, 2001)
---
The Town of Possum Lake is staging a live version of the movie Gladiator with Dalton Humphrey (Bob Bainborough) in the lead role. Meanwhile Red demonstrates how to change a flat tire without stopping and how to fish with a musket. Mike builds a sailboat that runs on land. Harold drops in to advise a married viewer who has fallen hopelessly in love with Queen Elizabeth.
---
11x01 New Job In Town (October 12, 2001)
---
Patrick McKenna returns to The Red Green Show. When the town of Possum Lake decides to hire a professional Public Relations person to promote the area, everyone at the Lodge applies for the job and are shocked to find out that Harold is the successful candidate, instantly making him the most successful Lodge member in history. In other segments of this episode, Red makes a trailer with no wheels and an automatic dog wash. Walter's rototiller gets away from him.
---